Are you afraid of the dark or get easily freaked out? Perhaps you're claustrophobic? Then avert your eyes cuz baby, we're going cave diving!
I just got back from an incredible five day trip with a bunch of Instagram fanatics like myself in Le Marche on the east coast of Italy. It was organized by Ilaria Barbotti, the co-founder of Exploring Marche, and one of the most memorable experiences from the whole trip was spelunking in the Grotte di Frasassi!
The limestone caves were discovered in 1948 and is now 13 kilometers of research space or a fair distance of land that tourists like myself can spelunk around. There are massive calcium carbonate deposits that grow at some puny rate of a millimetre a year, but many of them are ten plus meters tall.
Spelunking in Italy, here's my story…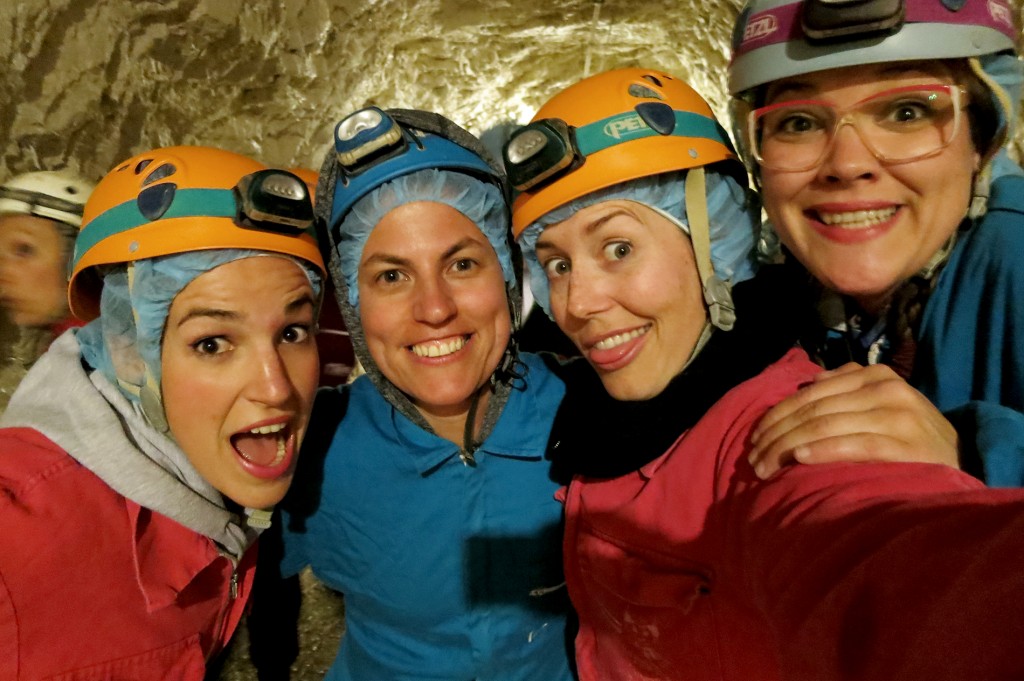 As soon as we entered the caves we had to immediately change into jumpers, rubber boots and hard hats. Seriously! I felt like we were off on some Indiana Jones adventure minus the whip.
The tour immediately started descending deep into the earth's belly. As tough as I felt in my new hardcore gear, I saw little elementary students walking by me in school clothes. They were on a classroom tour and not one was sporting a kick-ass hardhat, so I was wondering if the excavation ensemble was to make us feel more adventurers or what.
Low and behold, the guided-path ended and I found myself at the end of the man-made concrete walkway. Definitely no school kids allowed beyond this point.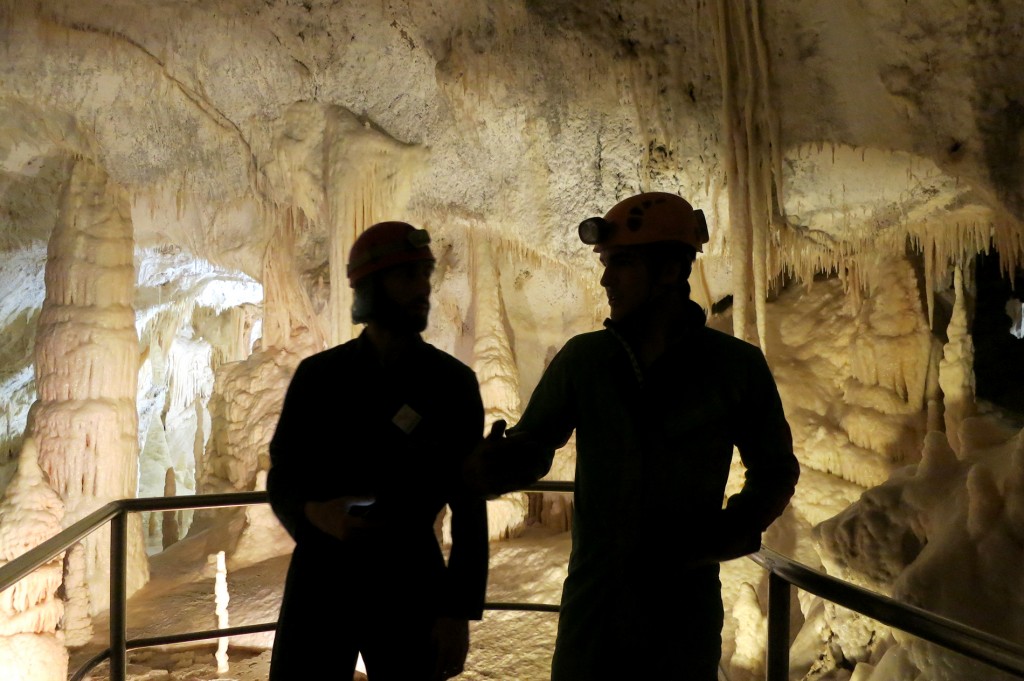 "Ready?" the guide said. He looked 12, but I figured he knew what he was doing.
"What the hell!" I internally screamed back. Not knowing what was ahead of us.
We were off like wild banshees inside the caves… yes we were soon groping the calcium deposits that were once forbidden to touch just 5 minutes earlier.
My sight was limited to the two feet in front of me thanks to the headlamp. My ears were filled with suction sounds made by my boots emitting an orchestra of mud.
The walk was intense. It involved squeezing my gelato-butt through crevices, sliding down rocks and jumping over calcium towers.
I was muddy. I was nervous. I was so excited!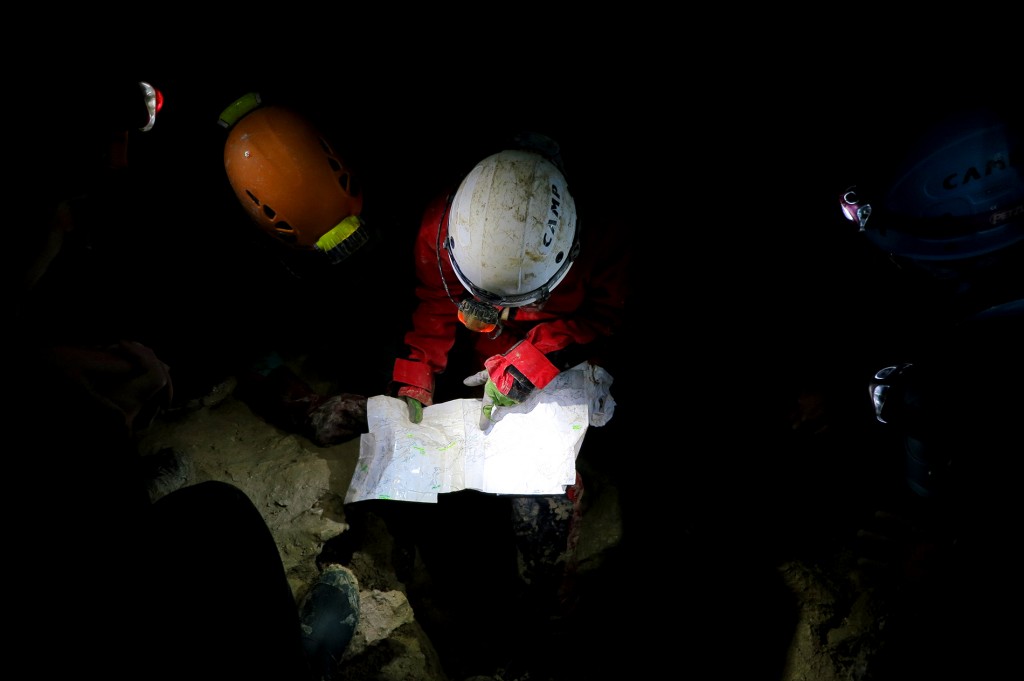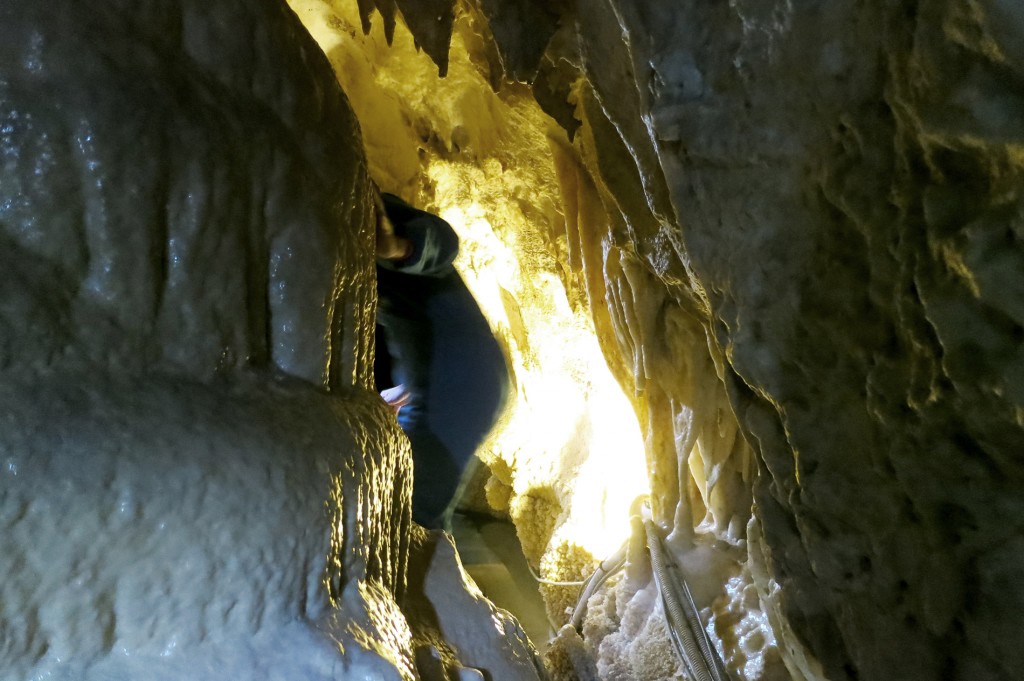 At one point we turned off all the headlamps and POOF, we were draped in darkness. I wish I had packed a tent and was able to sleep there for the night, it was so incredibly calming.
Now, if you understand the scientific reasoning as to how these calcium deposits came to be, please explain it in the comments below… I mean, this is gibberish to me.
If you're like me, then here's the dumbed down Caves 101 takeaway: The caves are freaking amazing! I felt like I was exploring a new planet or like I was on a Sci-Fi movie set. Nerd alert!
What's the most adventurous trip you've been on?
Don't forget to share this post and pin those pics!