"Snowboarding is an activity that is very popular with people who do not feel that regular skiing is lethal enough." — Dave Barry
Ski and snowboard in Sestriere, Italy
An obsession
Snowboarding has been my latest obsession. It began when I moved to Boulder, Colorado in November 2010 on my birthday. It was an amazing birthday. I spent it in a new city, or town if you will, with a new job as Interactive Content Manager at Crispin Porter + Bogusky—a kickass, global, digital, advertising agency.
During the weekdays I worked my butt off and during the weekends I boarded the Rockies (Vail, Breckinridge, Keystone, Beaver Creek and the Tetons in Jackson Hole). Enough of my past, now onto the Alps…
Piemonte (Piedmont)
Meaning 'an area of land formed or lying at the foot of a mountain or mountain range' borders France and Switzerland. Torino (Turin), the capital of the region, is a gorgeous city with just under 1M inhabitants.
If you have time, I highly recommend passing by for a few nights on your way up to the Alps. It's notorious for its galleries, museums, universities and politicians, not to mention it's home to Fiat's headquarters.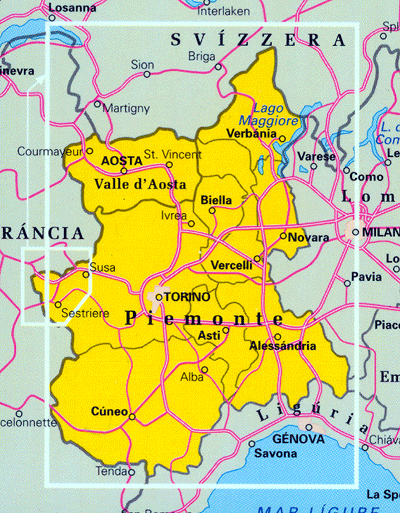 As for the Alps… it's beautiful up here—clean and quaint with the mountains jetting out of every view. There are so many little ski towns all around, so if you rent a car you should definitely explore the area. Some of the best restaurants may only be a 20-30 min drive out of where you're staying.
My ex-boyfriend boyfriend fiancé husband, Nicco, flew me from Boulder to Milano in December 2011 where he picked me up and drove us to Sestriere, Piedmont about 2.5 hours away. He has been skiing here since he was little, so is familiar with the lifts, runs, restaurants and most importantly, the local butcher.
Transportation
Renting a car from any city airport is a great idea if you want to explore the region, but if you know that you'll be content in staying put in one mountain town then a train may be best.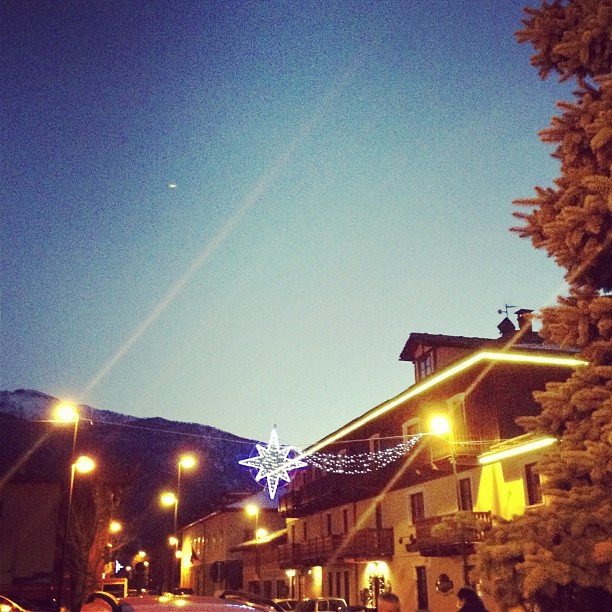 This year we took a train from Torino Porta Nuova (Turin), which is a main train station, up to Oulx-Cesana-Claviere-Sestriere for less than 6€. Wow, that's a long destination name and not a bad view from the station!
Basically, in order to get to Sestriere you need to get off at Oulx, which was more than cute and jump on a pullman (bus). The bus ticket was 1.50€ each for the 40 minute ride up. We bought the tickets at the train station's coffee bar and boarded right away. It was a beautiful drive up with many windy turns.
Skiing the mountain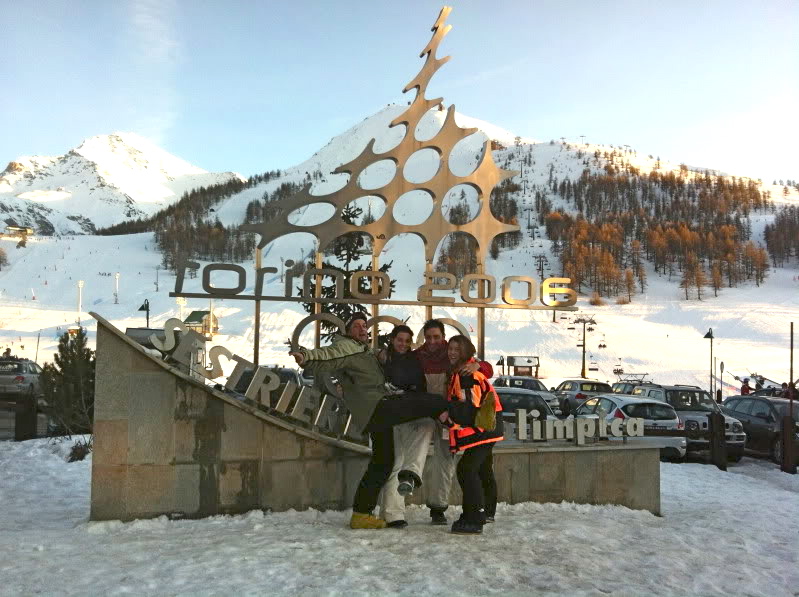 Sestriere is a part of the Vialattea (Milky Way) mountain range, which has 598 individual piste (ski runs). It was home to one of the three Olympic Villages of the 2006 XX Olympic Winter Games. 
The slopes here are on another level. They are steep and wide with little to no trees. The Alps prove to be its own beast compared to so many other mountain ranges.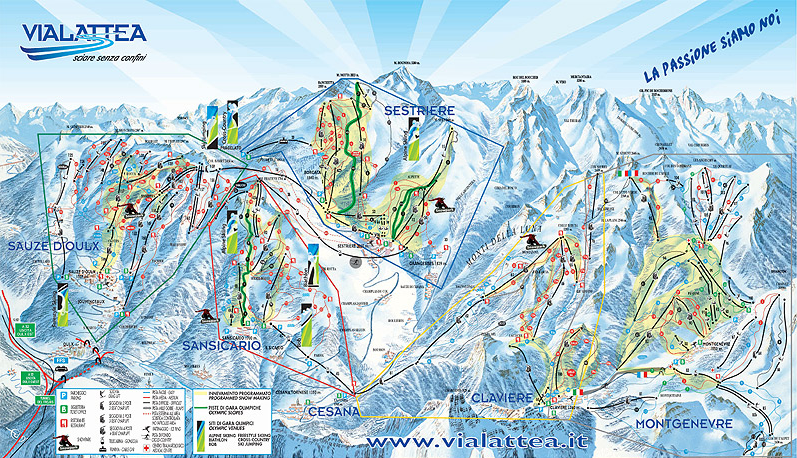 The runs are as follows: blue for beginner, red for intermediate and black for advanced. The conditions last year were icy for me (I'm still a novice!), since it didn't snow that much early on in the season, so lots of scary down hill turns on my board.
Nicco's a skier, so the conditions were pretty choice for him.
It seems like the steepest sections are always at the end where the whole town is watching. There's always one poor guy who completely eats it right at the end, in front of everyone… well that was me in front of Chalet Raggio di Sole at the end of a run last year. Ouch for my bum and my ego! 😉
Luckily, the conditions are a lot better this year, so much so that the mountain across from us is open too! Now that I've boarded Sestriere we can check out some other runs and mountain restaurants.
Oh, and don't forget this mountain offers night skiing on the same run that many Olympic champions have skied on! brrrrrr…
Ski passes
A day pass is extremely cheap compared to the ones in the States. Vail is $106 a day and Jackson Hole runs up to $105! Here, a ticket is 34€ ($45) for the day and 25€ ($33) after 1pm. In January, the last lift stops at 5-5.30pm depending on what run you're on.
The ski pass gives you access to 6 mountains: Sestriere, Sauze d'Oulx, Sansicario, Cesana, Montgenevre and Claviere. Not that you'll ski all 6 in a day, but at least 2 are completely doable. There's hardly ever a line if you don't ski during the main Holidays. The base of the mountain sits right by many restaurants and bars right off state road SS23, so perfect for a celebratory beer after a ski day!
Party in the Alps!
The Alps is a wonderful place to relax, eat, party and enjoy an Après-ski after a day on the slopes… even if you're a skibunny hopping along the center without a thought in the world about the mountain conditions, you too will have an amazing time!
We celebrated Natale (Christmas) and Capodanno (New Year's) last year and Capodanno here again this year. There's nothing like a Winter Wonderland for the Holidays!
There are two large nightclubs open, especially during NYE: Tabata and the Sports Center across the street if you want to get down and par-tay!
Check out last year's video of the main Piazza right at midnight.

Mountain fashion
It's great to be able to wear my Moon Boots and santa hat again. High society fashion, let me tell you.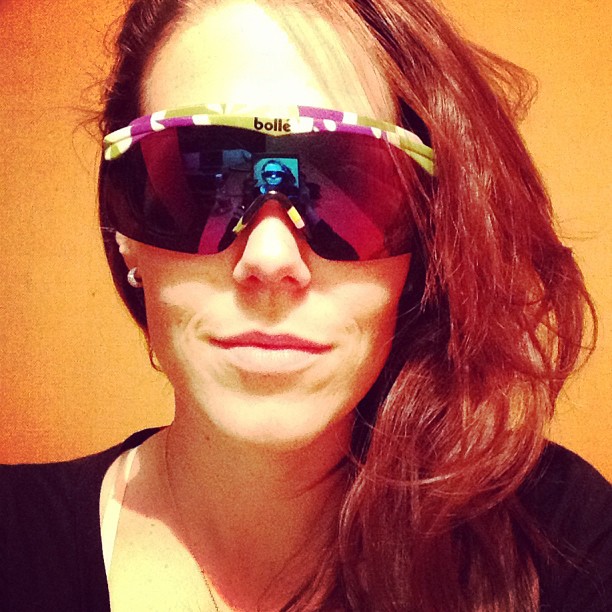 There are retro ski suits hanging in the family condo since the 80's or earlier, so there are many precious treasures laying around, like these mega sunglasses. Pretty hot, huh? If you want tips on how to fit in fashion wise (note the sarcasm) check out 'How to ski like an Italian'.
Alpine Food
The food is amazing! Here's a list of the most typical food and drinks in the area, which are some of my favorite things on any given menu.
You can always bet that there'll be overflowing polenta, sausages, fondue, crêpes and chocolate (just to name a few) everywhere you turn. If you happen to make it to Sestriere or neighboring towns check out these top spots to eat and drink.
I'm a novice!
Let me just remind you all that season 2012/2013 will be my third season, so I'm not a pro, but I can get my butt down anything… thanks to my Colorado boarding crew. Thanks guys!
What's your dream mountain that you would love to ride one day?