Have you flown with the dreaded Ryanair? Well, I gave in yesterday and flew with them for the first time. Expectations were lower than low and when you have low expectations you can only go up. Here's what I learned in order to not be pissed off before I reached my destination.
6 tips to keep you calm on Ryanair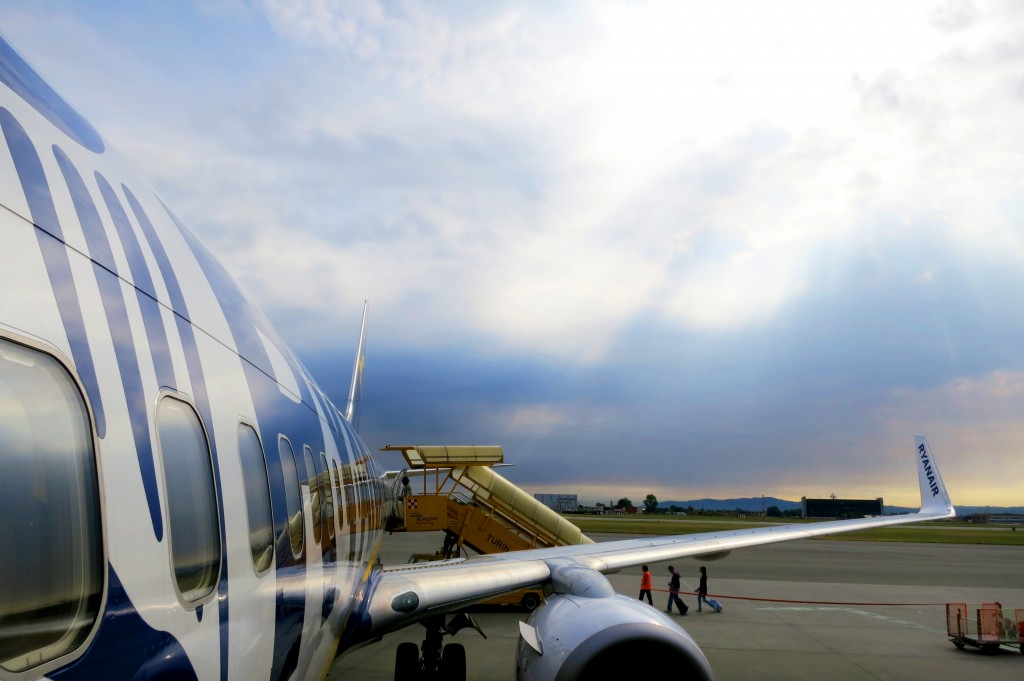 Let's be clear I'm not preaching that you should be flying Ryanair, I'm just giving my personal opinion on one flight, my first flight. With such low expectations I really wasn't sure what was going to happen, so I showed up prepared and I was fine. Will I fly with them again? I have no idea.
So, let's get to the tips that kept me from having a complete breakdown.
1. Don't over pack
Once I booked my flight I reserved a checked bag knowing that I would need two bags for my 30 day road trip. Ya it sucked paying for it, but once I purchased it it was out of my mind. I was able to relax and not be paranoid of getting stuck paying more fees at the airport.
I actually packed better too! Flying on Ryanair made me reconsider 5 unnecessary articles of clothing, one being way too bulky. I felt more relieved traveling with less, making my life easier when I'll have to unpack and pack every other day while on the road.
2. Expect lines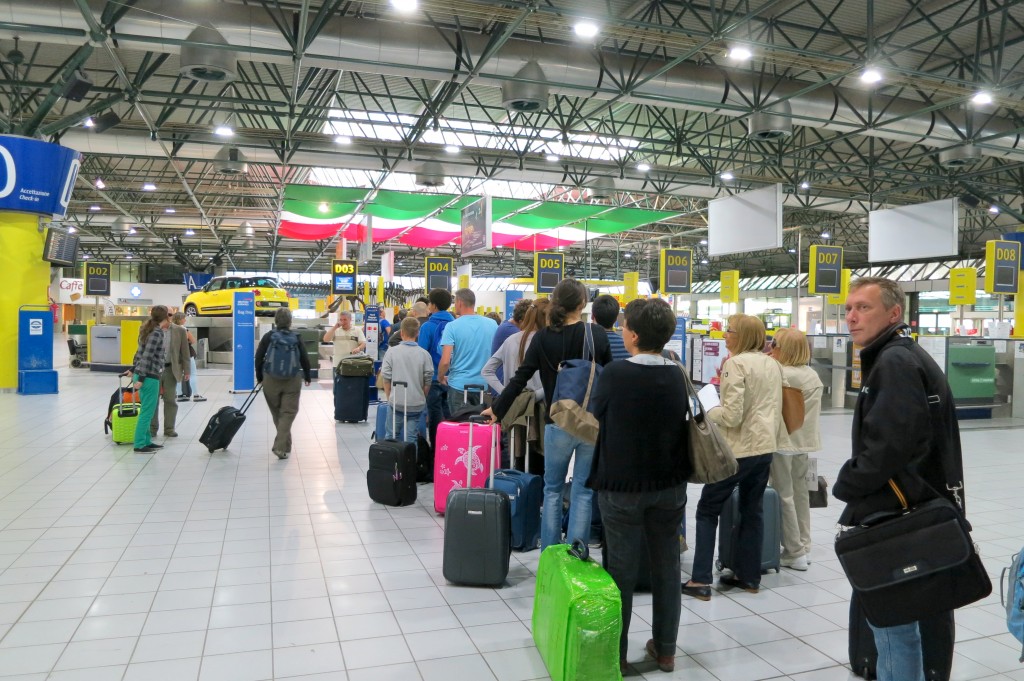 Line checking in at Turin Airport
People were complaining in line at check-in about the line. After annoying me for ten minutes I butted in and said "Well, it's Ryanair, it's not surprising, no?" I mean, doesn't everyone know that Ryanair has the worst reputation? Why would anyone have high standards if they're infamous for being awful? Expect lines and wait, what else can you do? It's like getting mad at a gerbil for not being able to fly.
3. Print your boarding pass
Oops! You silly rabbit, you forgot to print your boarding pass? No fret. For the ridiculously low amount of 70€ Ryanair will print it out for you and make you eat that fee.
Don't like it, then buy a printer and print it at home. I myself don't have a printer nor have had one since high school so I had to print my boarding pass at the hotel I was staying at. Luckily, it is said that this fee will be reduced in the future.
4. Reserves a seat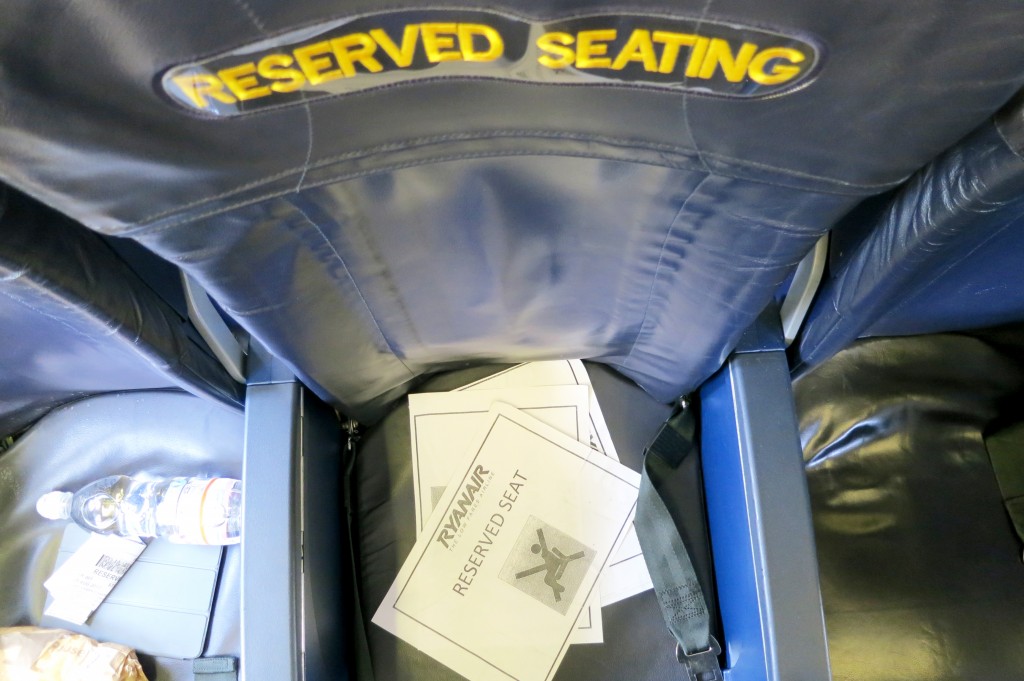 If you're really going to die from waiting in line and you want to get on board first, then suck it up and reserve a seat when you check-in online. I reserved a front row window seat for 10£ and was stress-free. So, if waiting in line is going to affect your day then reserve, if not, read number 2 again.
5. Buy food & water before boarding
We all know that they charge for everything and may even charge to use the loo in the future!! Imagine that, paying to pee like in McDonalds at the Turin train station.
With that said, buy water and a snack after you pass security. I really have no idea why people still insist on a free bag consisting of four overly salted peanuts. I prefer a real sandwich from the bar at the airport and a large bottled water.
6. Look outside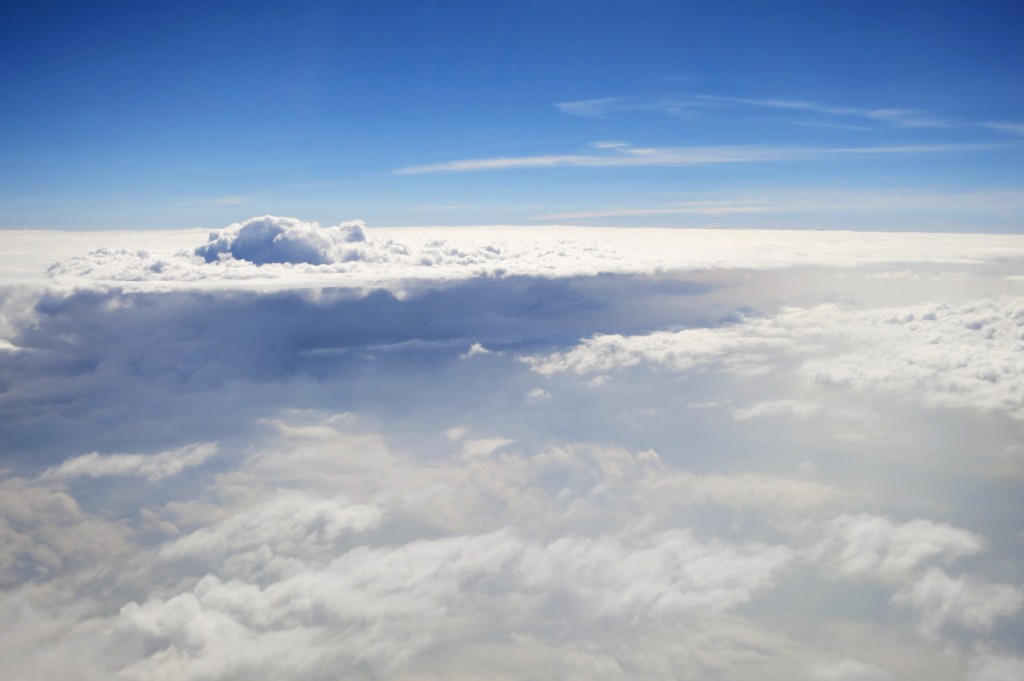 Ok, so you'll be in line for about 40min before you get in your seat. If there's a window look outside and plan your day and think of what you'll do when you land. Relax, breathe, calm down, the wait will soon be over and you'll land and hug and kiss your loved ones soon enough.
Once on the plane, look out again. You'll probably be thinking "Why the hell didn't I reserve a seat? Those bums up front look so happy and comfortable!" To avoid this jealous rage daydream out the window.
My only complaint: the plane was freezing even with winter leggings, boots and a fleece jacket.
I enjoyed my flight, but any airline that sells smokeless cigarettes on board has a problem.
What's your experience with Ryanair? Be honest! 
*Don't forget to follow my month long UK road trip on Twitter and Instagram!