Let's just have my photos do more of the talking as to my list of Berlin to dos from currywursts to museums to beer. If you are looking for more cultural insight, check out my post about the Berlin Hipster epidemic.
Berlin to dos: food & drinks
Blechbilder Bar – Friedrichshain
This spot was so great that we went twice. Once for amazing beer before dinner then on our last day for a lunch coma.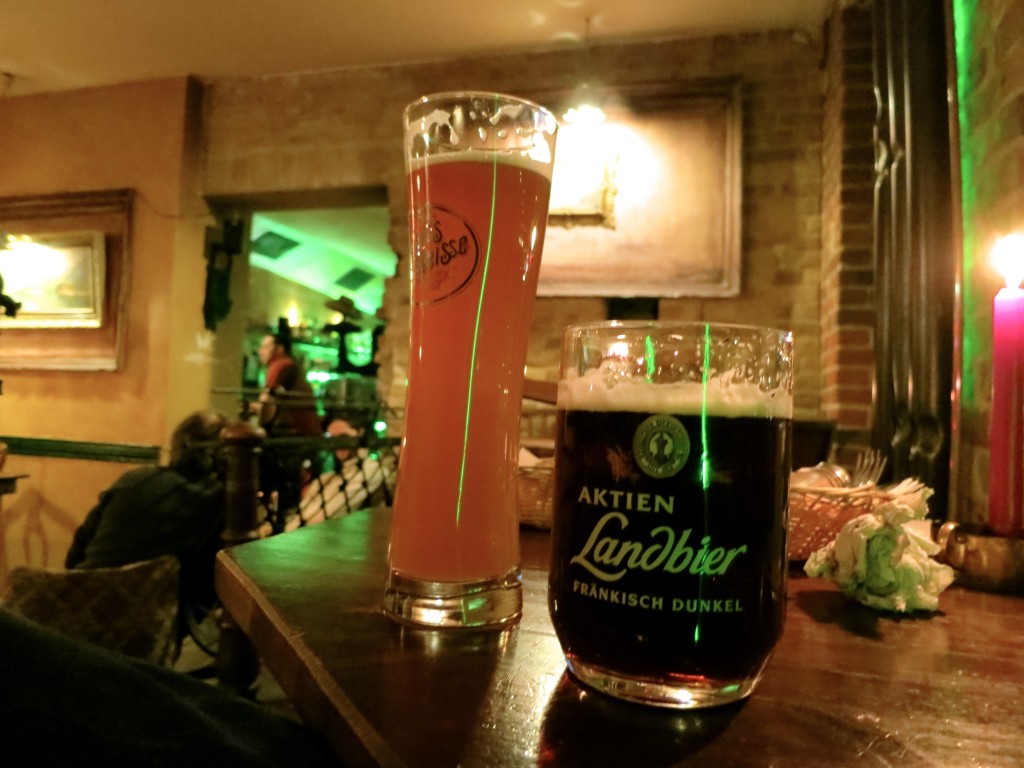 Weisse and Dunkel beer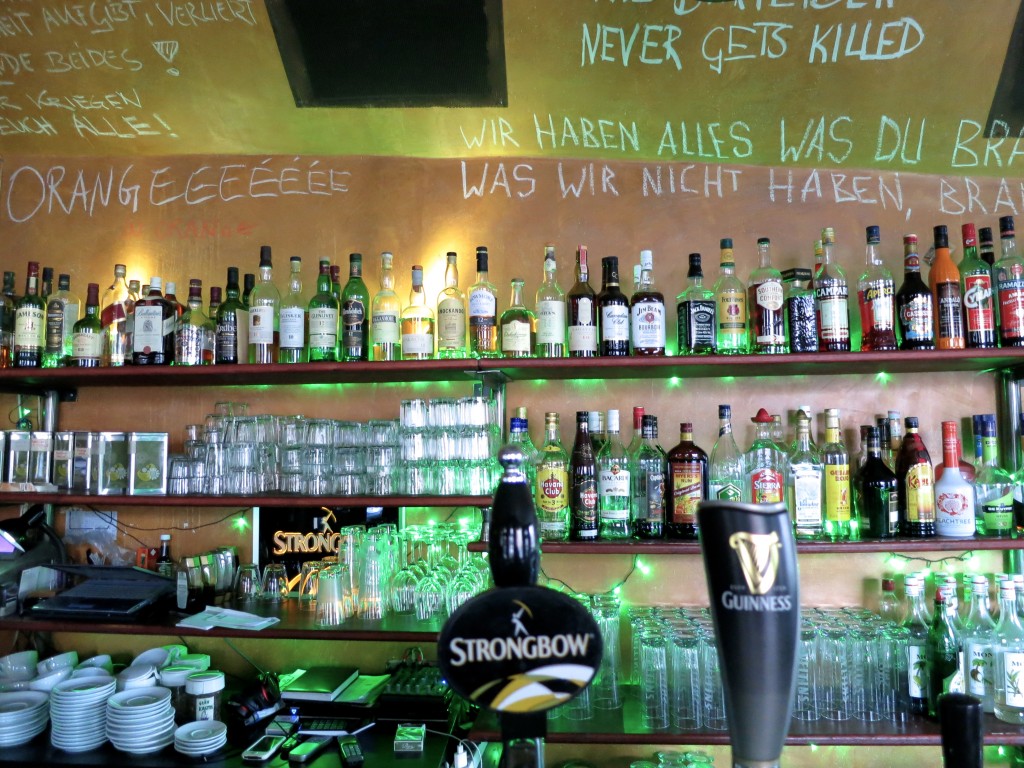 The green light caught our eyes from across the street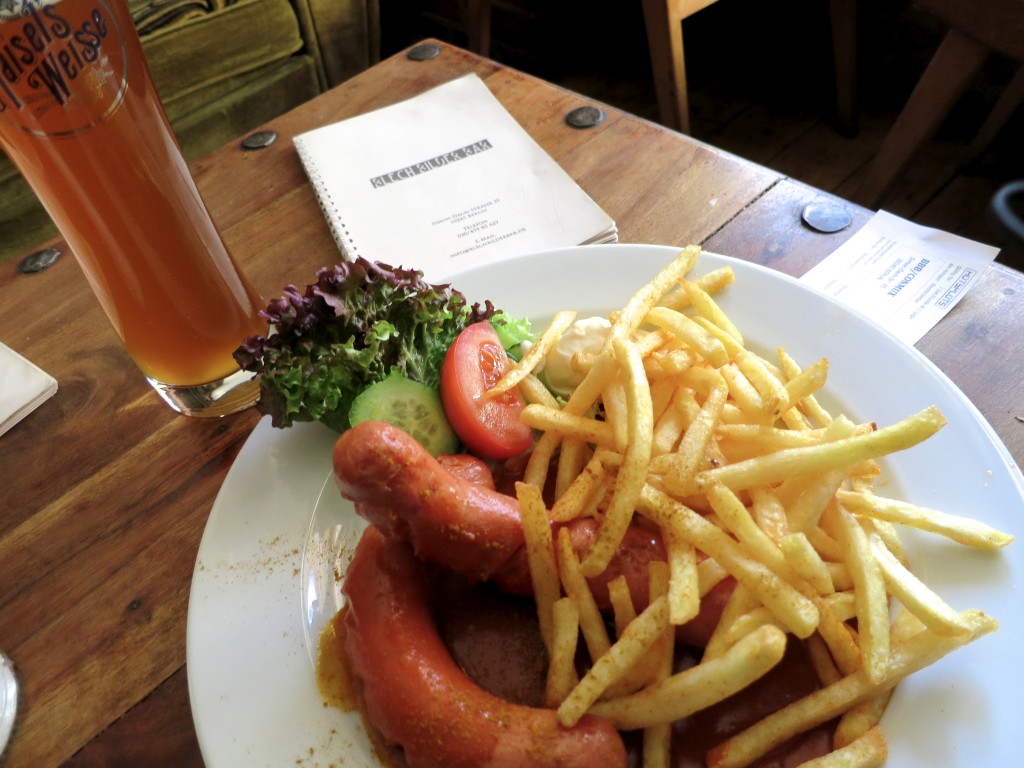 Currywurst and fries, love 'em or hate 'em you've gotta try 'em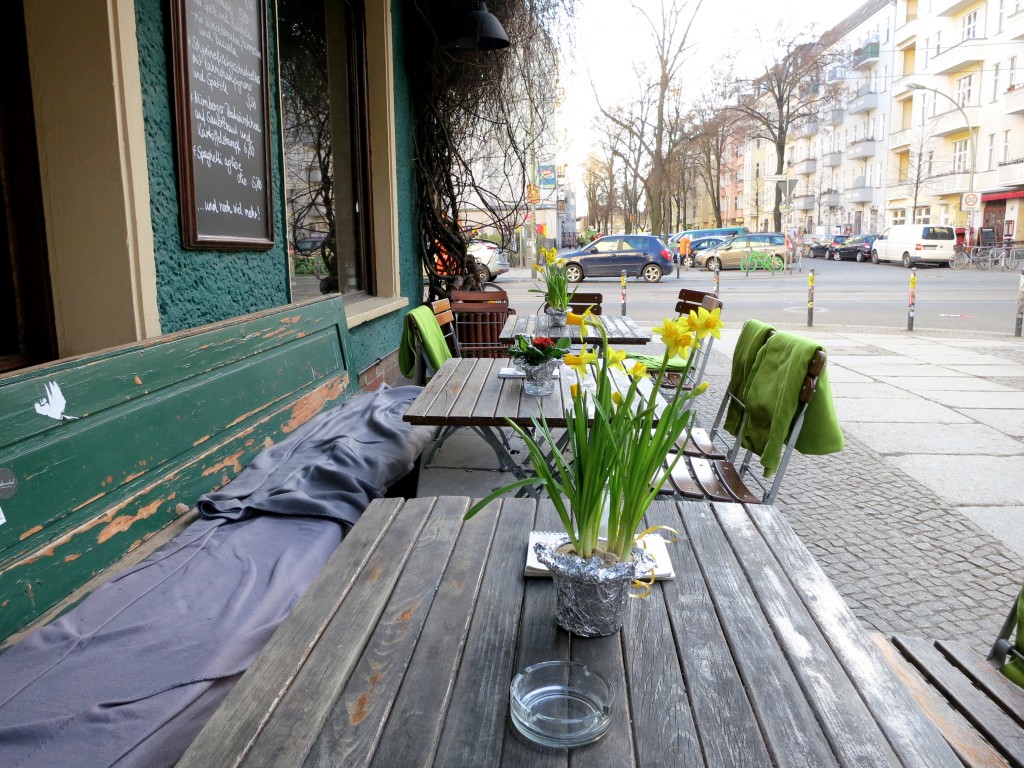 Blankets for patrons is such a nice touch
Onsen – Friedrichshain
Amazing sushi! If I lived in Berlin this would be my go-to spot.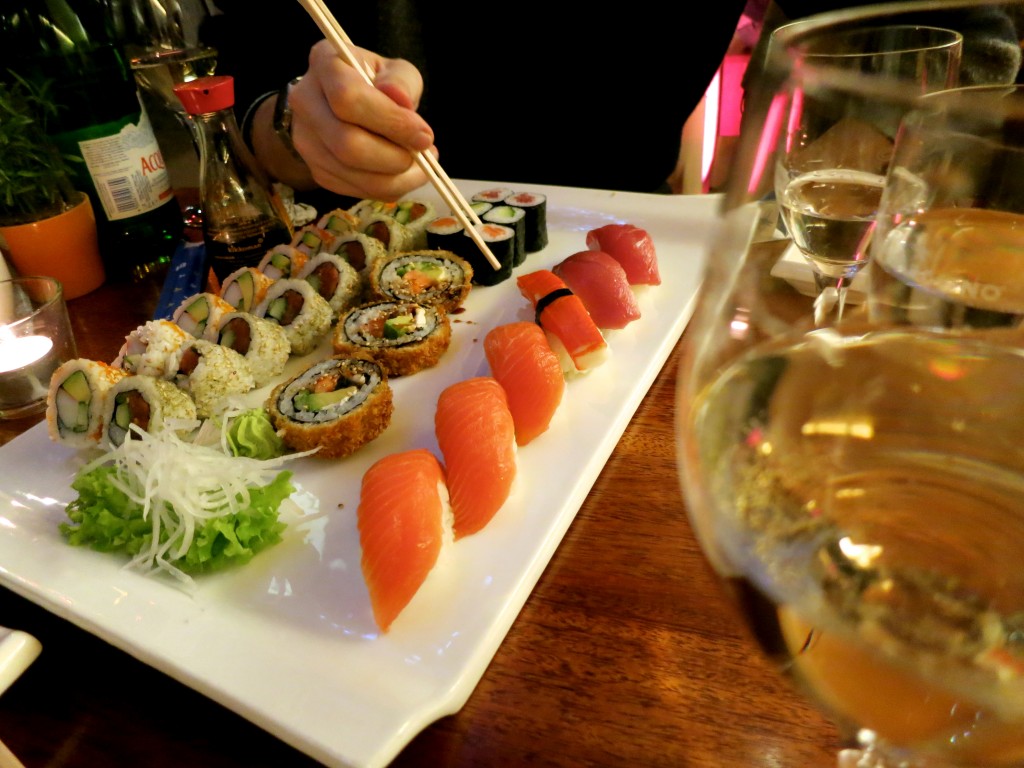 Almodóvar Hotel – Friedrichshain
Great spanish flair with modern design and light tapas. Service with a smile and wifi of course.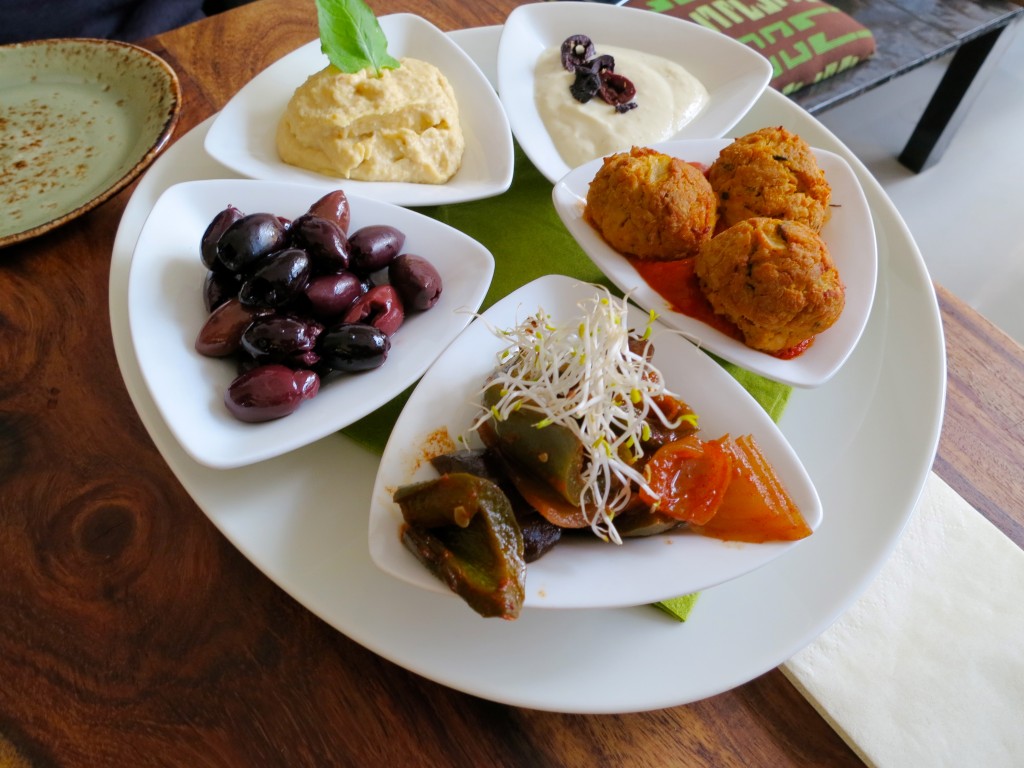 Café Krone – Prenzlauer Berg
This café is situated on Oderberger Str. 38, a quaint little street. Rows and rows of unique neighborhood bars all waiting for you to try them all. They all looked so cool and cozy. Don't forget to bring cash.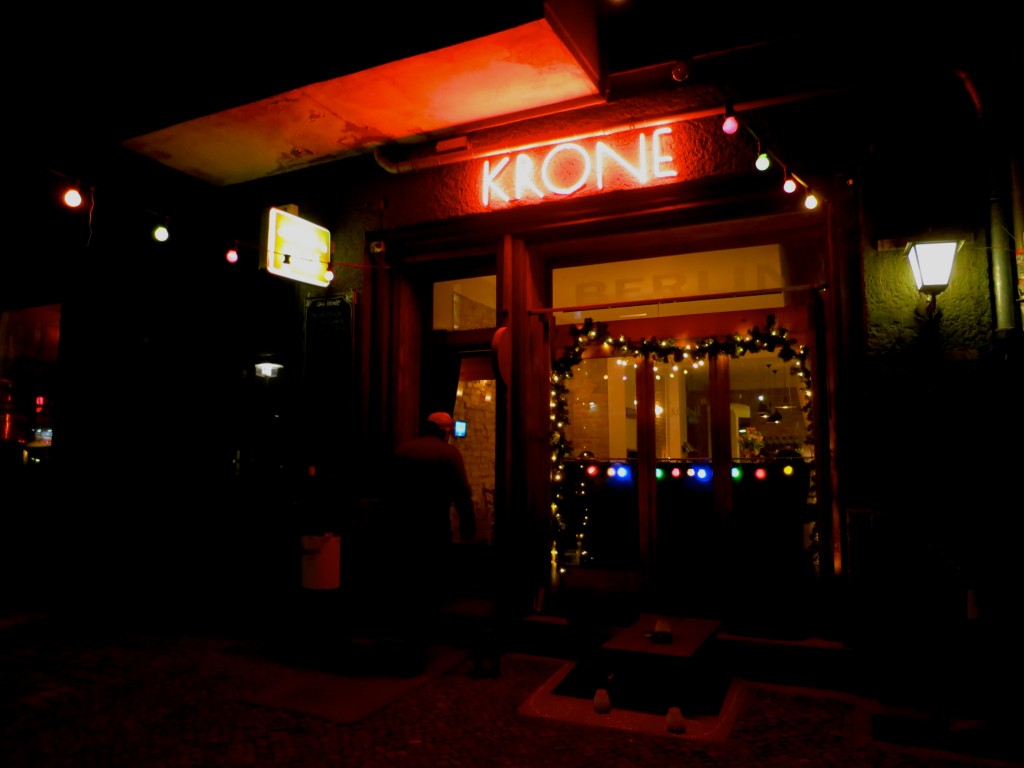 Block House – Mitte
Please do not judge! Funny how life is because I saw Block Houses lined up one after another in London and always thought to myself 'Who the hell would go there!?' Insert foot.
Nicco was dying for a non-Italian cut of steak. Having lived in the U.S. for many years he experienced American cuts rather than the famous bistecca fiorentina. Our spot was Houston's in New Orleans where he would get a juicy t-bone or rib-eye.
Since my expectations were so low (comparing it to a Chilli's in my head) I was actually blown away. The wine was decent, a Malbec. My filet mignon was perfectly cooked to medium rare and was juicy and tender. It was a nice change from bistecca fiorentina. The baked potato was over cooked, but I had not had a baked potato in a year, so I really enjoyed it.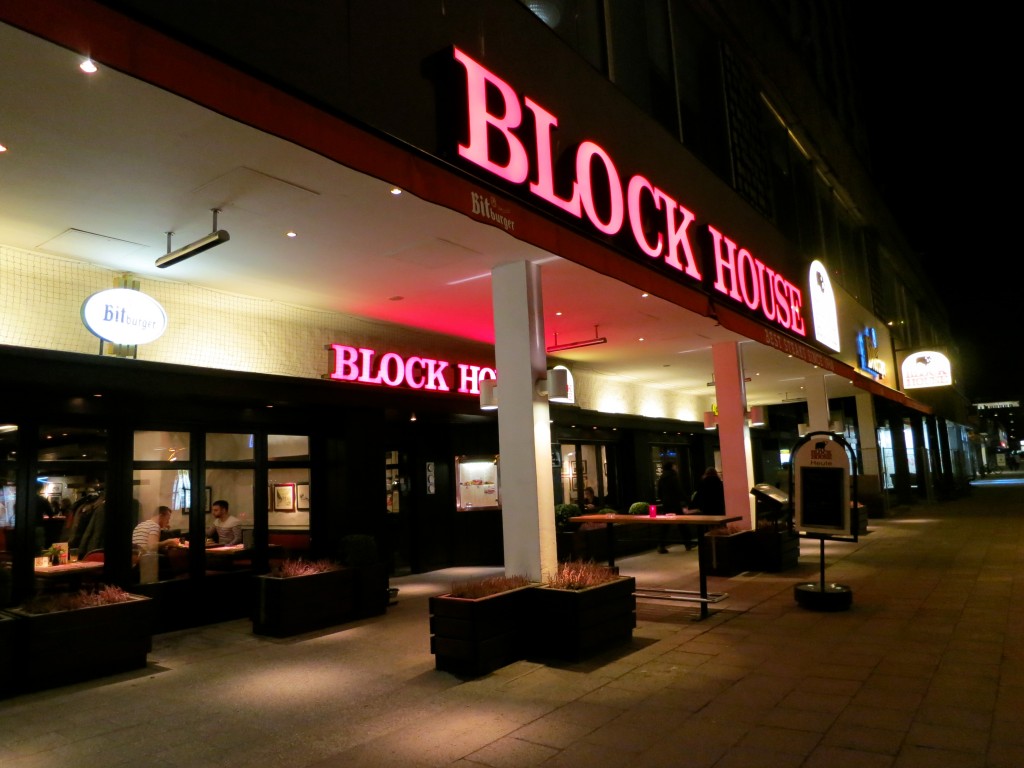 Holding my breath…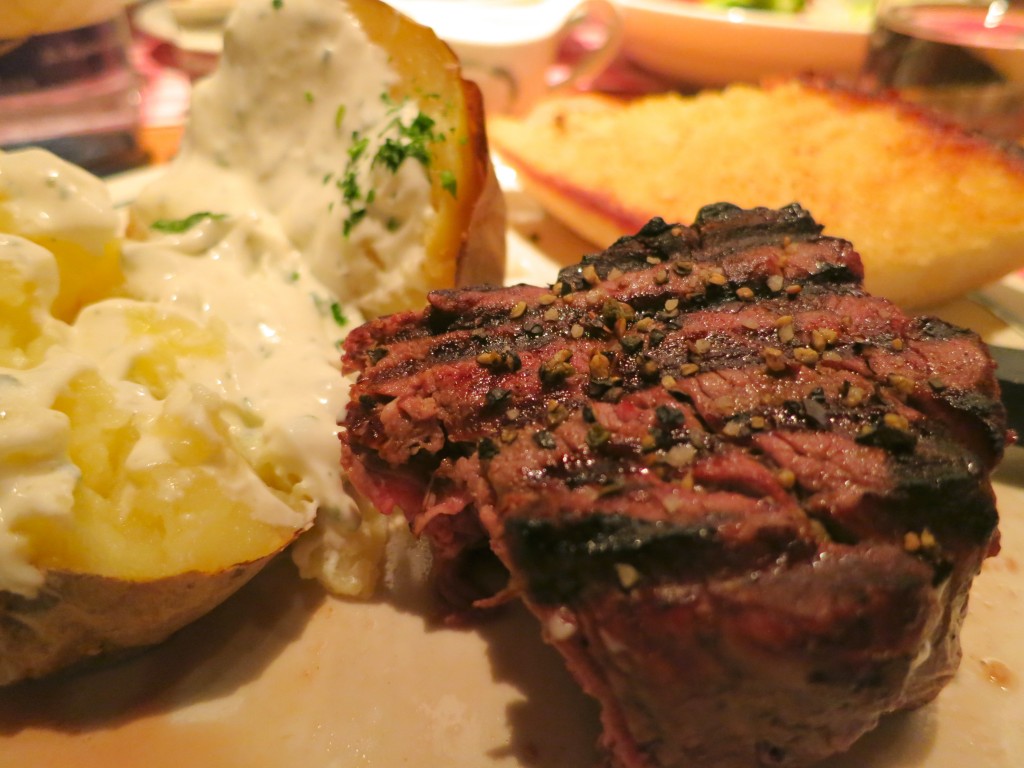 It was actually quite painless and tender
Schwarzes Cafe – Charlottenburg
Dark, cool bar downstairs and high energy bar/restaurant upstairs. They have an endless drink menu, so it was hard to choose. I settled for prosecco with mint and some fruity syrup.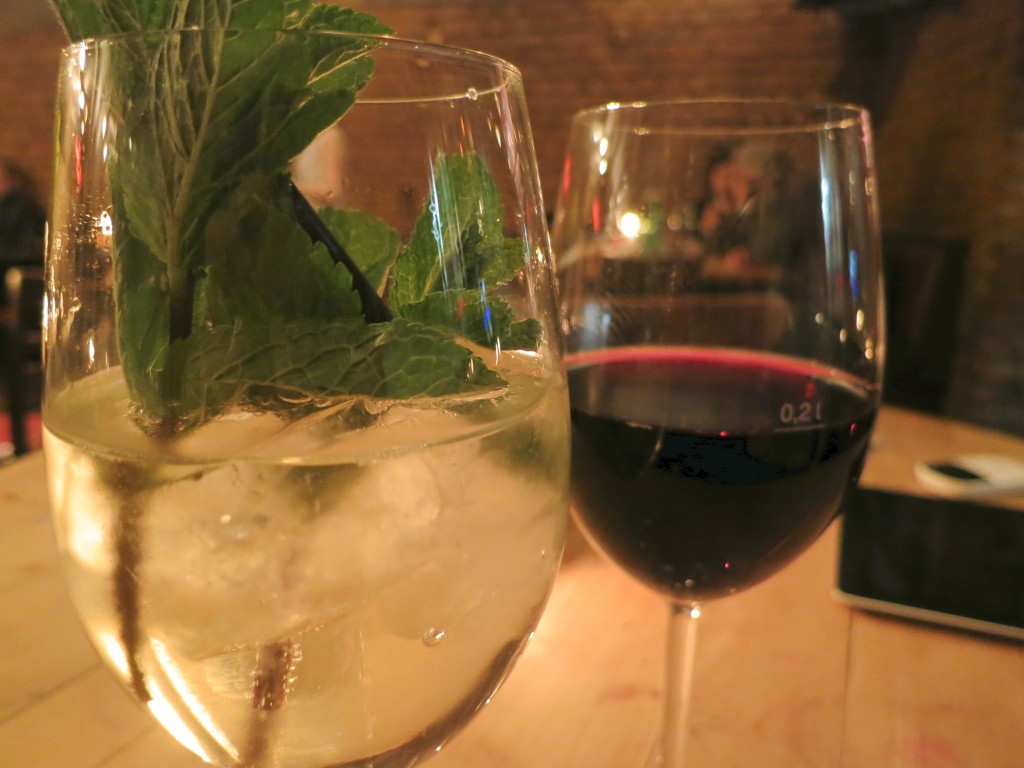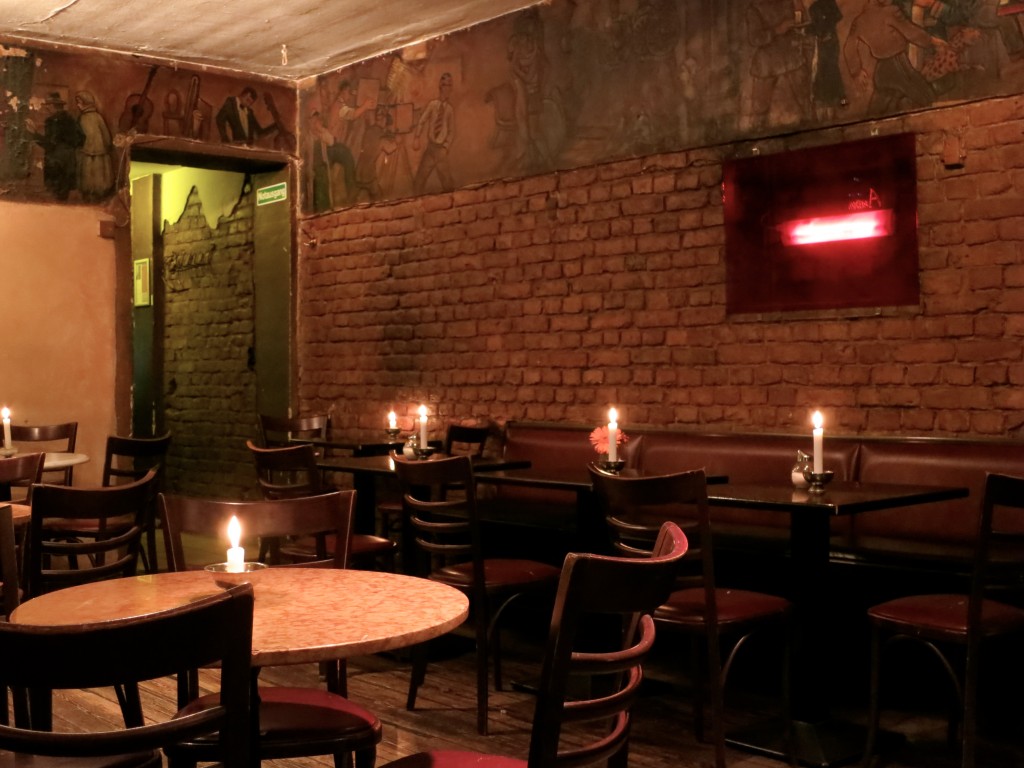 Doesn't this looks like the beginning of a really cool scary movie?
Berlin to dos: museums & gambling
Berlin Wall Memorial – Bernauer Straße
The famous outdoor Berlin Wall Memorial is a must. It's intended to expand even more than the current Visitors Center and Documentation Center. You can get lost all day or meander around for 30 minutes.
I loved the sculture that surrounded the memorial. It has great, simple design that makes quite an impact. Here's an interesting photo essay of present and past images of the Berlin Wall.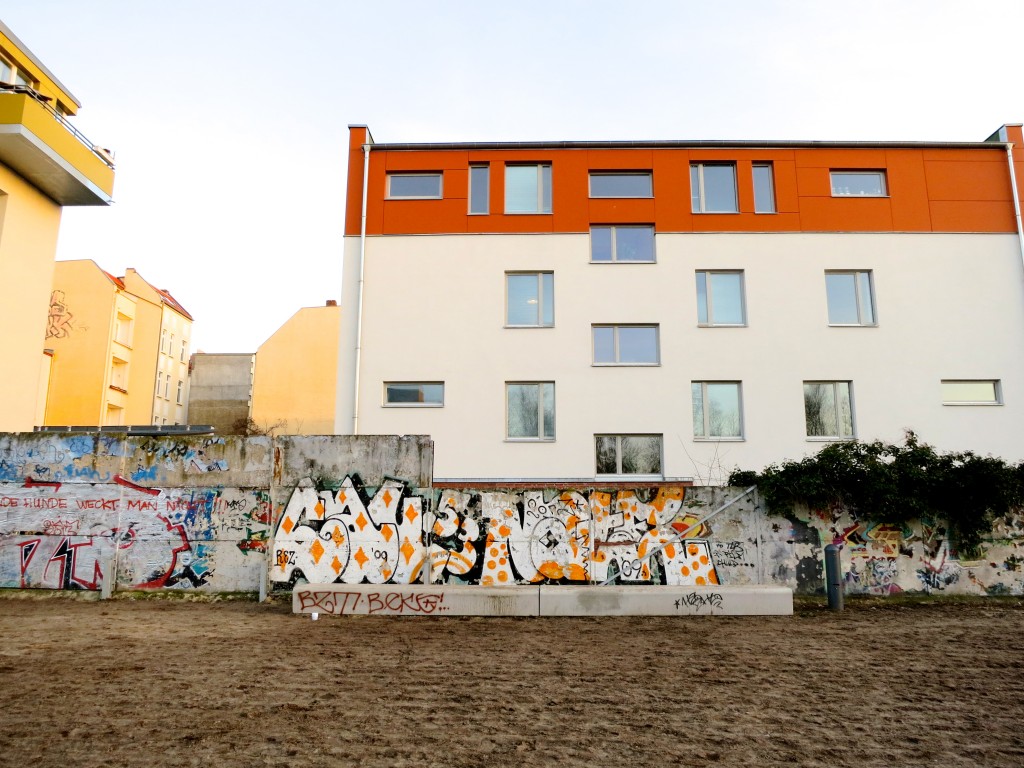 The Berlin Wall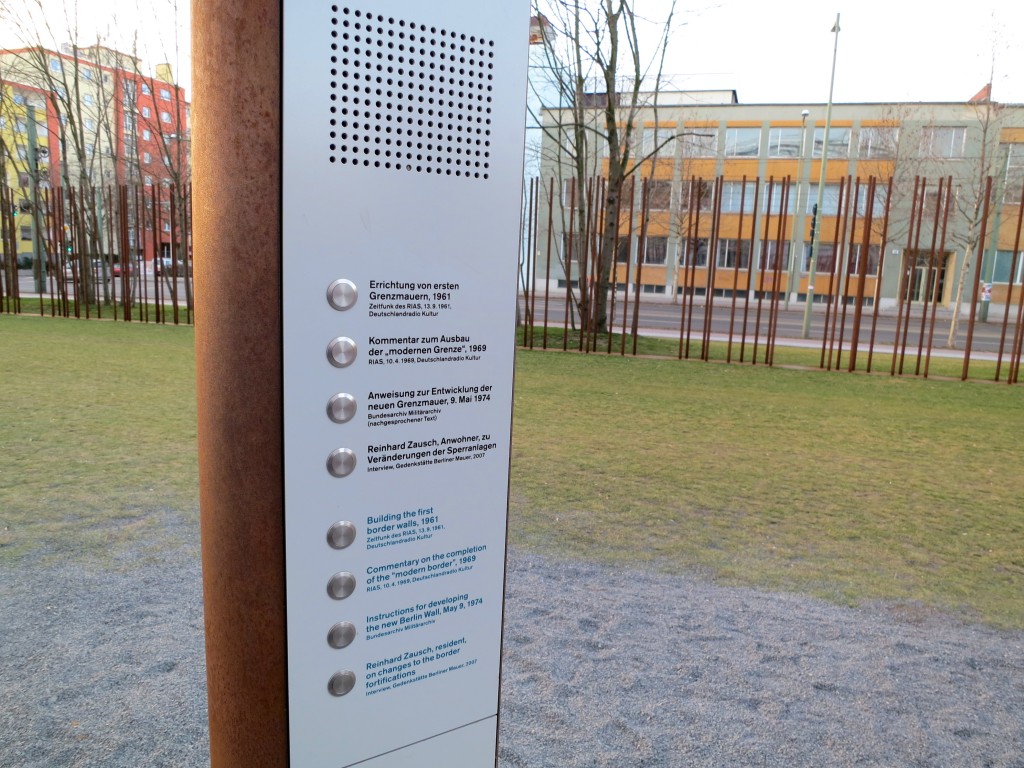 Outdoor Exhibit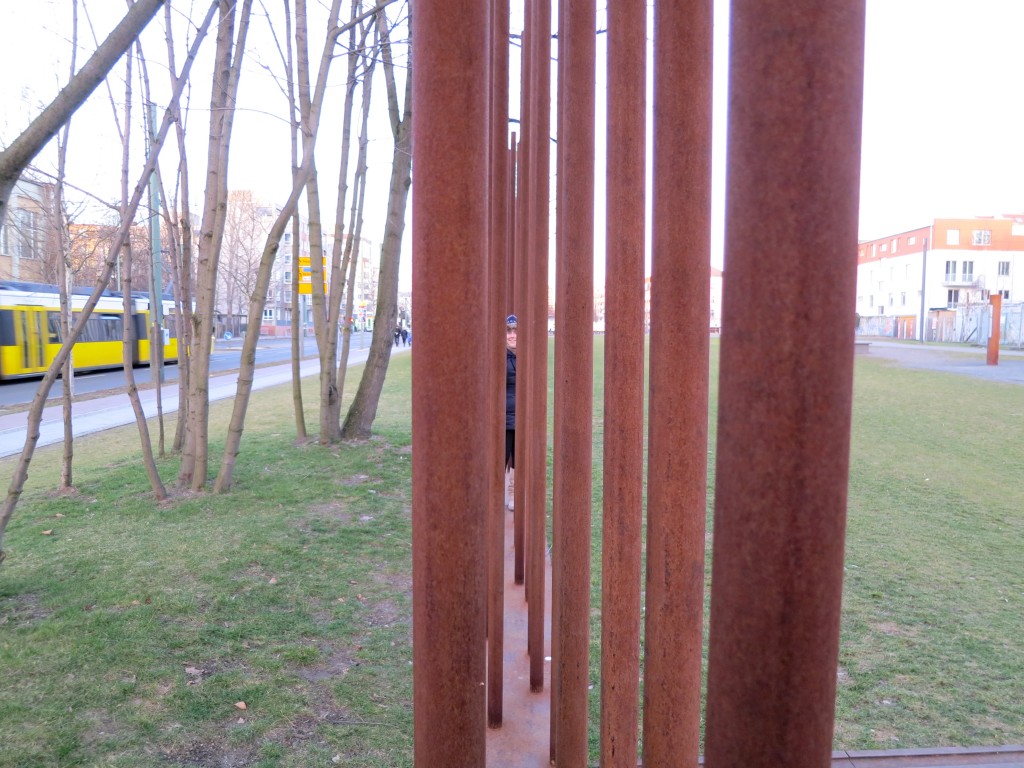 Berlin Wall Memorial Sculpture
Computerspielemuseum – Friedrichshain
We bumped into the Spiele Museum while walking along Karl Marx Allee from Friedrichshain to Mitte. It was fun going back in time and seeing how much our video games and computers have evolved. I got to play my first 3D video game! 
They even have a (pricey) gift shop that any child of the 80's would flip over.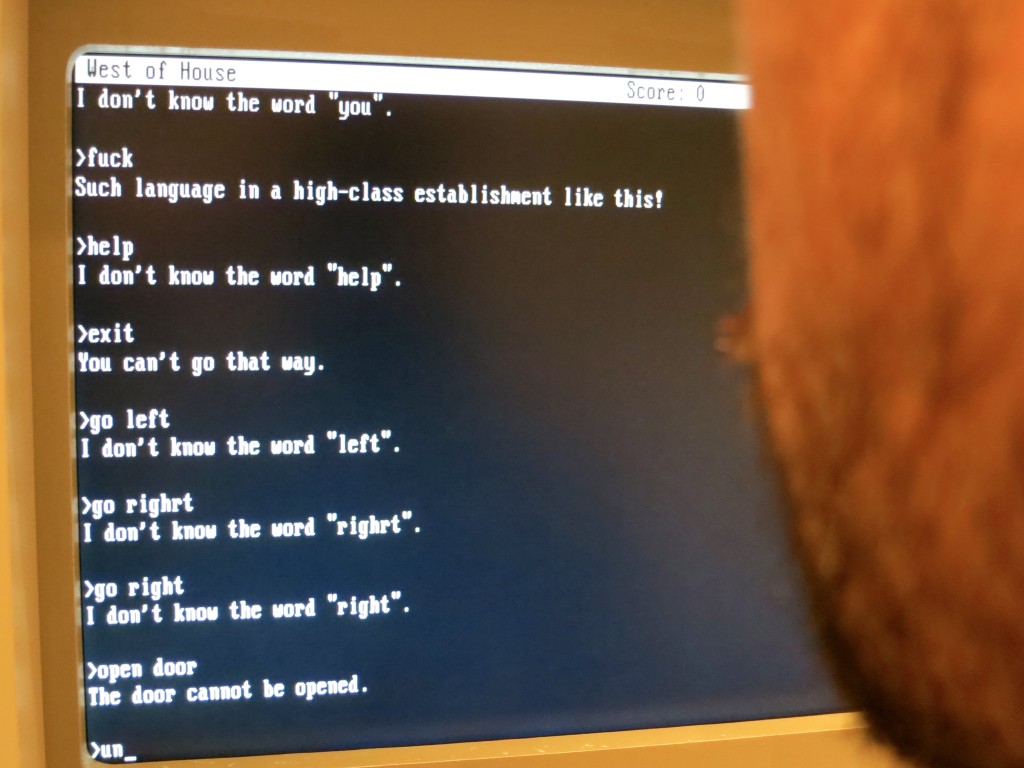 Nicco having some fun
Berlin Casino – Mitte
There are no casinos in Florence, so why not go to Berlin for some gambling. You can't miss it, it is right below the Berlin TV Tower.
It was actually really fun. This man across the black jack table kept shaking his head at my moves and this Korean woman kept hitting the table and screaming 'CARDE CARDE!' It was memorable and luckily after two hours I only lost € 4, not bad.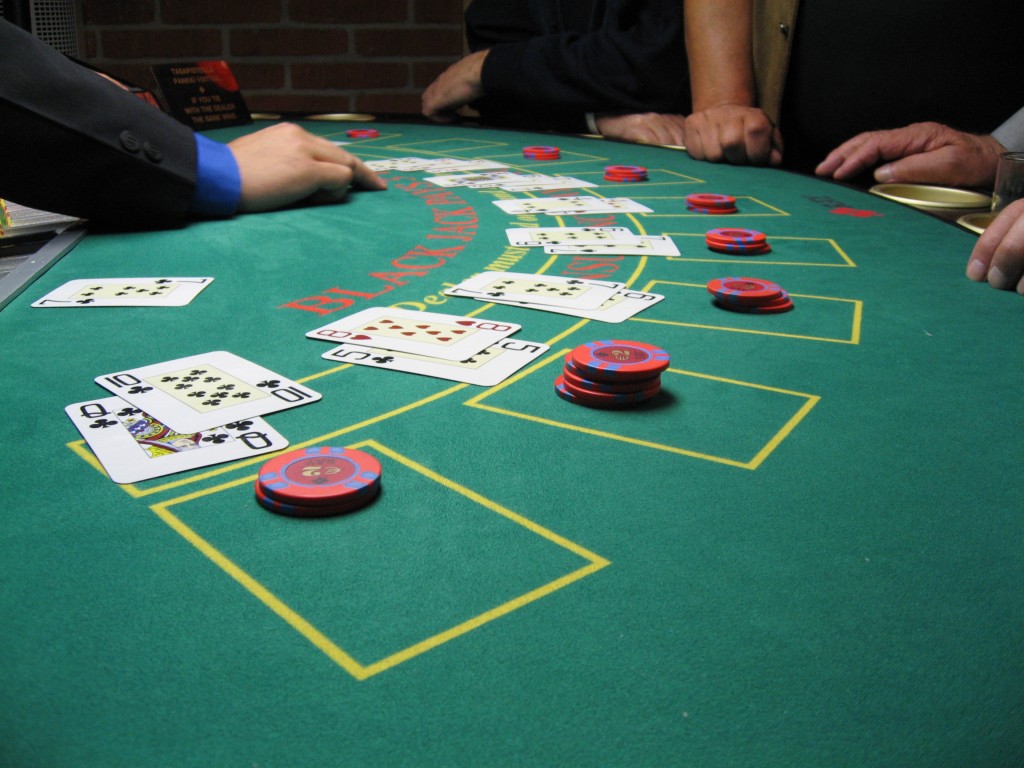 We spent three full nights in Berlin. The things I loved the most were the neighborhood feeling I got walking around Friedrichshain and Prenzlauer Berg, and the bubbly, slightly sweet beer that just sits on your taste buds whispering ever so subtly to have more.
Berlin is such a large city that I would have to explore the other districts next time, plus the Nivea Haus spa that Mrs. O Around the World suggested.