Back from three nights in Elba Island, Tuscany and I'm still dreaming of those crystal clear beaches! This baby's been on my Best of Tuscany travel list for a few months, so I was so happy that Antonio from Igers Toscana invited me to join a group of international instagramers for an Instatour.
The point of the trip was to involve and educate influential instagramers so that we would share our experiences with our Instagram followers. No problemo! I've been on a few of these, you may remember my trip to Le Marche?
Napoleon's Elba
When you google "elba meaning" you get "the site of Napoleon's first exile".
First, meaning the bugger was thrown out multiple times! I don't have time nor intellectually solid memory to get into his shenanigans, but what I know from exploring Elba is that Napoleon is still an important symbol for the island and its people.
The hashtag of the trip was #napoleone200 to represent the 200 year anniversary of his arrival. He lived in Elba for 300 days and gave a lot to the island in terms of economic and social reforms. People seemed very grateful for the roads he built, which must have been extremely helpful especially for his 600 personal guards.
Now onto…
My Elba Highlights
Fort Falcone
After the most beautiful ferry ride from the Port of Piombino (in the mainland) to Portoferraio on the BluNavy, we had the chance to take a beautiful walk up to the incredible Fort Falcone. We spent hours there soaking up the golden sky and narrow streets leading up to the 360° view.
I got lost in the sunset, seriously gazing into nothing and finding myself taking 30 photos of the same thing. I know, I'm ridiculous, but the sky was incredible and there were so many oversized seagulls laughing by us in the skies that I wanted to capture each one of them, so I did. 😉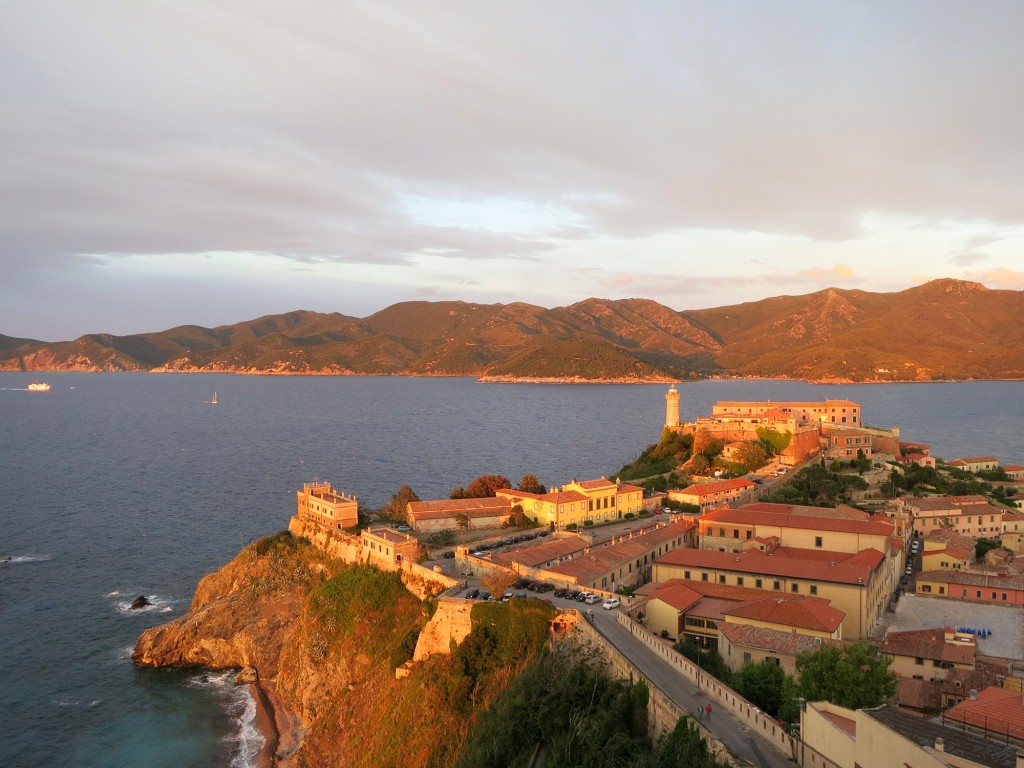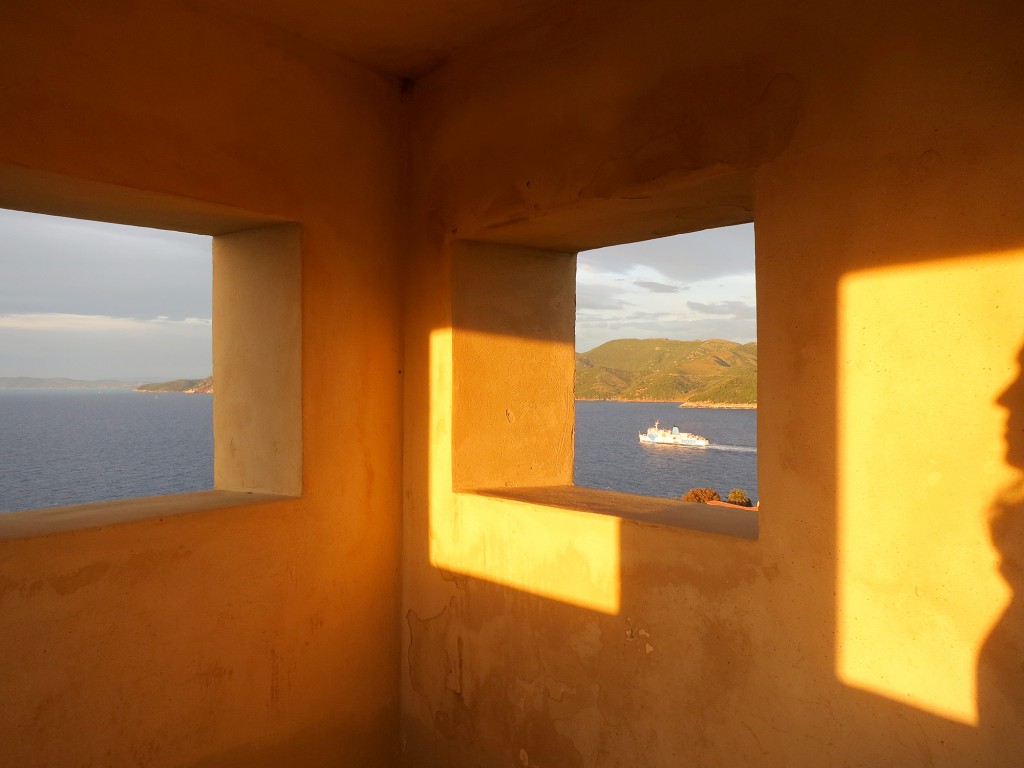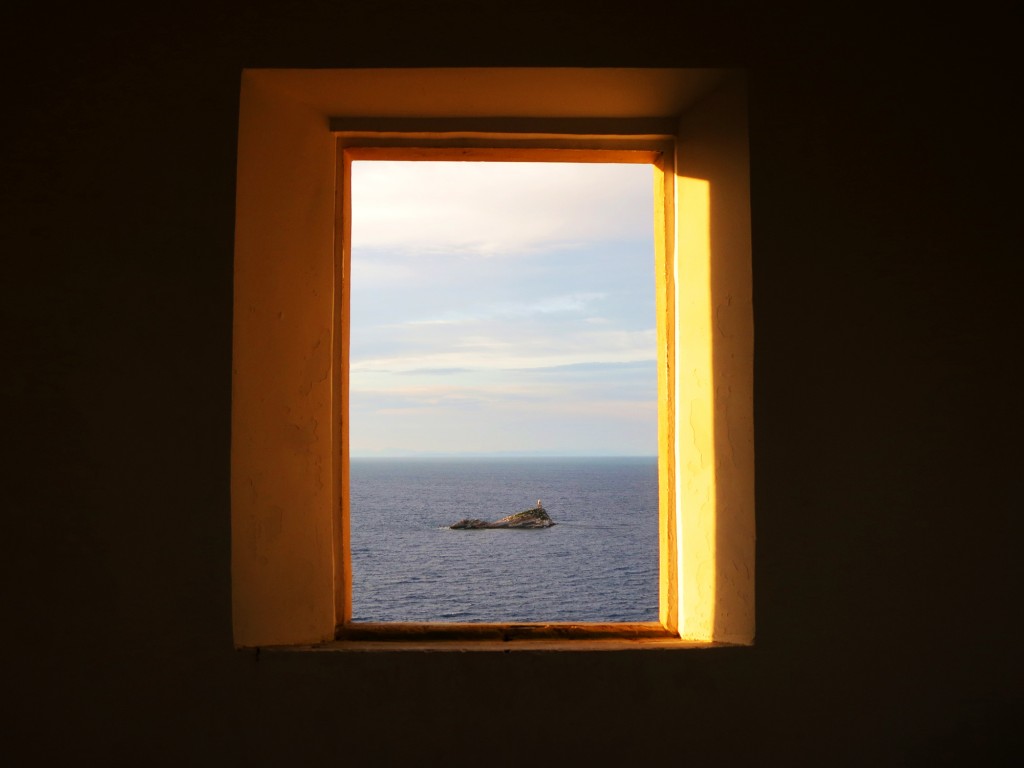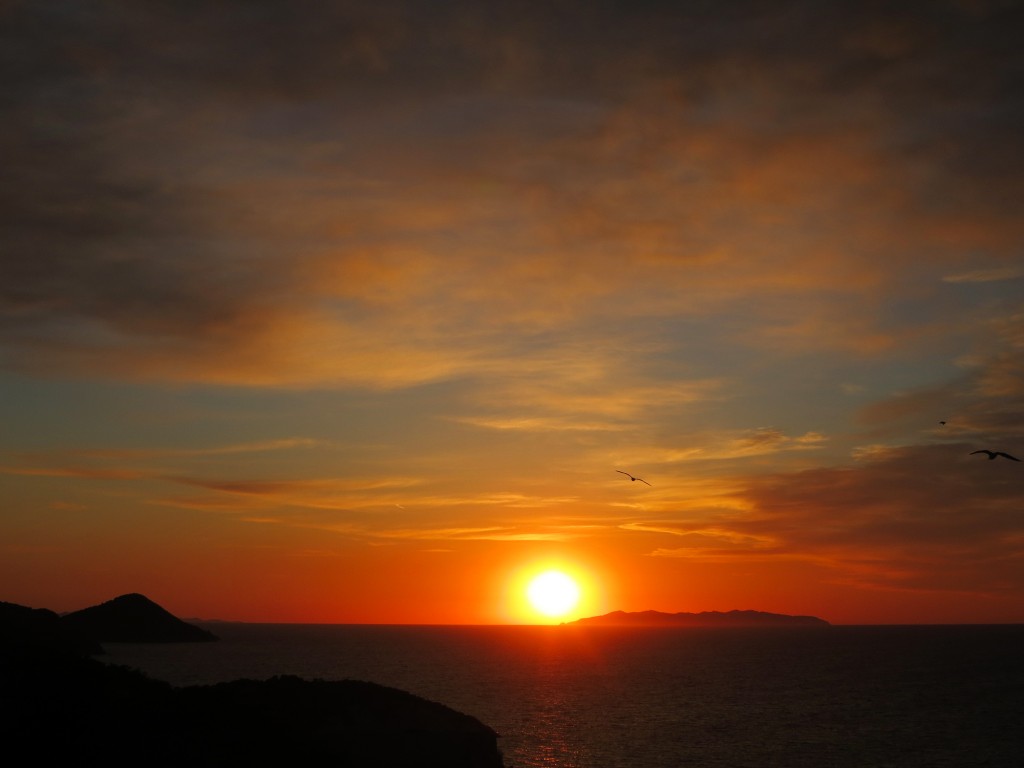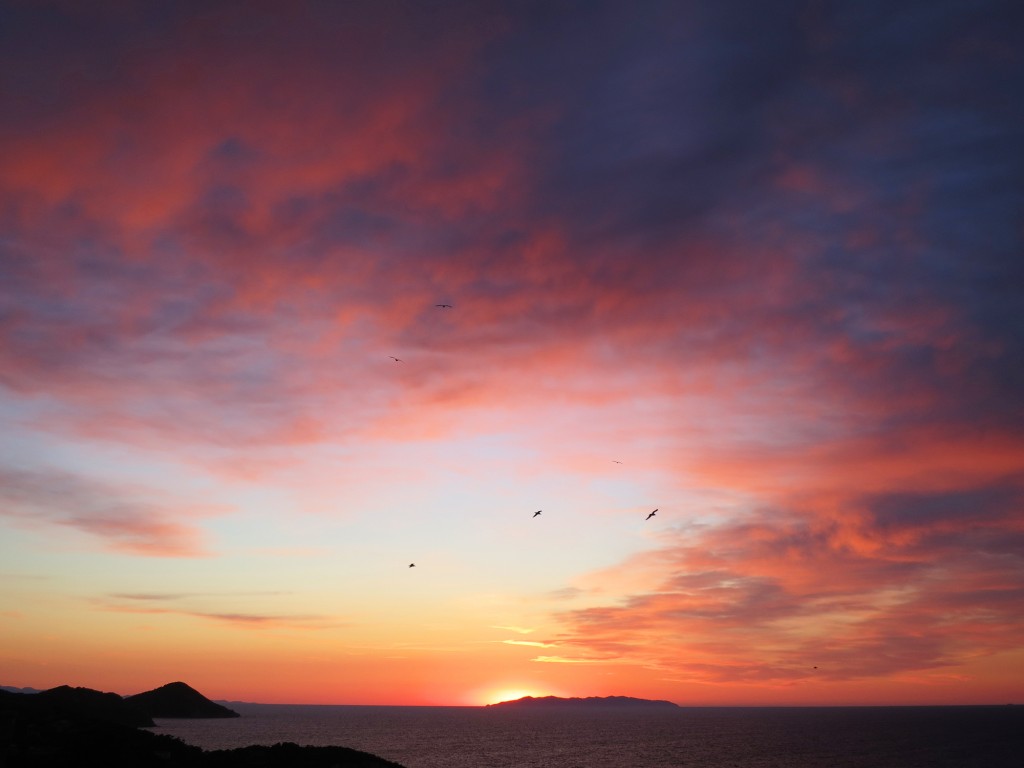 Acqua dell'Elba Laboratory
Do you love cologne as much as I do?! I'm a big fan of Hèrmes and Viktor & Rolf… but now, now I can add Acqua dell'Elba to my boudoir! I wish my boudoir was as sexy as it sounds…
We had a private tour of their laboratory in Marciana Marina where there were a dozen women dressed in white filling up bottles, sealing and packaging them between the most beautiful aqua covered walls. Lucky for them their work environment smells fantastic.
They have over 15 stores on Elba and we were extremely lucky to leave the island with their über plush towels and a bottle of their classic perfume, grazie!!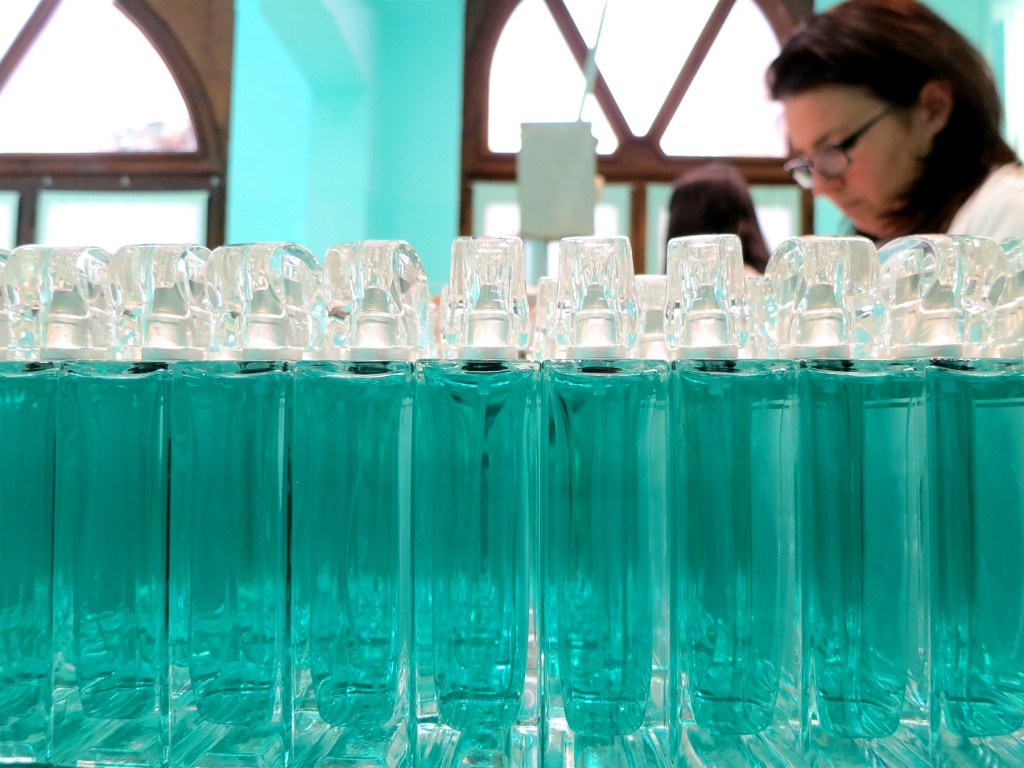 Baia Bianca Suites on the Bay
Many places don't really make me jump and shout WOW like a crazy gringa. So, when we pulled in to Baia Bianca Suites on La Biodola Beach…
I belted "WOW!" and threw in a few "Mammamia!"s.
Can I stay for…ever?
We were lucky enough to take full advantage of their amenities, including bottomless Prosecco, foodie treats, infinity pool, private beach, cabanas and a suite with a private pool for us trouble makers. I know, a bit much for loud, pool jumping instagramers.
It was peaceful, relaxing and we all felt like a million bucks just walking around. The place has that special charm that makes you feel so good. Please invite me if you ever go!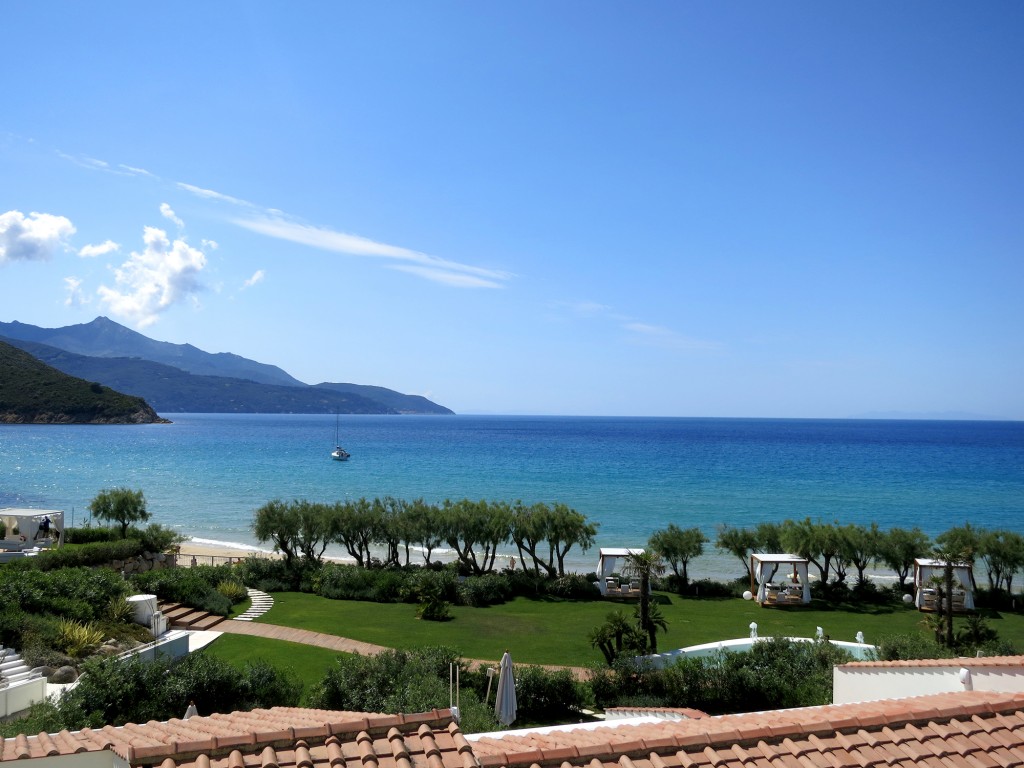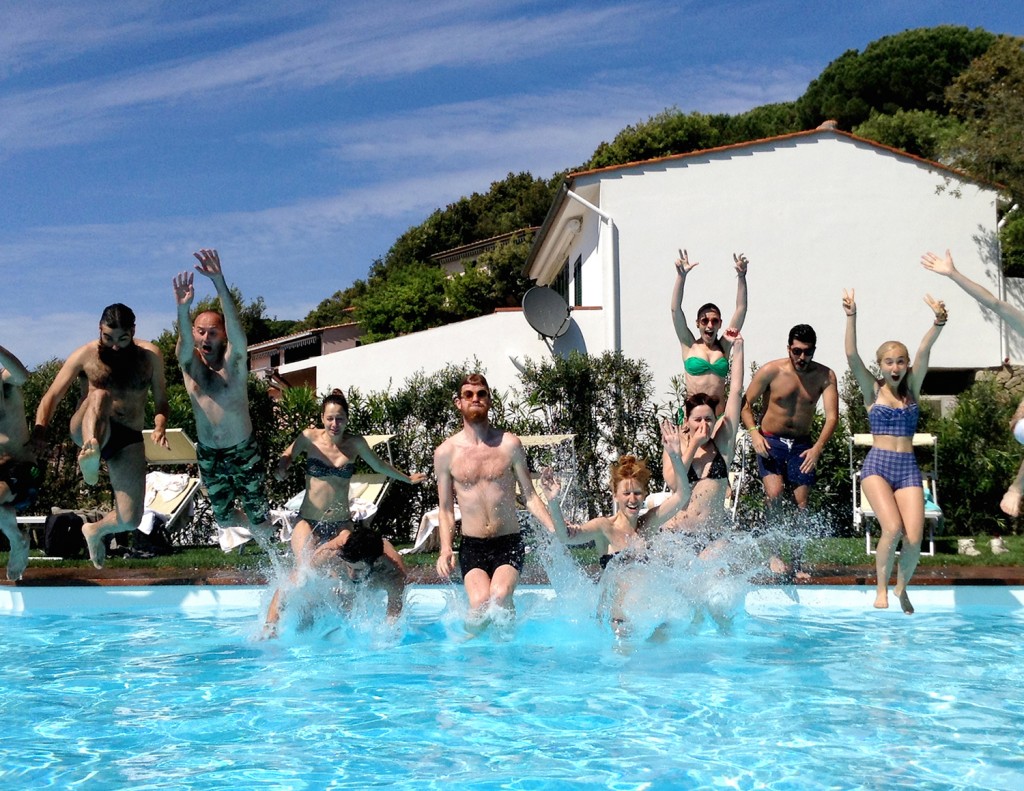 Hoods I loved
We all slept in a handful of hotels in Marina di Campo. Mine was Hotel Montecristo smack on the beach with a lap pool overlooking the Tyrrhenian Sea. The beach club across, Da Sergio, makes kick-ass drinks. I opted for my first caffè shakerato of the season. Ya baby!
This bay area was the perfect getaway. Streets are filled with incredible seafood restaurants, unique boutiques—thanks for these babies!—and a bay filled with soft sand and photogenic sail boats.
We also spent a lot of time in Portoferraio. It's the largest city on the island and is covered with many hidden treasures like museums, shops, markets, seagulls, Napoleon's Villa, forts, docks, nonni and restaurants.
Famous street artist Clet Abraham
If you've been to Europe you've probably seen decorated street signs, making the dull official traffic signs brighten up everyone's day. The man behind these smile causing pops of joy is a Frenchman who lives a few blocks from me in Florence.
*Read his exclusive interview here!
Clet joined in on the craziness and came with his backpack filled with decals to place throughout the island. Many stickers were added to signs in our company during broad-daylight and others were done in the midst of the darkness while I was probably sleeping off my cold. Achooo. I'm better now, thanks for asking.
*Clet's studio is in the San Niccolò area in Florence. I'm a huge fan of his studio where he sells everything from T-shirts, street signs, buttons, stickers to gorgeous posters—so don't forget to pass by and say hi the next time you're hiking up to Piazzale Michelangelo.
Also, look out for his Common Man installation on Ponte alle Grazie overlooking the most famous bridge in the world—Ponte Vecchio.
I had an amazing time in Elba. The company was TOP and the locations couldn't have been better. Thanks again to Antonio, Ilaria, Marina di Campo, Acqua dell'Elba and Instagramers of Italy for giving me something to dream about the next time I'm stuck in a meeting!
Do you have a favorite island to visit? What about Clet's work, pretty cool, huh?