My husband always asks me why I use Instagram saying it doesn't drive any traffic to my blog. In defense I say that I love interacting with my blogger friends and my friends back home. Plus, if you know me I've always loved photography! To prove my husband wrong 😉 I was out to find how many hits I actually get to this blog from Instagram!
How to track Instagram hits to your site
Since Instagram.com does not offer analytics, I searched the web and found a few articles. Not much seems to be out there. Here's what I found and what I ended up doing in order to track hits from my personal Instagram account.
Track Instagram with Google Analytics
One way to check how many hits Instagram is bringing you just go to:
Google Analytics > Audience > Technology > Browser & OS > Instagram 3.4.2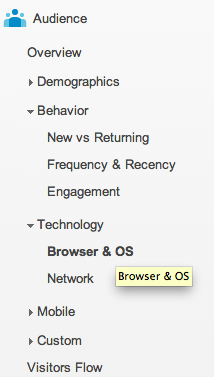 Is it only me that finds it weird that Instagram shows up as 3.4.2 when there was a 4.0 update recently? Maybe it's just in my analytics account.
Anyway, you will find Instagram under 'Browser & OS' somewhere. At first I didn't, so I broadened my dates to three months. It was disappointing because I only saw 5 hits…impossible! With 1,236 current followers how can this number be right? I am able to admit this to you but to my husband? Never!
Let's keep searching, shall we?
I then read on Quora that it's best to add a custom Google Analytics campaign, but the URL was ridiculously long for Instagram. I can add a more simplified tracking code, but that would still require a bit.ly for my Instagram profile and I really don't want to use a bit.ly.
Would I look like a spammer if you couldn't tell what you are clicking on? I would assume so, but then again I have enough followers and interactions to not appear as a spammer, but still, no bit.ly for me!
Use fancy tools to track Instagram
If you're a business, then it makes more sense to track every move, but at the moment I just want to know how many true visits I'm getting from Instagram to my blog.
I've checked these tracking softwares out and they're pretty cool, just lots and lots of numbers that I don't need for my personal account. It would make sense if you had thousands of fans and a crazy amount of likes to really gauge what your fans like and even where your fans are from.
Nitrogram offers a 14 day free trail and tracks engagement, audience and posting habits. If you created a hashtag for a contest or for your brand in general you can track that too or any general hashtag that relates to your business.
Statigram is best used for Instagram contests. This may come in handy when I conduct contests for clients, but not for my personal account at the moment. It's also an easy way to see all of your followers, who you follow and all the images/videos that you liked. It even shows the best time to post according to your followers' engagement.
GramPro is a $1.99 app that helps track engagement, audience and helps you see which followers give you the most love. You can also track your lost and gained followers. This seems more realistic for a personal account, but still I'm not interested.
Let's keep searching, shall we?
*For a complete list of Instagram Analytics tools, go here!
Create a hidden Welcome Page on your blog just for Instagrammers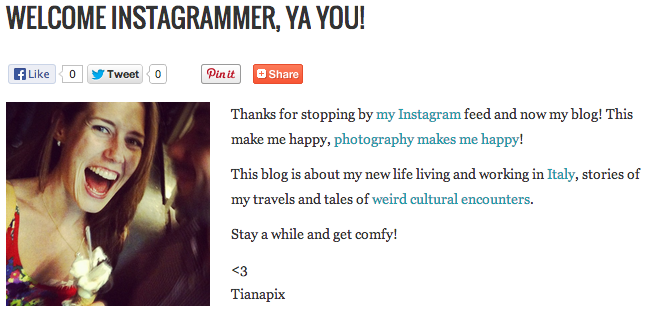 These links won't work because this is an image 😉
This is what I ended up doing! I added a new page in my blog that is hidden, but only visible if you click on the link in my Instagram profile. Bingo! P.S. that obnoxious picture of me is from my Instagram profile, so it made sense to add it.
Now my URL displayed in my Instagram profile is tianakai.com/iger. That seems like it will be easy enough to track! I only added 'iger' at the end to keep it as short as possible. 'Iger' meaning Instagrammer, one who uses Instagram. I thought 'instagrammer' was overkill.
Let's see how the numbers do now, hubby! 😉
I don't use Instagram to directly drive hits, but rather build relationships and stay top of mind. Marketing, after all, is just top of mind awareness. My grandpa would be proud, he was an Ad Man.
How do you track your social accounts?
Was this helpful? Then please share!