If you've lived abroad for more than a few months you might notice hunger pains for pastime snacks that were everyday commodities back home. In Italy there's a shortage of cupcakes and bagels. So, if you're a student, expat or hungry tourist Mama's Bakery in Florence is here to the rescue!
Americans, no need to deprive yourself of nostalgic goodies and head over to Mama's. It's in Oltrarno behind Santo Spirito. The bakery is sleek and spacious with ample space to really relax and enjoy a coffee and a smoked salmon bagel with jalapeño cream cheese.
Coffee break at Mama's Bakery Florence
I recently enjoyed a real cup of joe with two lovely blondes from California who reside in Florence with their Italian husbands. Bonnie Marie of Perfect Italy Wedding is an exceptional wedding planner all throughout Tuscany and a proper English teacher. Krista runs her Alla Fiorentina blog and knows a thing or two about the Florence bar scene as her husband owns Monkey Bar. These donne joined me on my last blog tour in Cesenatico where we got to spend some quality time… now it was time to catch up in Florence.
Mama's look and feel
When you walk inside you can't believe you're in a bakery. I though I walked into a posh bookstore with cozy chairs and tables casually placed along the labyrinth of a layout. There's a wall of glass windows facing a lovely green space which also has outside seating.
The ambiance makes you want to stay all day and Cristina—the owner—said that she's even spotted patrons passed out on the chairs. Cupcake coma?
Mama's goodies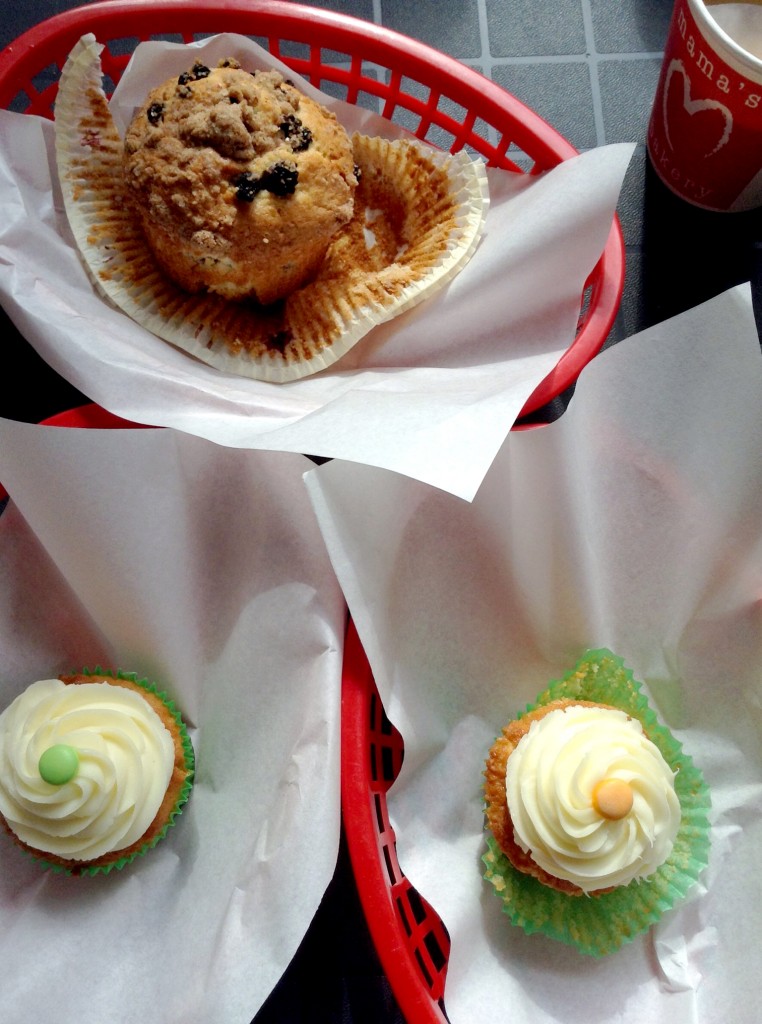 Krista and I ordered a vanilla cupcake with cream cheese frosting, yup it tasted like the real deal. Bonnie had a hearty muffin that reminded me of the coffee shops in Boulder (where I lived for a year). All three of us sipped on our coffee with a splash of milk.
A cappuccino or chai tea would have been a lovely treat, but Mama's is so traditional that they just serve American coffee and classic tea bags.
One item that screamed my name was the spinach quiche! It looked fresh and oh so rich. Check out their full menu here.
Who's Mama?
Mama's Bakery is owned by a husband and wife team. Cristina is Italian and Chef Matt is American. They have two children who I'm sure keep them busy when they're not running the bakery.
Mama's Bakery is open Monday-Friday 8-17.00 and Saturday 9-15.00
via della Chiesa, 34/r – 50125 Florence — 055.219214 

*Need more foodie tips? Check out my 2 day Foodie Guide!
Any snacks you miss from back home?

Liked this post? Share it and pin those pics!