After moving to Florence four score and seven years ago I finally got a bike, finally! Her name, Valentina.
She's a dandy bike, happy to take me along through all the crazy narrow cobblestone streets of Florence, on all the endless bumps she finds and available bike paths.
I can now experience the city on a regular basis and get fewer headaches since public transportation is a thing of the past…unless it rains!
How To Ride A Bike Like An Italian
1. Buy a used bike, new bike's are for suckers
It's amazing how much charm an old bike has. The shape, the chipped off multi layers of paint, the basket…
Let's be honest, we don't all buy old bikes for their aesthetic charm. We buy old bikes because it will get robbed sooner or later so why throw down 200€ or more to then be left heartbroken when POOF it's gone!
Valentina was 65€ and I love her. Although she recently gave me trouble and decided she didn't want to work. After spending another 34€ at the bike shop she's up and running. So, now I'm in 99€, ugh, maybe a new bike doesn't sound that bad after all?!
2. Buy a crappy lock
My husband, Nicco, has had several bikes in Florence and has tested out all types of chains and locks. His theory is that every bike will get stolen, so don't waste 50€ on a mega chain lock because those can be cut in half with the right tools.
A friend of mine had a cool bike with TWO mega chains and arrivederci to that bike as it now belongs to some random dude who bough it off the guy who stole it from you!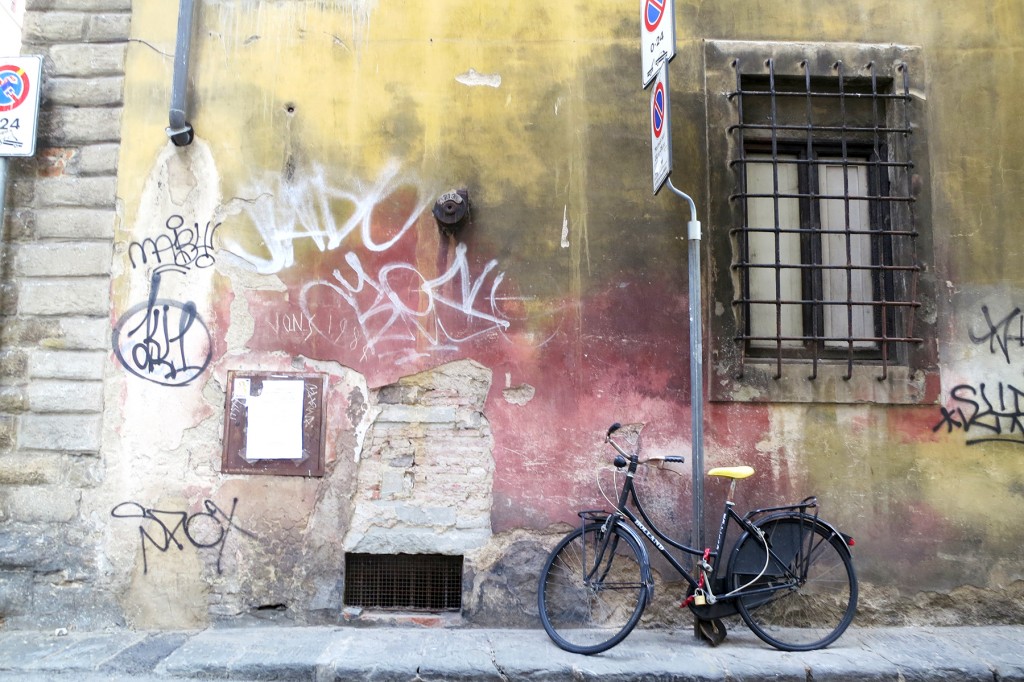 3.  Get a squeeky bike with good enough brakes
Good enough as in they won't stop your bike immediately, just good enough so you don't hit a wall. My brakes make the most horrendous sound; they're so loud and piercing that they just make me laugh.
The best is when I ride Valentina downtown and out of nowhere some other biker appears and their bike sounds like a metal factory. I smile and think "ha, your bike sounds worse than mine".
4. Have a self-ringing bell
Why put effort into ringing your bell when your bell can ring itself each time it hits a bump or even rides over a crack? Remember you need your hands free to talk on the phone and smoke, not for bell ringing!
5. Leave your bike in your apartment each night
I live on the second floor and actually have an elevator, which is pretty rare, but I never use the elevator and more importantly my bike doesn't fit in it. So, Valentina is a woman of the night and is left to sleep on the streets.
My neighborhood is not touristy and is sans gypsies, so I may have a higher probability of NOT having it stolen by my house, but who knows. Many friends of mine say they never leave it out at night…what a hassle.
6. Don't park your bike in the same spot twice
Oh, time to trick those clever clever bike snatchers! I leave my bike in the same spot at night, but when I feel creative I move her to a different pole. Do you think this outsmarts those bike thieves?
7. Park like a pro
If you're just running into a coffee bar for a hot second or grabbing a cocktail somewhere why bother with looking for a pole to lock your bike to? Ain't nobody got time for that! Edge your bike up to the sidewalk, lay the peddle on the stoop and lock that cheap lock around the wheel and metal bar and grab that cocktail. It looks chic, doesn't it?

8. Don't wear a helmet
Helmet, what helmet? Riding a bike in Italy is like skiing in Italy, helmets are not allowed. It ruins one's hairstyle and overall look. The only time you need to wear a helmet is when it's mandated on a bike tour or when your riding a Segway.
9. Work out your forearms before riding
The bumps on the street can be severe so to avoid bikers cramp (ya, just made that up, but it's a serious threat to city bikers), work out your forearms on one of those malleable stress balls.
10. Stick to the biking paths
If you don't want to piss off pedestrians then stay on the red bike path. If you want to piss off pedestrians then go wherever the hell you please.
I'm lucky because I have an amazing biking path that takes me all the way to the Arno River in less than ten minutes. It's a gorgeous path and I arrive at a beautiful part of town with lots of trees which leads me right to downtown Florence.
11. Take your time, even if cars are behind you
If you ride your bike in Italy note that you're the king of the road, you can ride down any street. Since you're on a city bike with one gear—or a fixie, which sounds so much cooler—then you can't be rushed, so go your bike's speed and just cruise down the narrowing streets no matter if cars are behind you.
12. Watch out for pedestrians who clearly have never seen a bicycle before
Why is it that when I ride downtown I feel like I'm having a stare-off contest with a dude on foot. Wanna play chicken? Valentina can totally take you!
I let my self-ringing bell do its thing, but still nothing. People are not fazed by the fact that I'm going to possibly hit them. This biking experience has made me a nicer pedestrian to cyclists, since it's not fun to have to stop abruptly because someone can't move an inch over.
13. Pimp out your bike! 
…but not too much or it will get stolen quicker. Make your bike look cute, give it a personality! If you're a chick, then add some fake flowers and a pretty basket. If you're a dude a wine crate DIY basket is perfect. I actually have a wine box that I'm going to attach on the back of Valentina, she loves wine! I may even hit up the dollar store and add some flowers to the front basket, we'll see.
14. Always, and I mean always, cover your seat with a plastic bag from Coop
Some say that it helps protect the seat from the sun and rain and according to the awful Summer showers we've been getting I guess I wouldn't want a wet bum either, so best to cover your seat with a plastic bag. I must admit that I bit the bullet and covered my seat for a week.
I felt so dorky! Valentina is no longer wrapped in plastic, she's fine in the nude.
If you want more useless tips check out How to do laundry like an Italian! 
Any bike riding stories you can share or other obnoxious tips?
Share this post and pin those pics!