There are many reasons why people from all over the world dream of having a home in Italy.  The country's rich heritage, iconic national and regional cuisines coupled with idyllic landscapes and homes, does indeed make Italy a dream destination for both full and part time residences.
Fortunately for those wishing to have a home in Italy, there are many properties available. The most economical, however, are those requiring restoration. Restoring a property can be immensely rewarding not only personally and aesthetically, but also as a sound financial investment.
Renovate Property In Italy
Getting Started: Where to Look
Farmhouses are amongst the most popular choices of those looking to buy property in Italy. The iconic houses and the surroundings often capture the buyer's dreams perfectly. The best places to find such houses is in Italy's central regions; Umbria, Tuscany and Le Marche. Tuscany will be the most expensive as a rule with a house in Le Marche being the least.
Otherwise, village houses are often an economical way to get started with property ownership in Italy. You can find homes ready for restoration at about one-half of the price of a farmhouse.  The village properties still offer the feeling of escape, but often the restoration is far less complicated. Abruzzi, Tuscany, Liguria, and Umbria are home to some of the best village properties.
As a general rule, cities in the North of Italy are more expensive than cities in the South, and in fact those in the North are among some of the richest cities in Europe, with those in the South being some of poorest.
Understanding Italian Buildings
In order to achieve your dream, you need to know the materials that are part of the traditional Italian building process. Employing traditional materials not only captures the iconic look and feel but in some cases is required by law to maintain the history of the area.
Stone and wood are the main building materials. Italy's stone buildings are the most beautiful in the world. The types of stones vary, but in most cases the stone is reclaimed from previous structures. The use of reclaimed stone is one of the keys to achieving the iconic Italian style.
The main types of stones for building are rectangular limestone, sandstone, granite and fieldstone. Historically, limestone was used by wealthier residents; in part due to its superior protection value against invading armies. The homes located in the countryside often used irregularly shaped fieldstone so you might be inclined to stick with this traditional appearance.
The wooden beams of the homes were typically chestnut, elm, poplar, and oak. Like the stones, the wooden beams are often reclaimed from older structures after being sandblasted.
Walls were originally plastered with a mixture of sand, lime and cement and the same mixture can be used for re-plastering.
The re-use of materials found on a property is common practice and should be followed by any new buyer.
Completing the Restoration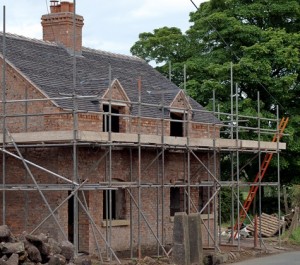 Unlike many parts of the world, especially the UK, the laws concerning buildings vary greatly from one location to another.
The best way to find a reputable architect or geometra is to talk with locals and do a lot of research on message boards. Use the same diligence you would use in hiring a plumber or electrician.  Making the wrong choice can be the difference between having your dream home or a nightmare.
The architect will oversee every aspect of your renovation, so it's very important that you find one who understands your desires, tastes and budgets. Many new Italian property owners live hundreds of kilometers away, making on-site inspections difficult. Getting a minimum of three quotes from different parties is suggested, and make sure that they all give you quotes in the same format, say by the square meter or by the hour. Once you make your selection make sure that you draw up a contract that spells out exactly what is expected, along with the budget for the total renovation, this way any disputes can be looked up in the contract. Gate-away has a handy property guide which features a section on renovation in Italy and talks more about the importance of signing a contract before starting the process.
You should note that the kitchen is usually not included, even when the architect is finishing every room in the house. To Italians the kitchen is a very important room and even with new buildings, this room is typically handled by the owner. This could then become an additional cost to you, so make sure you are fully aware of exactly what you are paying for before agreeing to anything and being left with more work to do upon supposed completion.
Also make sure your architect understands your plans for the property. Local laws can vary for houses that you plan to rent out as opposed to the one where you will live so be sure to take note of any laws and protocols for your desired plan so that you do not find yourself on the wrong side of the Italian legal system.
Budgeting
Buying property in Italy, or any foreign country is a major commitment. You're buying your Italian home for pleasure, so don't let the finances turn it into a burden. Overruns with renovations are common, so be sure that you have a contingency fund of about 15% to handle them.
If you have the talents and time, consider having your home restored 'Al Grezzo'. That means that it's structurally sound, but is basically a shell, with lots of the major components left out. Having the property in this state sometimes helps with bank financing, as many banks only offer traditional mortgages on fully renovated properties.
Don't overlook upgrades to the property that are necessary as well. These will help you avoid unpleasant surprises. Also be sure to account for IVA, fees for changing the property's classification, and any Comune (Town Council) fees. Once you know what you'll be paying for, you can begin to work out how best to use your money, and make the whole process run as smoothly as possible.
*This was a guest post by Imogen Davies.
What region are you looking to renovate a property in Italy?

Please share this post and pin that pic!