I was speechless.
Dale Chihuly never disappoints and has brought a rejuvenating vibrance back to the Seattle Center. Located on 1.5 acres, the Chihuly Garden and Glass exhibit found a permanent home, well at least for a few decades.
Dale's a fellow Washingtonian so it's fitting that he has a space where he will be celebrated for years to come. Color, movement, sculptures, chandeliers and sketches fill up over eight gallery rooms, a green house and large garden—all sitting within the shadow of the Space Needle.
"There are no boundaries, there are no rules." — Dale Chihuly Tweet it
After passing the first neon piece of work, you step into the Northwest Room, which shows off Chihuly's inspiration from the Native American culture. This room is filled with gorgeous pieces that reflect Navajo textile design. The Basket series allowed him to foster a sense of asymmetry. This room also holds his Cylinders and Soft Cylinders series.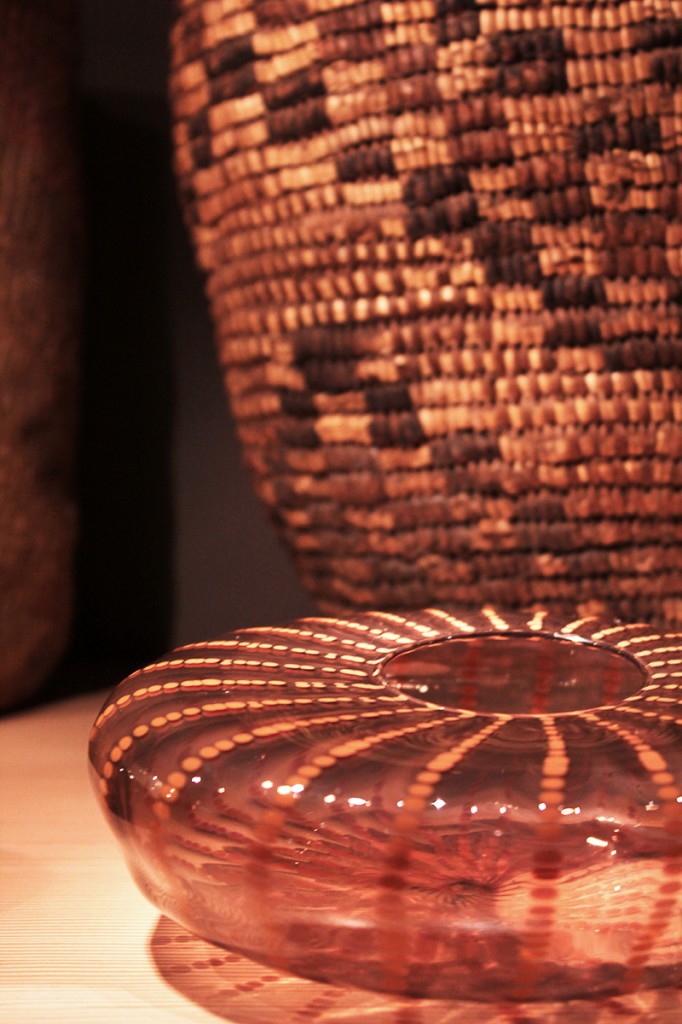 The Sealife Room is like walking into a dreamlike state. The 15-foot tall blue structure was too heavy to be a chandelier, so it looks like it's being revived from the deep blue sea. This gallery room displays Sealife Drawings and smaller Sealife Vessels.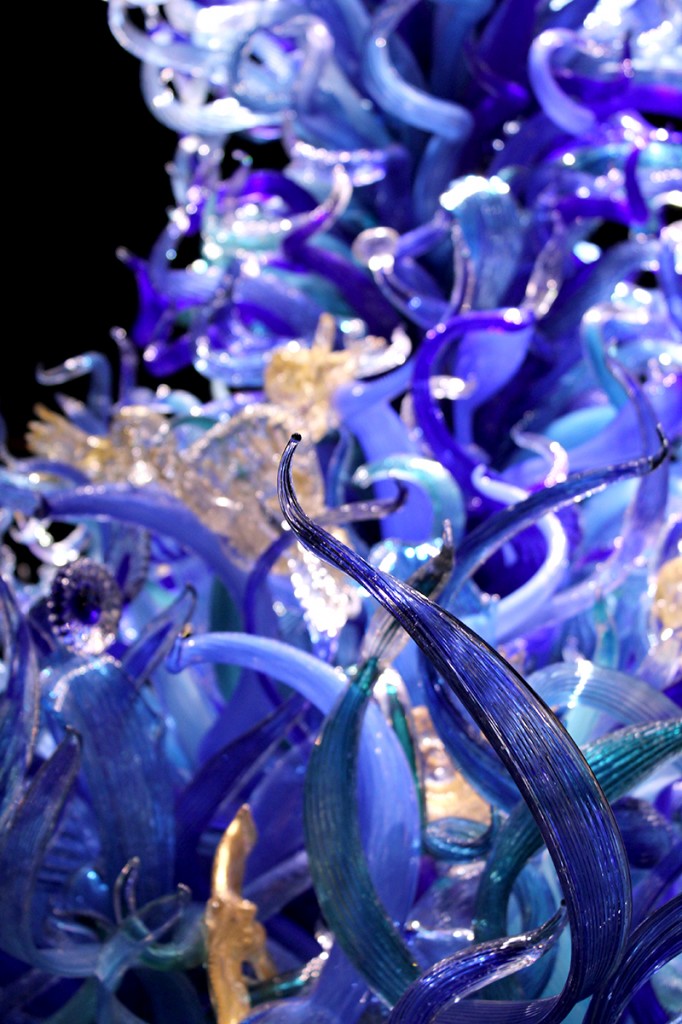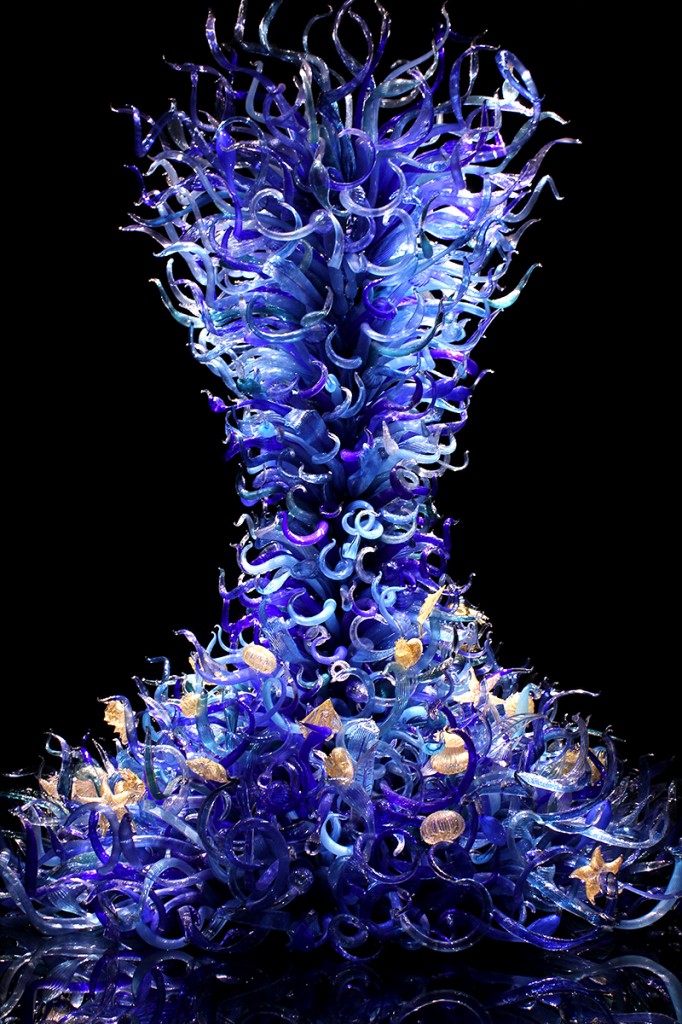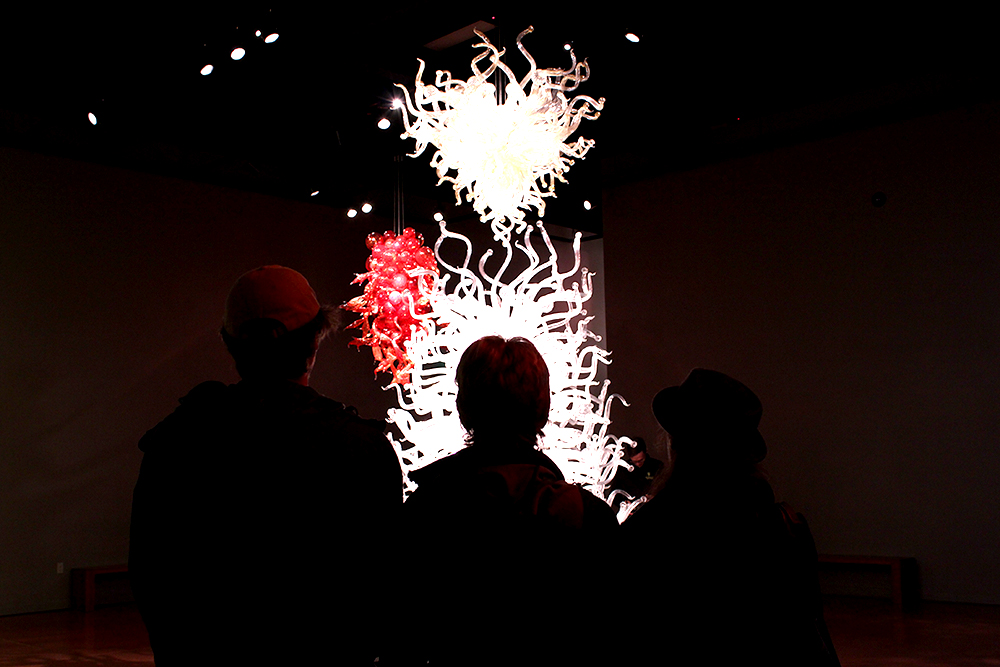 The Persian Ceiling was the perfect interlude to the next room. The art is overhead; glass delicacies lay on a glass ceiling emitting endless colors onto any wide-eyed art watcher.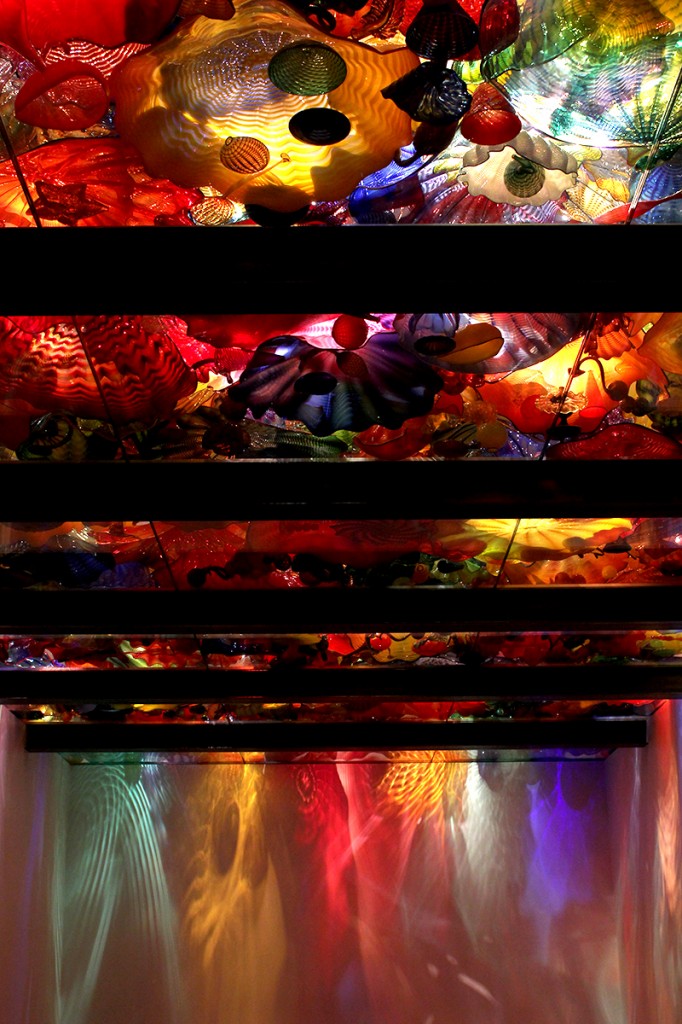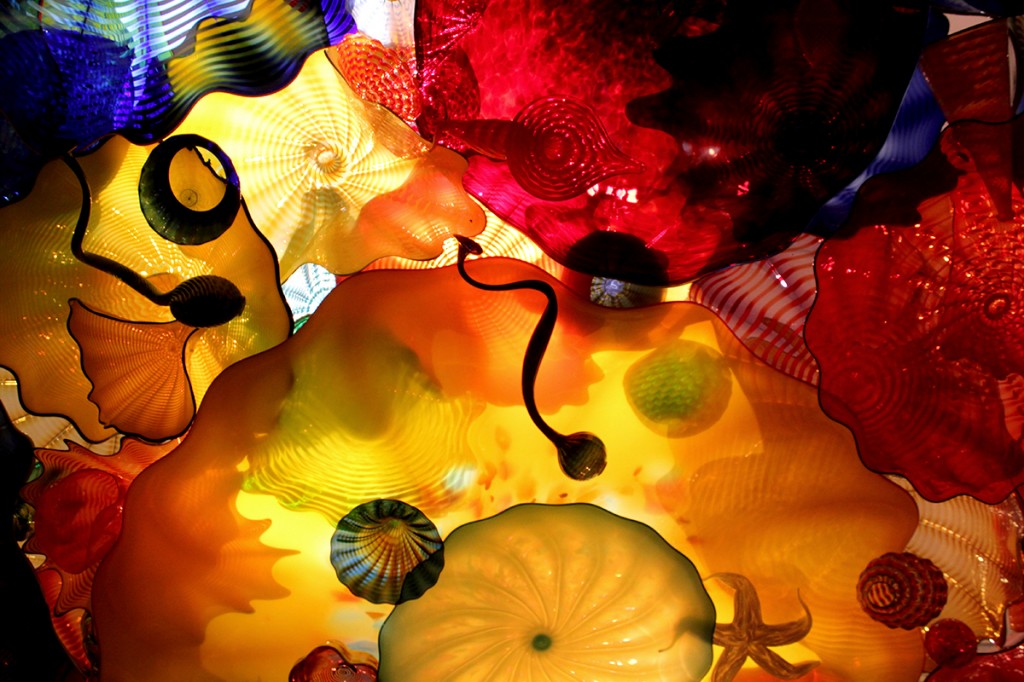 Mille Fiori is one massive glass garden. It reminded me of the original Charlie and the Chocolate Factory scene where all the plants and even grass where edible wonders. It's a fairytale that's hard to not walk into, unless you want to cause thousands upon thousands of dollars in damage.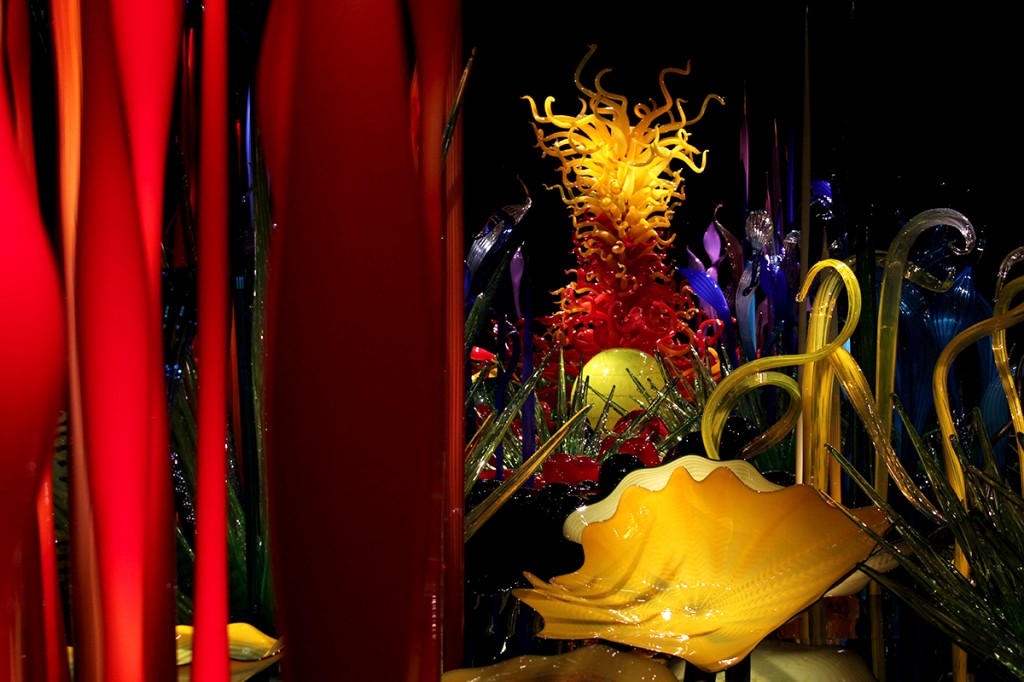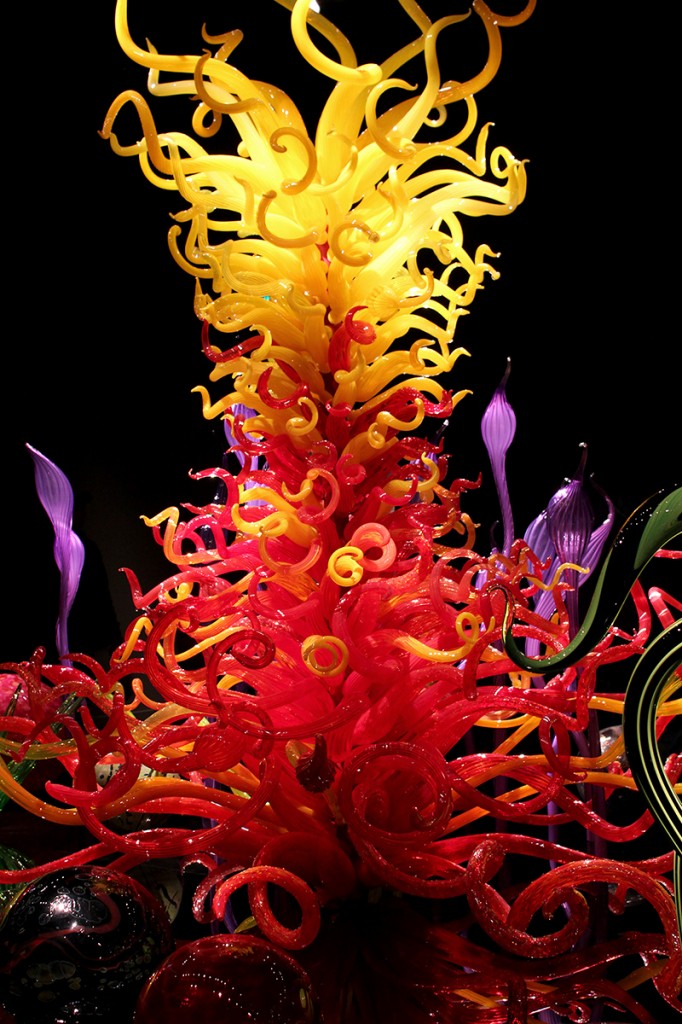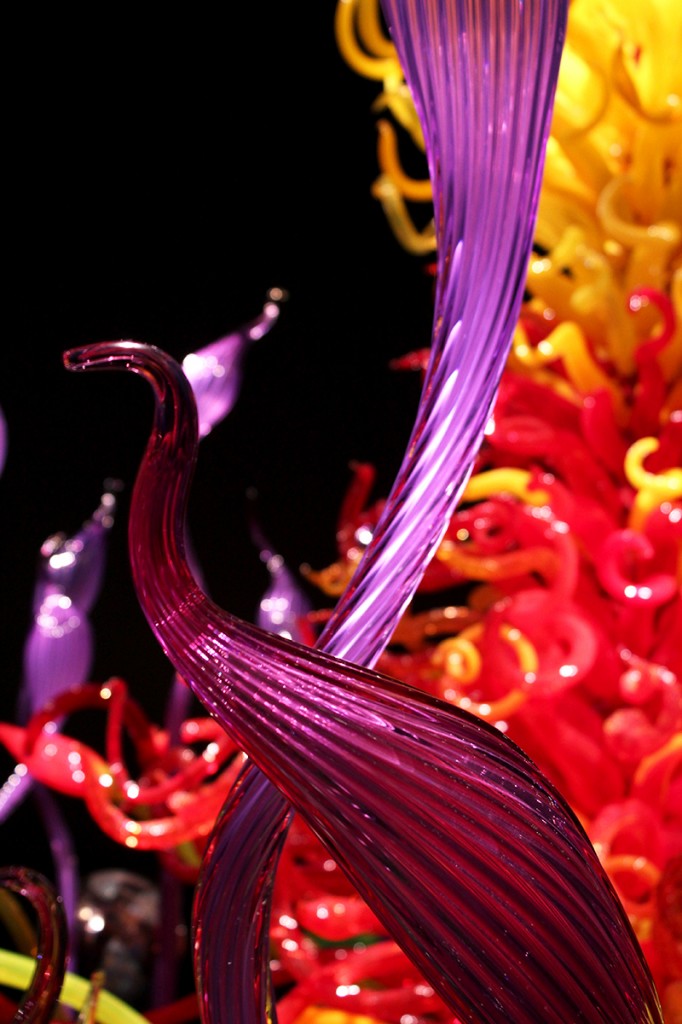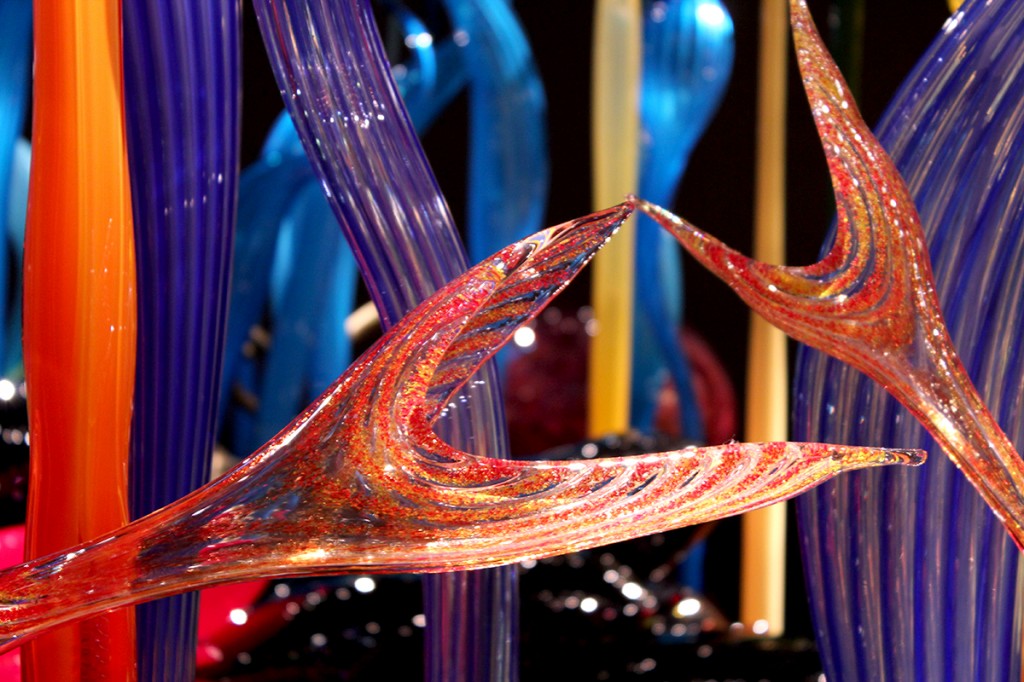 The Drawing Walls followed, this was the period in Chihuly's life when he lost sight in his left eye, so resorted to expressing his visions on paper rather than via 3D sculptures. He paints with acrylics, dry metallic pigments, charcoal and graphite. He even burns the paper with a torch for that extra touch of intensity.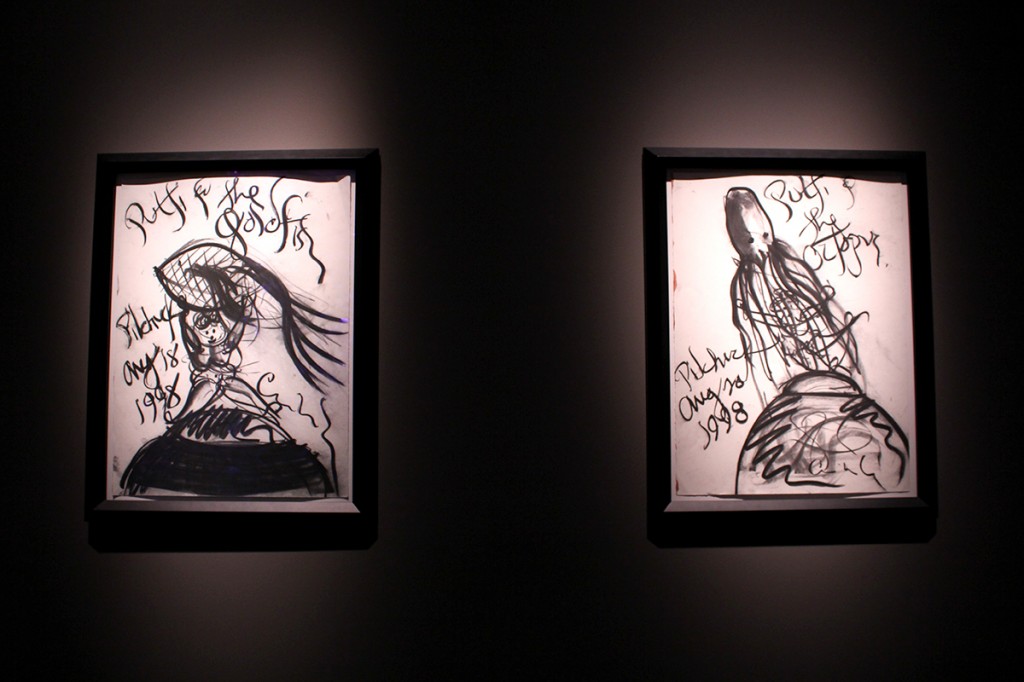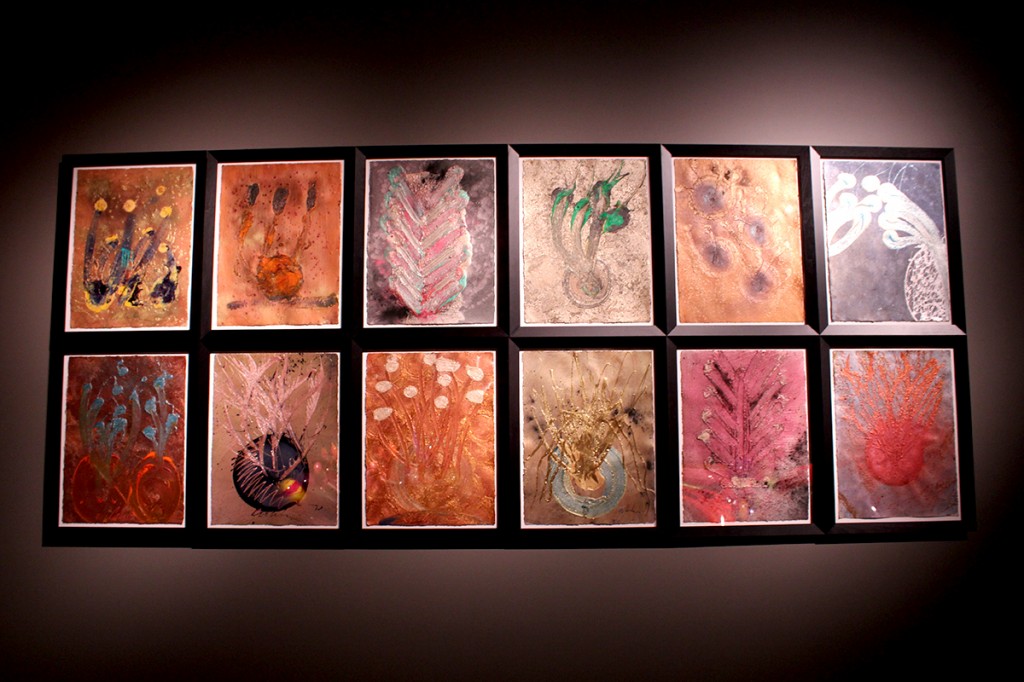 Chihuly Wonderland can be wrapped up in the Ikebana and Niijima Float Boats. There are two Chihuly rowboats filled with glass art that is reflected from the shiny black surface, providing visions of what the art would look like if drifted over water.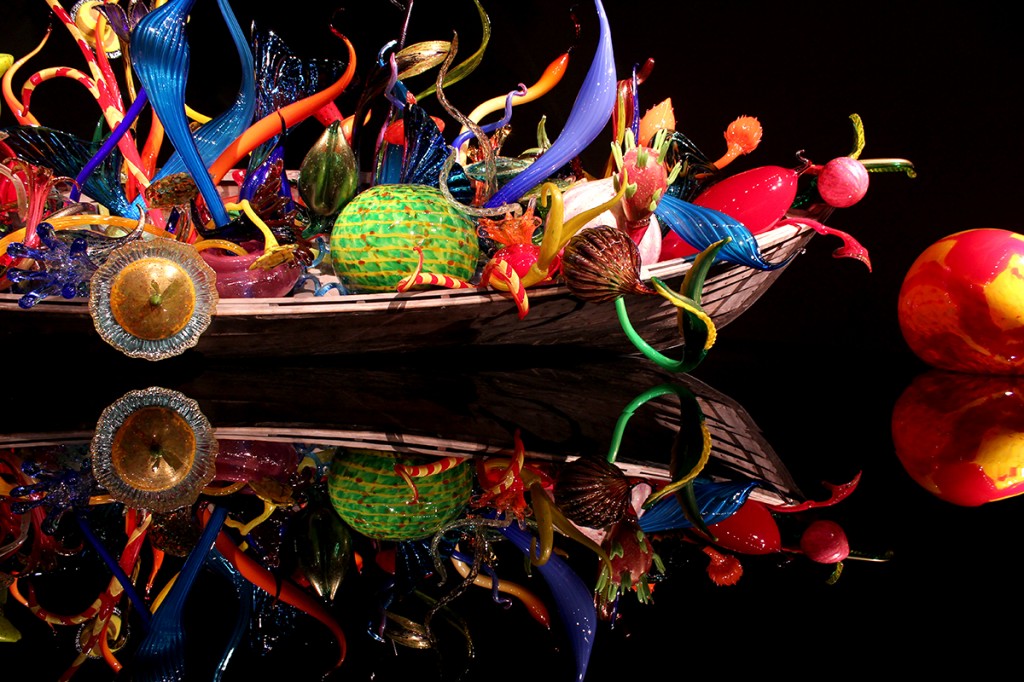 The Macchia Forest, meaning stain in Italian, is a large series of glass bowl objects where Chihuly added a white layer to each piece in order to separate the exterior and interior panes to create a more intese contrast.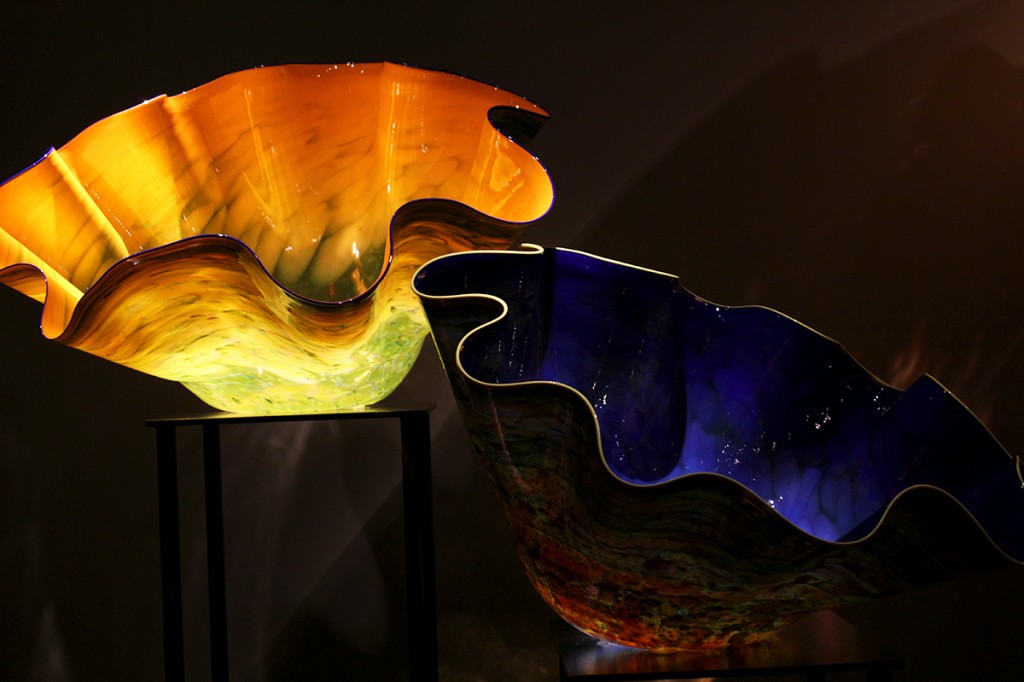 The Glass Garden was the perfect finish. The open space is filled with colors and shapes. I even caught a guy on the ground taking a grand shot of the Space Needle, check it out below.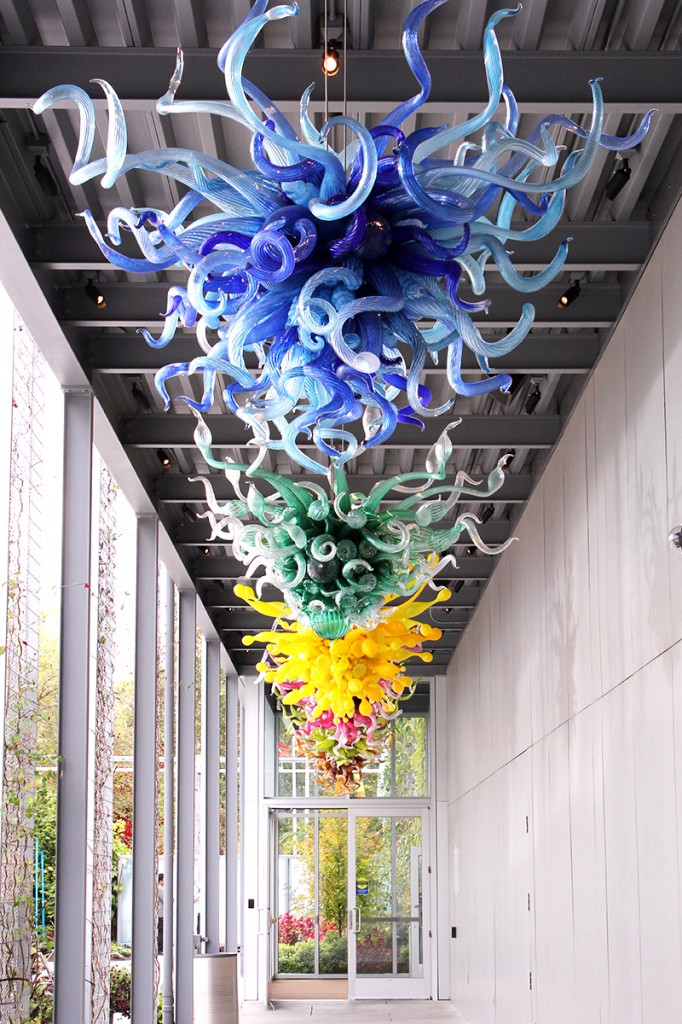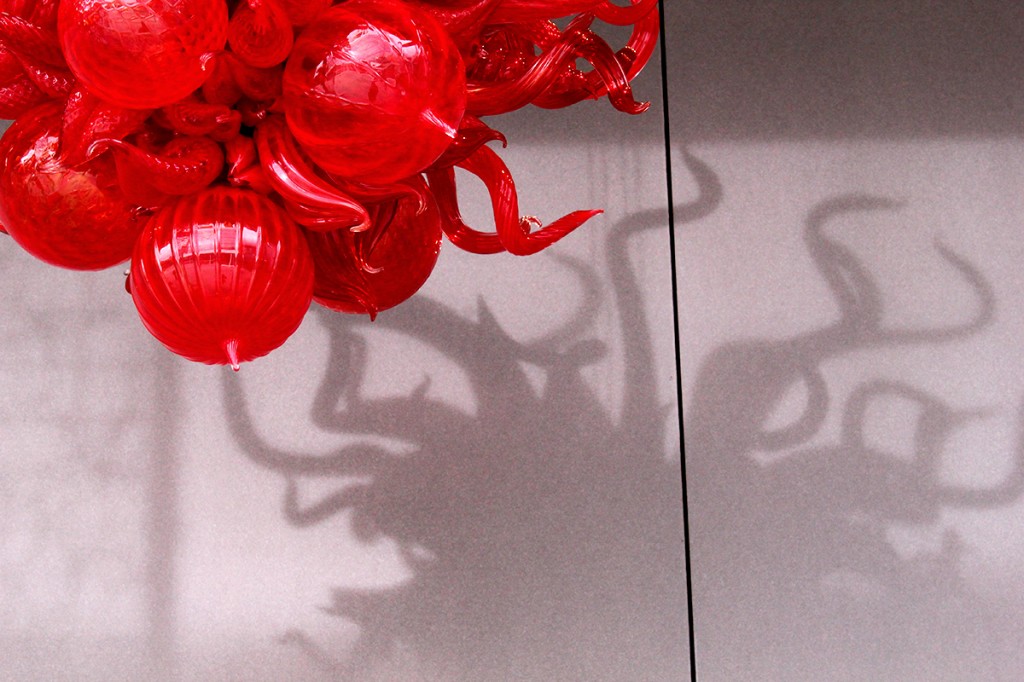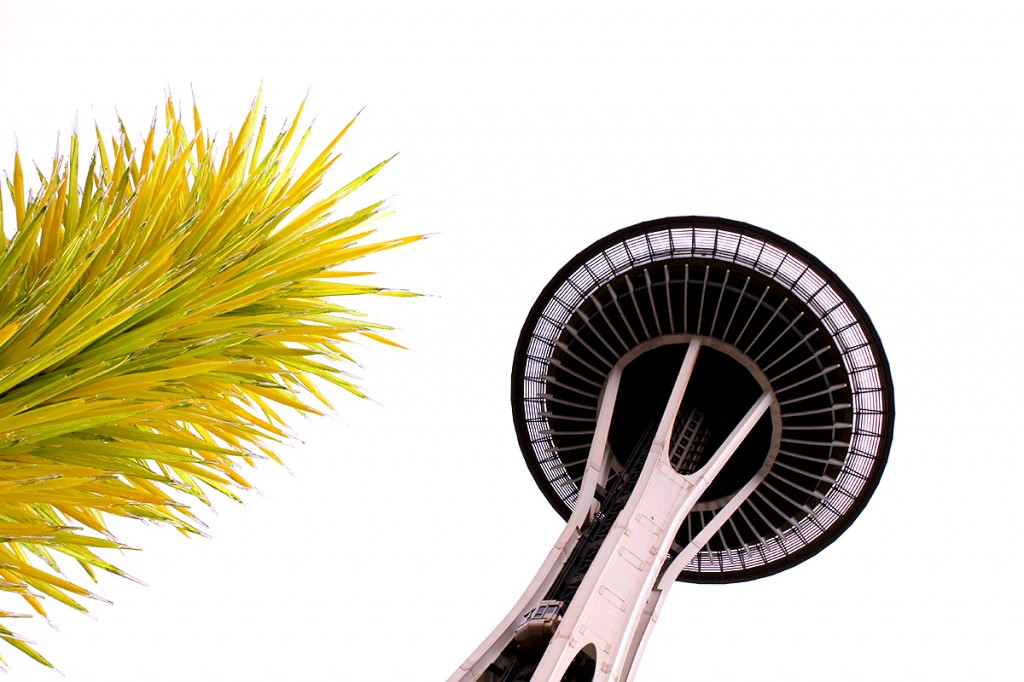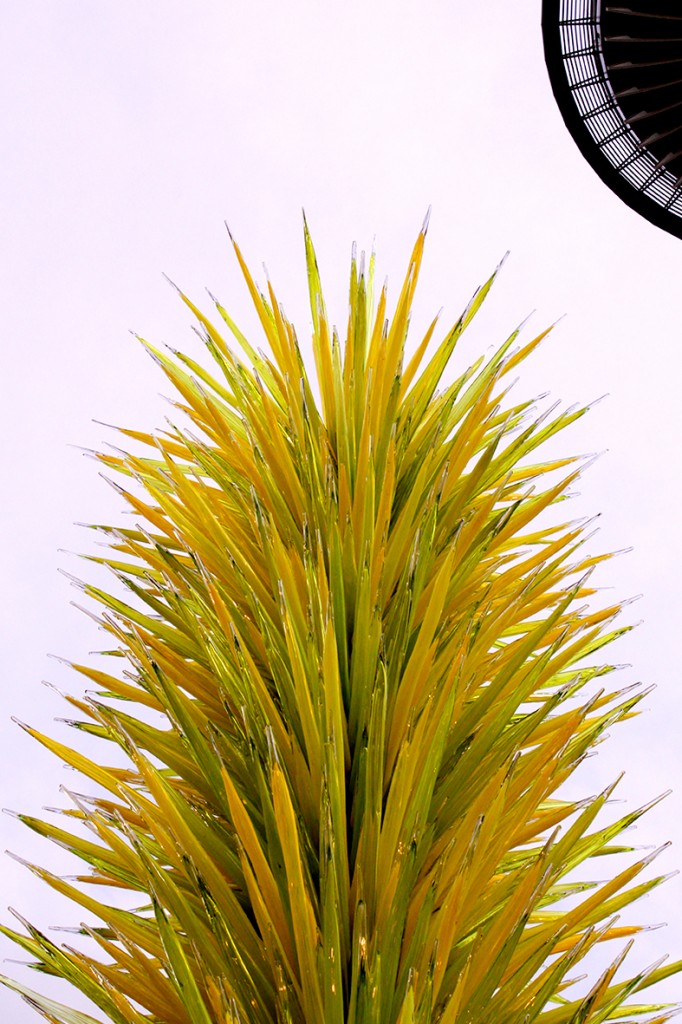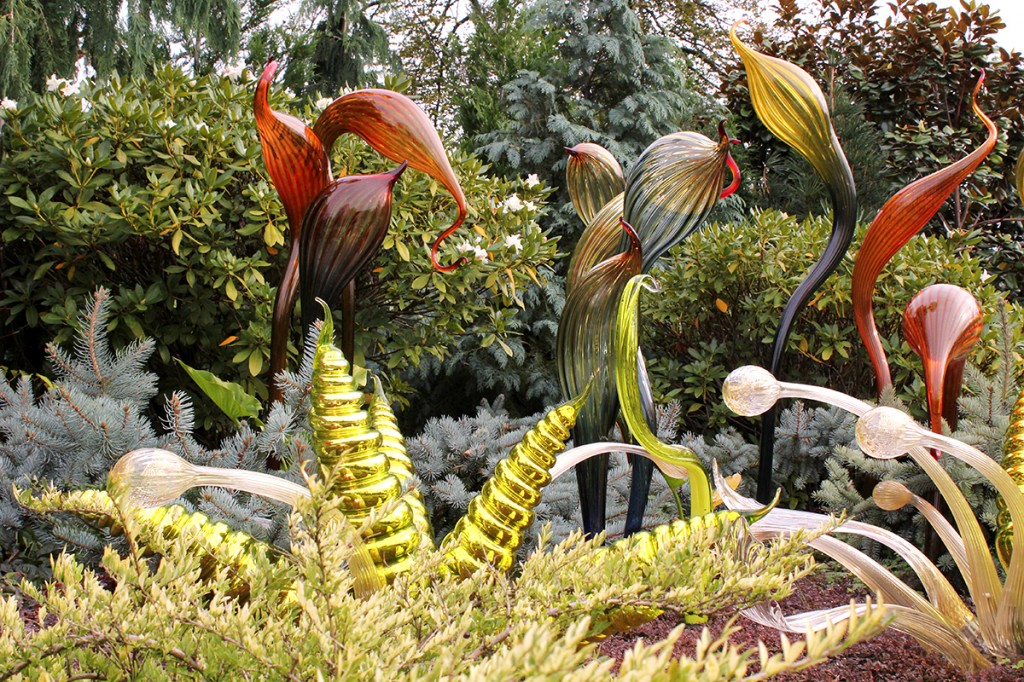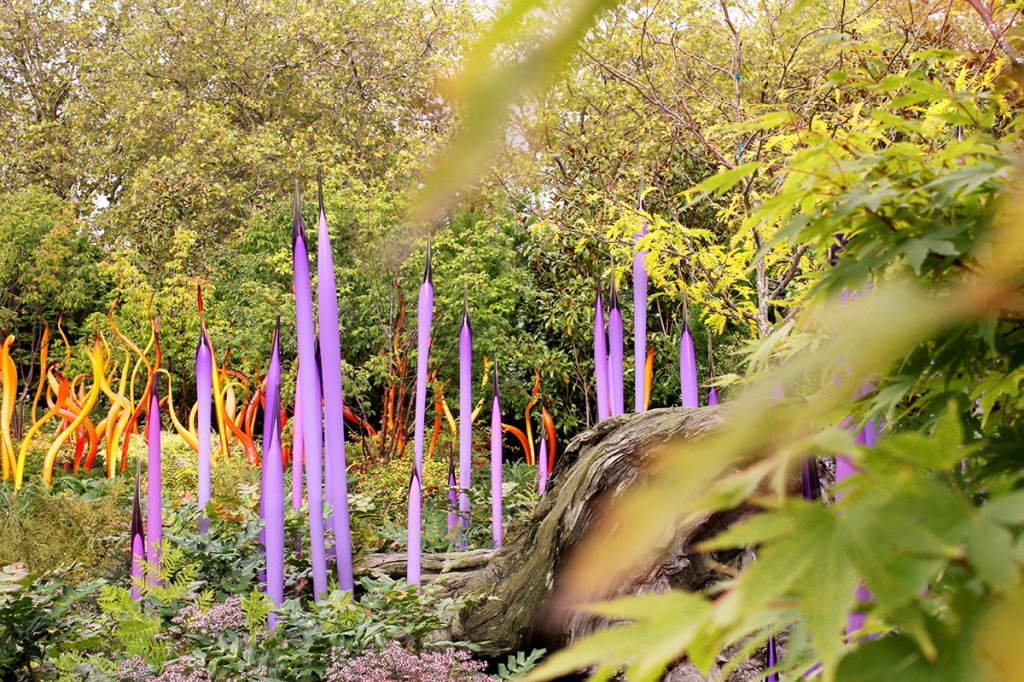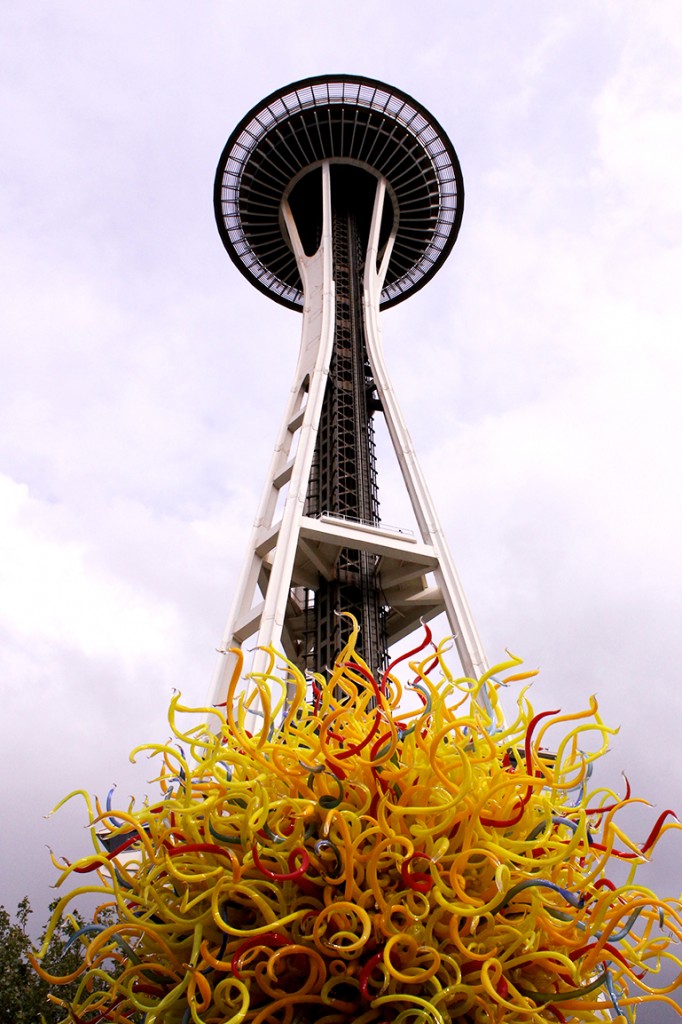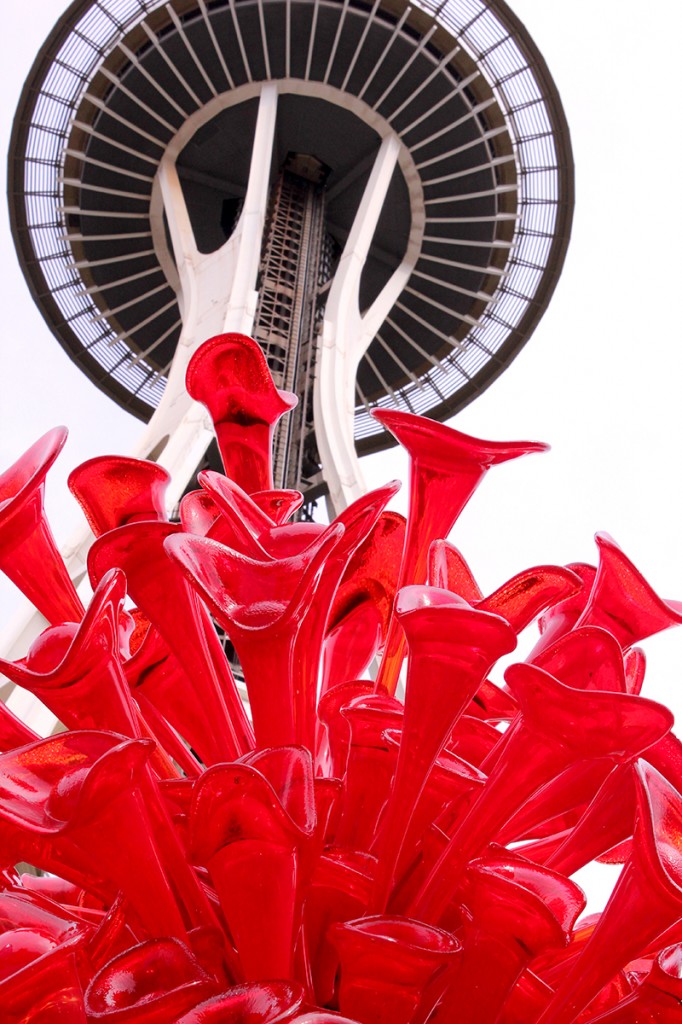 Visit the Chihuly Garden and Glass website for hours and ticket fees. You can also get a package rate that gives you access to the 30 second elevator-ride up to the top of the Space Needle!
In case you can't visit in person, you can still listen to Chihuly in Seattle here in a prerecorded tour that explains the concept and background story about each section in the exhibit.
What's your favorite Chihuly piece?