I was born into a massage obsessed family. This clearly has its benefits like…massages as a teenager. My Mom understands the benefits of a deep tissue massage, so if I was injured—say kicked in the back while playing goalie in High School—I would go straight to the massage chair.
One time I pulled my neck and couldn't move for three days. My mom had the masseuse meet me at my house and he was able to warm my neck up so that I would heal faster. After lots of water and rest I felt so much better.
Now living in Florence, I need a masseuse on hand whenever my back gets filled with knots after sitting so anatomically incorrect in front of my laptop. Another thing that whacks my body off center is wearing a purse during blog tours. This is why you'll see me sporting a really comfortable Deuter 10 liter backpack. It really saved my back!
Getting that awkward massage in Florence
As an anniversary gift I got a packet of massages at
Vi SPA
, just a 5 minute bike ride from my house. They offer many spa services, but I really only care about massages. Deep, hard,
make me cry massages
.
Let's be clear, my masseuse at Vi SPA is great. She goes deep into my crunchy knots in my back BUT she also hits other parts that have never been massaged before and makes me wear a funny thong.
The Italian Hygiene Underwear
Let's start with getting naked. It's not a big deal, but normally you get to keep on your own underwear. In this case I get a fresh medical looking thong that I have to wear instead. One size fits all I guess.
Is this how you wear it?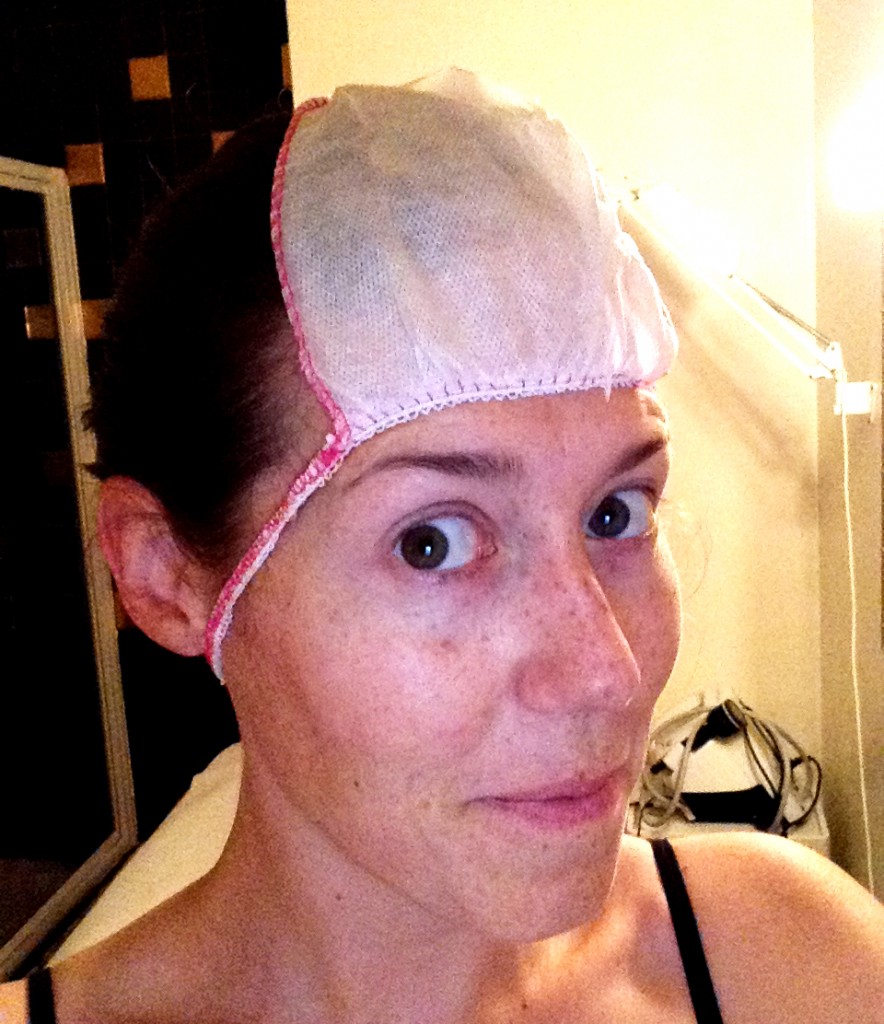 The Italian Massage: Awkward Body Part Moment
Here are those not so normal body parts to get massaged, especially from someone you're not dating.
Awkward Body Part 1: Chest
The chest area is not much of a shocker because there are shoulder muscles that should be worked, but they are never really touched in the U.S.
My whole chest plate minus breast was massaged, even up and down the Sternum. Some find this extremely odd and uncomfortable. I was fine with this although the giggle factory was turned on. The front deltoid needed some stretching.
Awkward Body Part 2: Gluteus, Oh My Maximus
Many times you may get some slippery fingers working their way down your bum BUT not ON your bum, am I right? This body part doesn't make me uncomfortable as my hips are extremely tight making my gluts suffer. If anything, get your Gluteus Medius worked on, not necessarily your Gluteus Maximus.
Awkward Body Part 3: Belly Rolls
I was not fine with this as my giggles exceeded the giggle factory limit. My masseuse totally went there on my first massage, but the second time around she didn't even bother trying.
This was actually the second time a masseuse hit the belly fat. The first time was in Casa de Campo after a day of horse back riding. The massage was really needed as no one in my family was able to walk straight after all the galloping. I didn't like my belly worked on then and I still don't like it. It's way too ticklish and it reminds me I need to cut out the carbs.
Obviously, this is nothing compared to weird spa treatments like having snakes slither on your face…or fish suck your feet.
Now if someone can only explain what kind of business goes on at the "massage parlour" around the corner from my building. At night, I've spotted an Asian woman outside on the phone wearing the most ungodly stripper heels and mini skirt. Place for a happy ending? I think yes!
What's the most awkward spa treatment you've had? Anything weird and uncomfortable?
Share this post!