Day 2 of my Best of Tuscany tour of Maremma
Day two of my Best of Tuscany tour of Maremma began with, what else, a coffee at my B&B. After the caffè and chocolate croissant I packed things up in Scarlino and began the descent leaving behind the medieval town of 500 residents.
But, before we made it to Castiglione della Pescaia…
Sunflowers!
"STOP STOP STOP," I begged Anna, who was driving my husband and me around.
"PLEASE, I need to take a picture, can you stop?"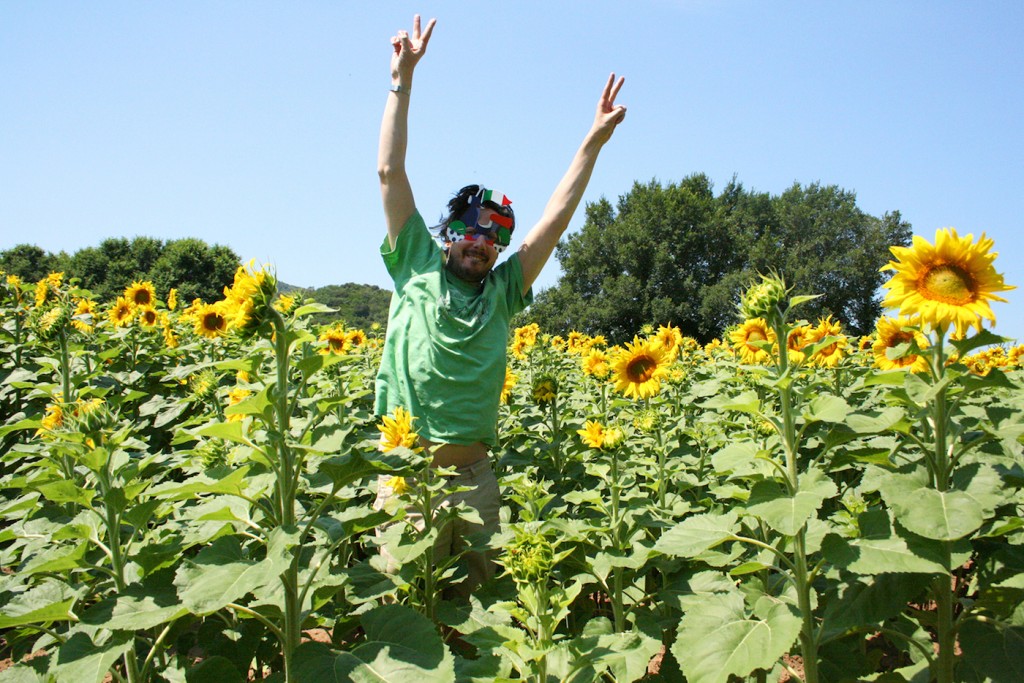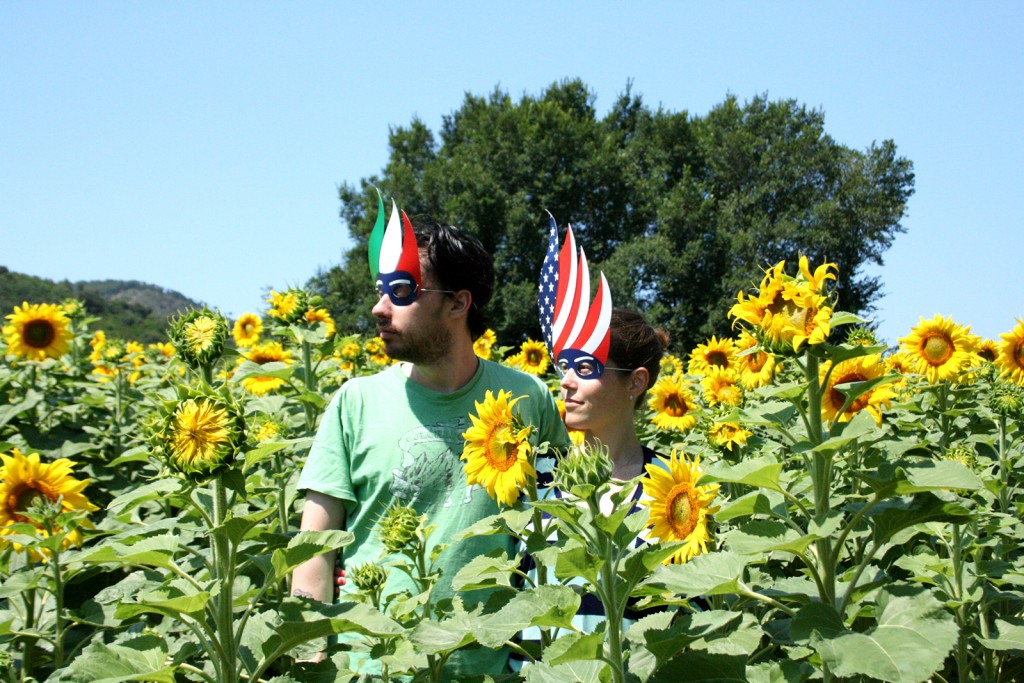 Ok, so I've always wanted that quintessential Tuscany photograph of me in a field of sunflowers. That "oh my god, my life is wonderful because I'm in the middle of nowhere in Tuscany" picture and if you know me, you know I don't take many normal portrait shots. I actually packed some masks that Instagram sent me to wear during the World Cup matches—or obviously to wear in a random sunflower field—so of course I made my husband wear one too!
Now that I got that out of my system…
Day 2 Castiglione della Pescaia
Anna Barberini—a member of the Maremmans—was our guide and driver again, so luckily she was around to answer all of my off the wall questions. She drove us to the top of Castiglione della Pescaia where I spotted some incredibly in-shape nonni!
There's a beautiful church up top and a private castle with probably some of the best panoramic views a private home can have in Italy. This medieval town has crazy views down the coastline and you can even spot Elba and Giglio islands. The old part of town was quite desolate because everyone was baking down at the beach, so we had the place all to ourselves.
Now, forget the Everglades, because Maremma has the bewitching Diaccia Botrona nature reserve, basically wetlands. It was once Lake Prile and supposedly this marshy area of over 1000 hectares is a bird watcher's paradise. If you're patient enough you may even spot a flamingo. Seriously! If I saw a flamingo in Italy I would freak out, seems so random, right?
In 1765 Grand Duke Pietro Leopoldo commissioned the Casa Rossa—Red House—to be built. It's also called Casa Ximenes, which is named after the engineer who helped build it. It's not really a house, but a hydraulic damper. If you read my last post you would know that there was a huge malaria crisis in Maremma, we're talking hundreds of years ago. So, Casa Rossa was built to help stop the mixing of the salt water and fresh water since that's what was believed to have caused malaria.
If you go to Casa Rossa look into a boat tour of the area.

After we walked around the swampland and took way too many pictures of the muted blues and greens, we had an over-the-top lunch at Ristorante Ponti di Badia with white wine. If Anna wasn't there to tell the owner to take it easy on the portions I would have never made it out alive. P.S. the mega tiramisu that my husband and I scarfed down didn't survive long enough for me to take a picture of it.
We made a pitstop by the beach and since I didn't bring a bathing suit we kept driving until we hit Massa Marittima. HOWEVER if you go to Castiglione della Pescaia you probably will hit the beach, so according to Katja from MapItOut Tuscany you can rent two sunbeds and an umbrella for 25€ a day during high season and if you're into kitesurfing head south ten minutes and you'll hit Fiumara beach, which is also a great spot for restaurants.
Cool update: This beach was recently awarded the Cinque Vele, Five Sails award for being one of Italy's most eco-friendly. They are devoted to preserving the natural ecosystem with their many preservation projects and educational material aimed at locals and tourists alike. Thanks for the update Browsing Italy and for including me in your top reads of the week!
Next stop, Massa Marittima!
Check out the killer views from Day 1 in Scarlino.
Is there a medieval town you just can't get enough of? And am I the ONLY one who constantly misspells medieval!?
Share this post and pin those pictures!