Creamy, cool, potent pistacchio gelato is dripping down my pale hand while I'm trying to take this picture for you. Besides the sticky substance I'm also thinking that I should have gotten my nails done…
As much gelato as you may think I eat, I in fact have it on rare occasions, maybe once a month. That will change as of today and I'll tell you why…
Not only is gelato amazing! BUT since the flavors change so often due to the change in seasons—even months at a time—there's always something new to explore in the perfect world of tastebuds and cream.
When I do get tempted for a cone I try to have one from a different place every time, so that I can compare them and really do the hard working, finger licking, 2€ research for all of you!
Without further adieu, here is…
The best places to slurp gelato in Florence
It's warm out and the tourists are already swarming the city. If you're wandering on your own or find yourself on a tour, then get ready to stubble upon gelato everywhere and anywhere!
Just don't eat the gelato from the main streets or from gelaterias with a display filled with abundant mounds of fancy looking gelato…that's really just powder 'n water.
In alphabetical order…
Badiani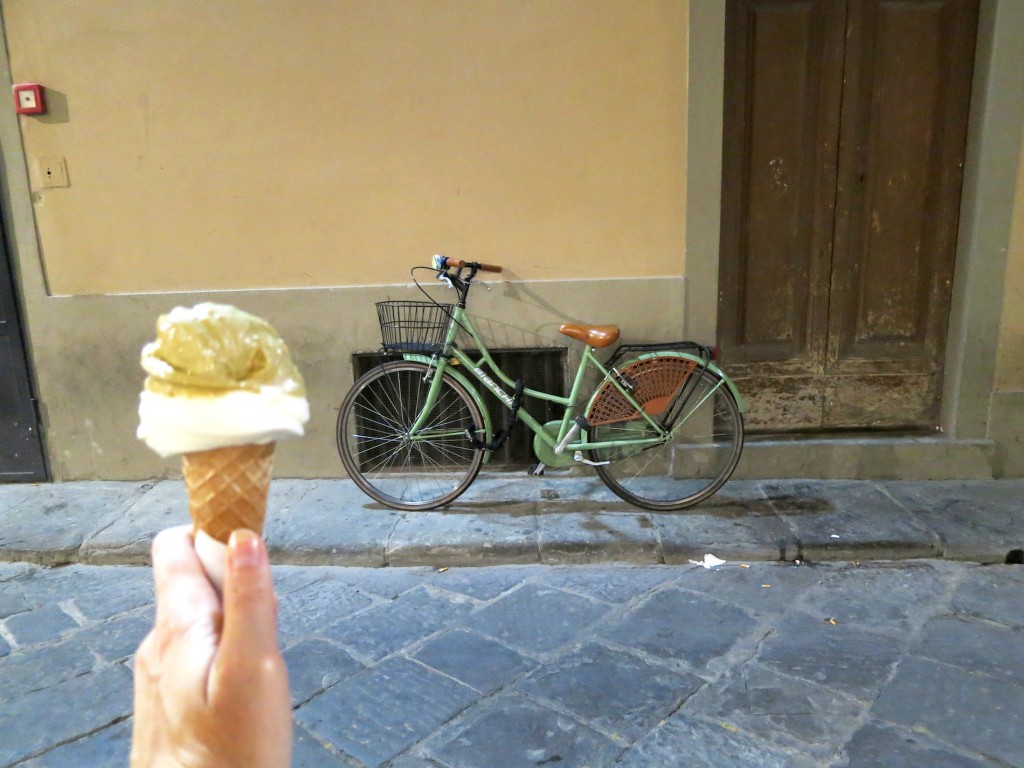 Yahoo, Badiani is by my house. It's located in Le Cure, a neighborhood a tad northeast of downtown. It's one of the most famous gelaterias—if not the most famous—in Florence.
What to get?! Why, their trademarked Buontalenti flavor, which is egg based cream and fresh whipped cream. You may have read about them in my 2-day food porn guide to Florence. I admit that I've had a midnight snack there once or twice!
Gelateria dei Neri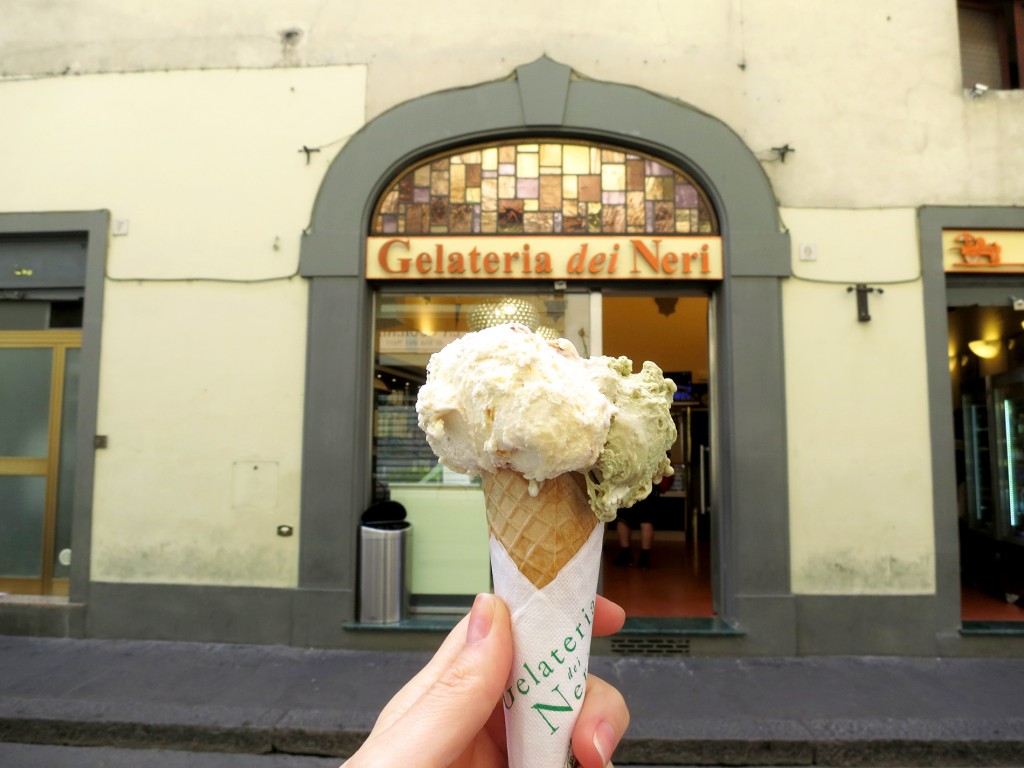 People rave about Gelateria dei Neri and I for one agree on many accounts.
One, they freaking serve gelato. Two, the location is prime right on Via dei Neri 22r close to the best panini and my new favorite coffee bar!
I asked what their most famous flavor is and the woman looked at me like I was crazy, as if they make gelato that is NOT the best. So, according to her they'll all blow your mind.
I opted for pistacchio—great and a bit milkier than others—and the fabulous ricotta and figs! Hurry over there since the figs are most definitely seasonal and one of my summer favorites.
Gelateria La Carraia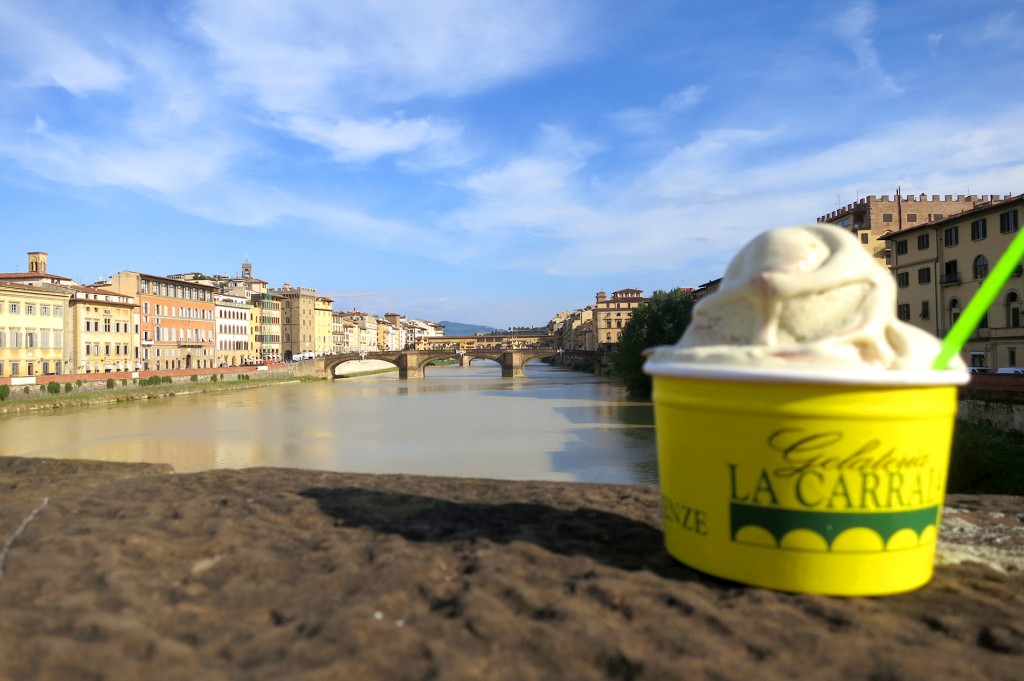 Come on, look at that view!
Gelateria La Carraia is located right off Ponte alla Carraia—Piazza Nazario Sauro 25—in the Oltrarno neighborhood by Piazza Santo Spirito.
I tend to get traditional flavors like pistacchio and fior di latte. Their cioccolato is intense too! If you're not in the mood for a 1€ cone then opt for a gelato cake. Hey, you only live once!
Procopio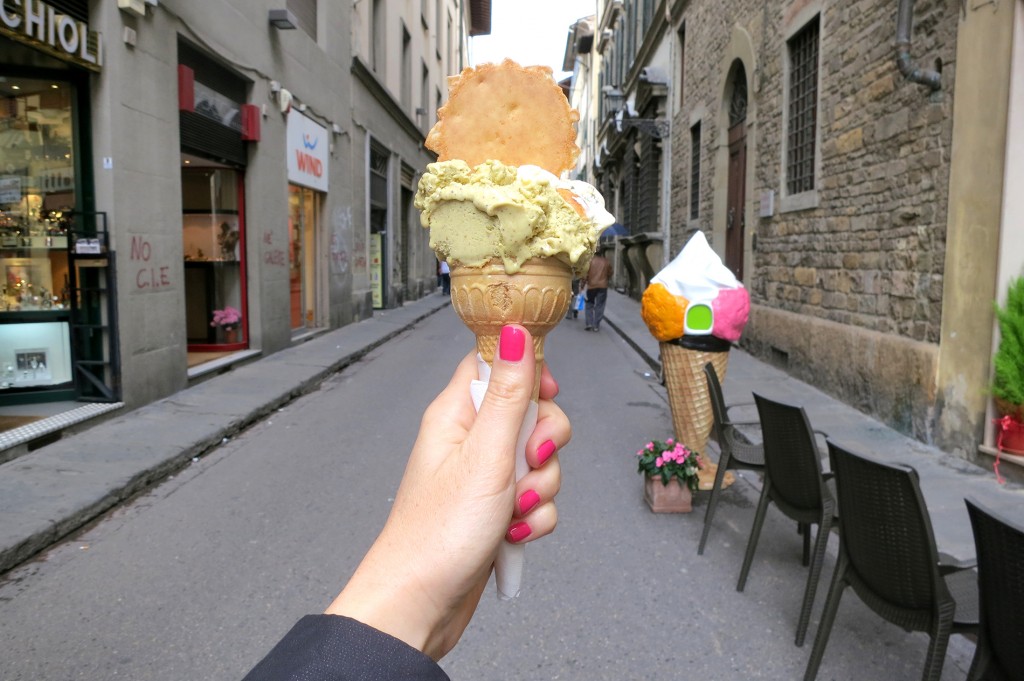 Procopio—onVia Pietrapiana 60/62R—is incredible and the owners are the friendliest husband and wife team, Gianpaolo and Barbara. I came here on a Walks of Italy food tour and the tour ended with us in the back of the gelateria to see how they make it fresh every day…we may have gotten away with a few extra scoops.
What to get?! Well, their über famous almonds, pistacchio and candied orange slices. 
Let's not forget pistacchio, since they have a creamy, non-milk sorbetto di pistacchio di Bronte DOP, meaning the pistacchi are guaranteed to be amazing and from the famous pistacchio area of Bronte, Sicily.
Rivareno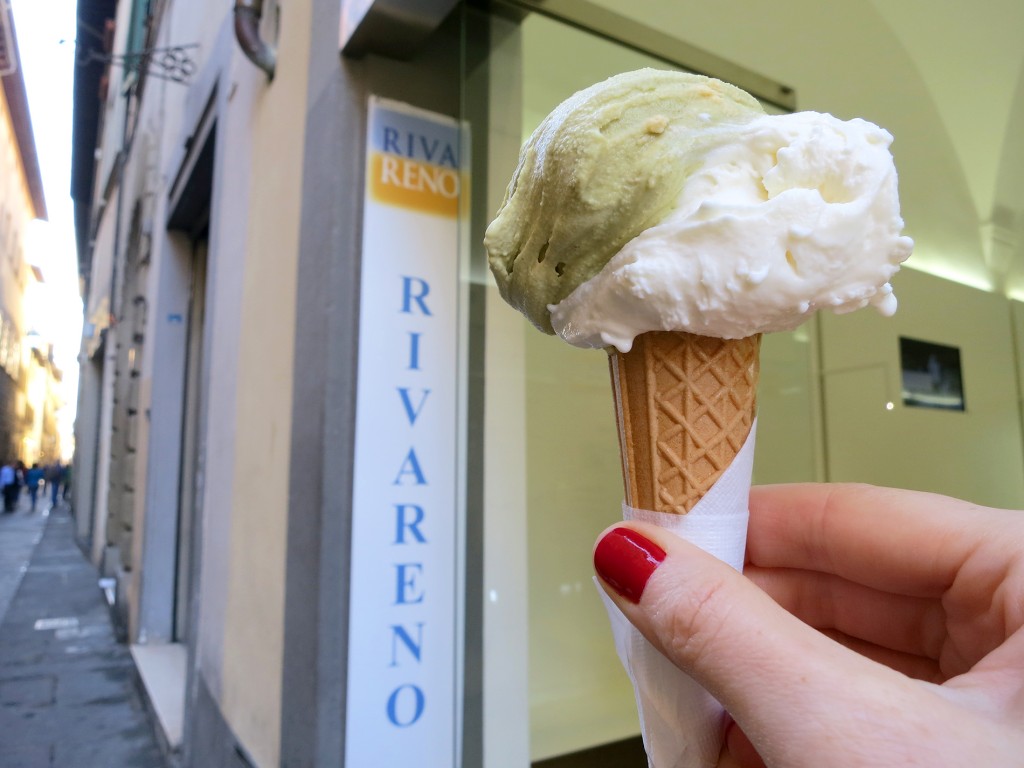 Rivareno is to die for! The first time I went here was after a fun bicycle tour; it was the perfect end to a 2 hour ride.
This place is a shot east of the duomo on Via degli Albizi 46. They protect their gelato in coolers, so don't be bummed if you don't see that crazy mound of gelato pouring all over the place. The metal cylinders keep the gelato at a perfect temperature before serving.
I love this place because it's not overwhelming with too many flavors. They have the perfect mix of traditional like pistacchio—here we go again!—and more modern/seasonal flavors like orange, almonds, berries…
*Join in on my ridiculous hashtag on Instagram, it's #YouSayIceCreamISayGelato!
What's your favorite gelato flavor?! As you can tell I'm a diehard pistacchio fan! 
Loved this post? Then please share it and pin those pics!