Have you slept on a stranger's couch before, in an unfamiliar city? It can be daunting and exciting. Just because you know someone online doesn't mean you should sleep on their couch, or does it?
Couchsurfing in Maremma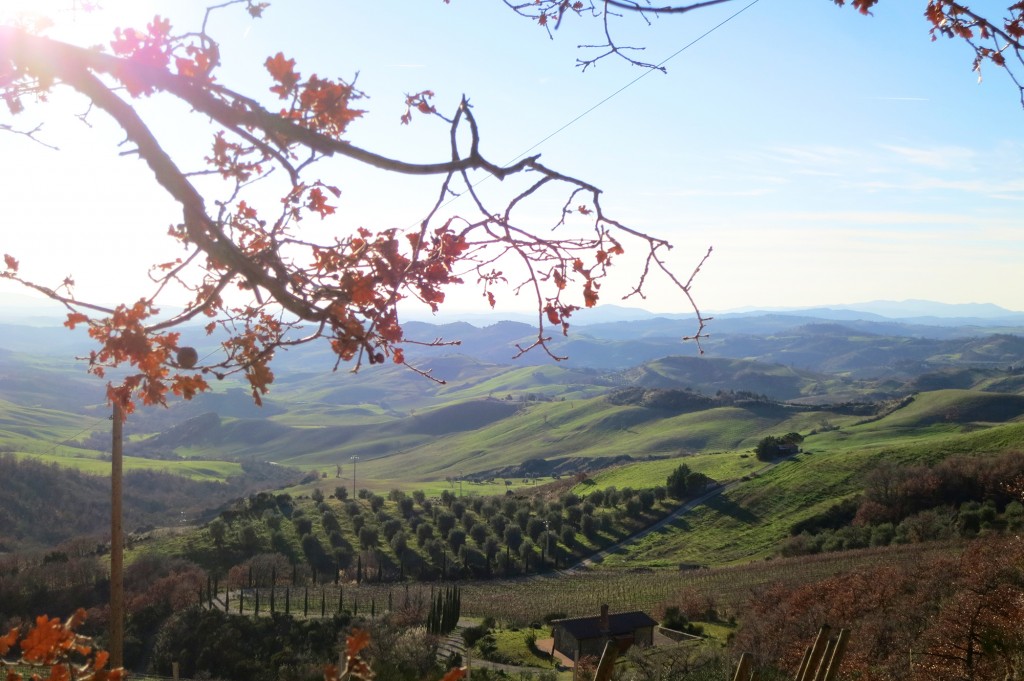 I've been instagramming and tweeting Katja A.K.A. @AnythingTuscan of Map It Out Tuscany blog for over a year. Last month one of us (probably me with the big mouth) mentioned that we should get together, hang out and take some pictures.
Lucky for me I had the chance to visit her and her city of Cinigiano sooner than expected because of my Best of Tuscany travel tour! This tour is a commitment I made to explore Tuscany as much as possible.
Hello Cinigiano and the strangers whose house I'm crashing!
"I'm sleeping at a stranger's house. Well, she's NOT a stranger, but she IS a stranger. AND what about her family? Who are they? Will they like me? Will I snore and wake everyone up?" These were just a few thoughts racing through my inquisitive mind before I arrived.
It took about two hours by bus from Florence to Paganico (the closest stop to Cinigiano) for just 11€. Katja picked me up and drove me through the gorgeous area of Maremma. This was my second time in Maremma if we count the time I got on the wrong train and ended up in Grosseto!
Katja does a great job at keeping a lot of her personal life out of social media and her blog, so it was nice to meet her offline and see what she's all about.
She lives in a home that feels of family and good meals. The land she lives on and hovers over is a piece of property to envy—seriously dreamy.
Her two children were the cutest. Her daughter is one spunky precious thing with a look that says "I will conquer the world one day!" Her son is a handsome devil who loves to get beaten up by his little sister (reminds me of my older brothers!).
Katja's husband is a talented craftsman and builder—and famous local blogger!—but most importantly he's someone who won't settle for anything less than an excellent meal, right on! I especially like the homemade sweet peperoncino jam he gave me the day I left, yum.
Hiking in Cinigiano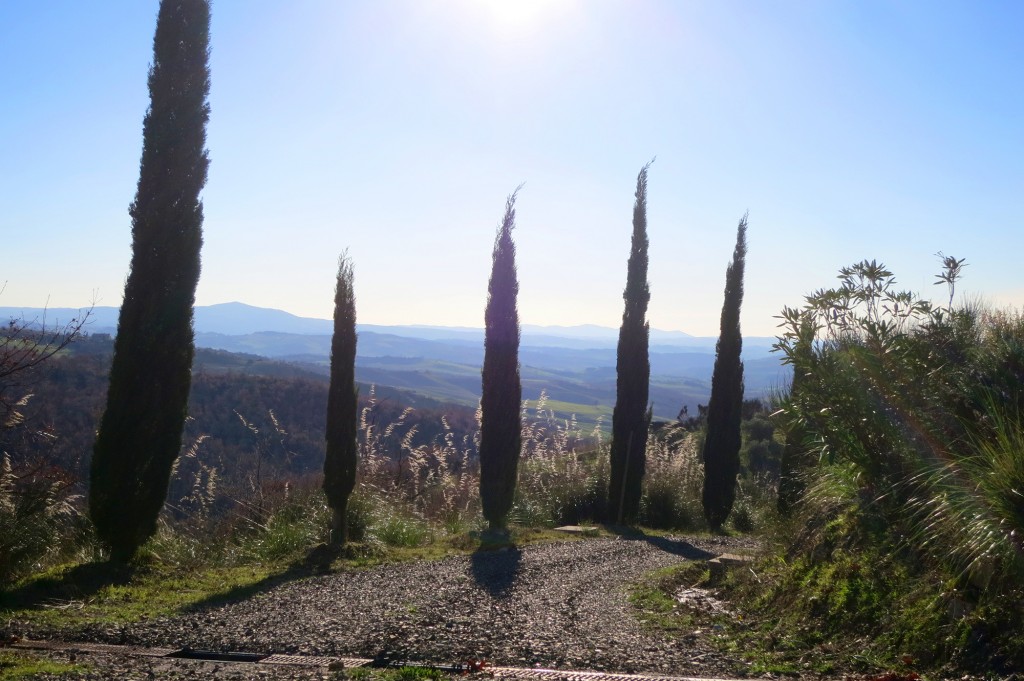 After all the introductions and lunch we took a hike up through the hills of Cinigiano. Luckily, I brought my hiking boots as it was a muddy walk, all the more fun. The incline was perfect and the views were even better.
Katja was pointing the landmarks, like the sea, Montalcino, the extinct volcano…
Dinner in Montalcino, on a vineyard of course!
We arrived at Castello Romitorio for an intimate birthday dinner. Massive cypress trees lined the driveway for what seemed like a mile. This is the vineyard of the famous artist Sandro Chia, meaning there are sculptures all around! I was warmly welcomed into the ambiance of their old friends and amazing wine.
You know that moment when there's great wine at a party and all you can think of is "I'm glad I'm not driving! Yahoooooo!" I had that moment. The wine was so good that I almost poured myself a glass of olio nuovo—extra virgin olive oil—because the bottle was deceiving.
Dessert time was glazed over by all the painting and drawing. The host is an artist and sprawled out his water colors, pencils and pastels so that we could create works of art for the birthday girl. I had a wine glass in my left hand and a paint brush in my right making me so so happy.
We all went overboard and filled out about 10 blank cards and eventually said our farewells after coffee and a photoshoot in his studio.
Brunch over Cinigiano
I woke up to Katja in the kitchen prepping for the perfect brunch. We both headed down to her famous Instagram table where she takes amazing shots of her views everyday while drinking coffee or fresh OJ once the kids are at school. Sometimes her shots are photobombed by her curious cat.
Brunch was so funny because I had all my winter gear on to brave the cold morning air and then it started to rain. We ran everything up in the house and finished inside.
After brunch the clouds deserted us and we played in the olive grove and took lots of photos with the kids.
Exploring Cinigiano and around
Cinigiano definitely ranks high in the Best of Tuscany towns. Why? Well, there's a peace here, a serenity that you may not find in the more touristy spots. You can rent a villa (probably at a cheaper rate than more "known" towns) and tote yourself around Tuscany at your own speed.
The views could kill. The fog is magical. The sun is glorious. No matter the weather you'll get lost in love with your surroundings. There's even an organic vineyard, Basile Winery!
We walked around the heart of Cinigiano. Ten minutes top. There were a few locals enjoying the best pizza at Rintocco and laundry hanging here and there in the sun. There's a massive wall of cactus, which I've never seen in my life! A nonna walked by and was telling us how delicious the fruit from the cactus is. I never knew they had fruit! Did you?
Then we drove to Porrona where there's Castel Porrona, an abandoned castle that was once a nice hotel spa.
Monte Antico is just a skip away through a windy and hilly road. This area's also a great spot to stay for a few days especially at Art & Garden Apartments…psst they have a pool!
Last but not least is a mountain—actually an extinct volcano—where you can ski! It's Mount Amiata and you can see it from Cinigiano with snow and all!
For my first couchsurfing experience I came out more than OK! Warm room, wide couch, friendly family, dinner party, brunch in the olive grove…Thanks Katja! 😉
Where should I visit next in Tuscany? More importantly, what's your craziest couch surfing story?

Like this post, share it! Liked the pics, pin them!