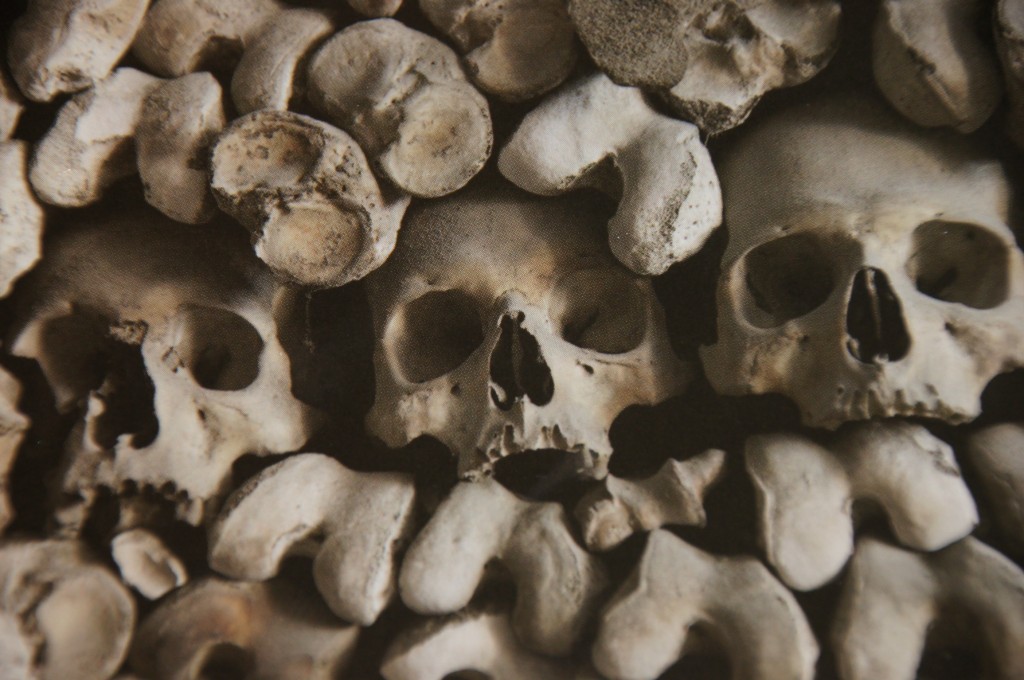 I'm all for being freaked out and even a little grossed out. It's like I must expose myself to abnormal things to feel alive or to feel like I've witnessed something few get to experience.
Do you like getting scared? Good. Get ready to enter dark spaces, total silence, bone art that may shock you and spaces way below ground!
The scariest tour in Rome
I signed up for a Walks of Italy tour. You may know them as walking tours that visit the Colosseum, the Uffizi Gallery or you may know them for their foodie adventures. Well, did you know they also have a freakishly enticing tour called Crypts & Bones & Catacombs?
Don't be fooled at the cute little rhyme of the tour's name, it's nothing but cute. It is however creepy, surprising, eerie, dark and even a bit reflective.
The meeting point was at the Barberini Fountain (or Triton Fountain) where my very sweet guide, Linnea, was waiting with a tour sign. It was a total of three of us tourists, so nice and cozy. Just enough people to hug if frightened deep in the catacombs!
Catacombs of Priscilla
A private car was waiting for us. We hopped in and were off to our first stop, the all intriguing Catacombs in Rome, just passed Villa Borghese on Via Salina.
The front door was opened and we entered into a bright foyer soon shuffling our way down a narrow hallway that led us to the darkness, deep in the catacombs!
It was a labyrinth of dim, cool walls that appeared to have so many twists and turns that I had no way of knowing where the exit was. One of my fellow tourists was really scared and the look on her face was priceless when the lights went out for a millisecond, yikes!
There are three dark levels of catacombs buried under what was the private home of Priscilla, a noblewoman. Christians were not allowed to be buried in the city center, so Priscilla allowed for her home to hold the deceased.
In the 2nd Century one level was dug out and once it was filled with bodies the next level below was dug out, and so forth, stopping at just three levels and spanning over 13km, that's 8 miles!
Each of the 40,000 bodies were wrapped in shroud and laid in an opening. Lime was sprinkled to restrict the natural decay. Marble or terracotta tile—depending on the family's wealthy—was then used to enclose the mummy.
Most of the remains have been removed on the first floor, so you won't see bodies. However, if you're with Linnea she'll make sure you see the few bones that are laying around.
There's a chapel located on the first floor below ground, which was the original basement. Off this chapel there's The Greek Chapel where there are frescoes of what seem to be female priests. This one piece of work is the most controversial, since the Vatican prohibits women entering into priesthood. Check out this great write up about it on BBC News!
The other fascinating part of the tour was when we spotted the oldest art depicting The Virgin Mary and Child. It's a stucco dating back to 230 A.D.
Capuchin crypt
Next, the über crazy crypts of the Capuchin friars. My fellow tourist was now more scared than before. I'm sure it's not settling for someone to see bones all over the place or even full skeletons wrapped in cloaks.
After you get over the fact that there are designs, shapes and even chandeliers made of human bones you can appreciate the artistic spirit these Capuchins had. To think that people see all that's human as art really intrigued me. For the 3,700 bodies accounted for they really got creative. Hip bones, skulls, finger bones…they all adorned the walls and ceilings.
In 1631, the Capuchin friars moved monasteries bringing along the remains of 300 fellow friars. The bones were soon organized into patterns. As time passed and friars passed away more and more friars were buried and then exhumed after 30 years to later be added to the walls. This made room for the newly deceased friars, a full circle of life.
The chapel adjacent to the bone art does not contain bones, but rather a large plaque over the actual heart of Maria Felice Peretti who was a strong follower of the Capuchin order and grandniece of Pope Sixtus V.
Their thinking, on an 'I'm a Tourist level' is about appreciating your time on earth. The act of using the remains was of course not out of disrespect, but rather to remind us to value the time. There was a cool piece of bone art that resembled wings on each side of an hour glass to literally refer to how 'time flies.'
I was left with a powerful quote from the crypt, "What you are now we used to be; what we are now you will be" reminding us all to seize the day!
There's also a Capuchin museum to check out and the Santa Maria della Concezione dei Cappuccini Church above.
Basilica of Saint Clement
First off who's Saint Clement? He was the 4th pope who lived from 92-101 AD and was exiled by emperor Trajan for his Christian beliefs. Since there couldn't be anything (even God) above the emperor, Trajan banished him to the salt mines in the Black Sea. This didn't stop St. Clement as he began to convert more people to Christianity.
The Romans eventually tied him to an anchor attached to a boat and the boat was tipped over, drowning the Saint. Out of his martyrdom came the story of the Miracle of the Sea of Azov.
It wasn't until 1857 when Fr. Joseph Mullooly of the church began to excavate below The Basilica of Saint Clement. Finding stories untold deep from the 4th Century and even further into the 1st Century! The Tomb of St. Cyril was discovered in 1863, a body that was put to rest back in 869 AD. He claimed to have found St. Clement's body along with the anchor in 861 AD, hundred of years after St. Clement's death. Like whoa!
Keep digging…on the third level—the lowest and oldest level—there's a Mithraic temple for the mysterious religion that was in practice from the 1st to 4th Century. Most of this area was under water until 1912 and you can still hear and see running water today.
Many of the neighboring rooms are said to have been a part of the Roman mint factory or another theory is that some rooms were used to manufacture gladiator weapons. Which sounds cooler?
Heading back up to The Basilica of Saint Clement I noticed that it has a similar scene as in Santa Maria Church in Trastevere, such as the colors and sheep depicted above the altar. This was not as scary as the two previous stops, but it was still really amazing to experience something as old as the Mithraic temple!
The tour really proved to be something 'new' and was extremely memorable, let's not forget scary! Thanks again to Walks of Italy and to Linnea for putting up with all of my questions. 😉
*INFO: Check out Walks of Italy's blog and find them on Facebook, G+, Twitter, Pinterest and Instagram!
Watch this amazing video that Walks of Italy produced to give you some more chills!
What's the weirdest thing you've seen while on vacation?!
Share this post and pin those pics! 😉