Facebook is amazing. I know that we are already living in a completely viral world, but when I sent a Facebook message to 62 women on Facebook and 30% responded I got all warm and fuzzy inside. These women didn't just respond, they updated their statuses within minutes based on a request I had sent them.
You may have noticed that women have been posting one word status updates yesterday and today, like Pineapple, Cherry, Banana… well, it was all for the good of social outreach. It was to raise awareness for breast cancer. No, no money was raised, no walk was walked, but it was something fast and easy that hopefully created some top-of-mind awareness about breast cancer—even if it was for a fleeting moment.  
Facebook ask
I was first sent a Facebook message to 
'update my status with the corresponding fruit that I am, based on my relationship status'
 from a friend and then copied and pasted that same message to a separate group of women. Originally, I thought it was a clever idea. I was really curious to see who would post what and what level of engagement this would spawn. After seeing an instant reaction on Facebook I decided to write this post about how easy and simple it is to create viral messaging. 
Here is what each fruit stood for: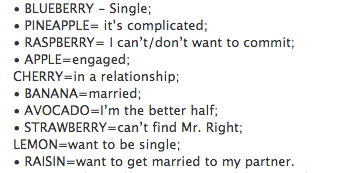 This is nothing new. These types of posts happen every once in a while and they always seem to drive engagement and elicit a response. I think what got me was that it was just a simple idea of something going viral within my own social circle. From a social media marketing perspective it's simple and, well cheap.
Facebook examples
Below are examples of some Facebook status updates from my contacts. I circled funny parts in red, so that you can clearly see that most people had no idea what was going on. Excuse the excessive black-outs, I didn't want my friends to feel creeped on!
This status involves a confused friend who wants in on the inside 'joke'.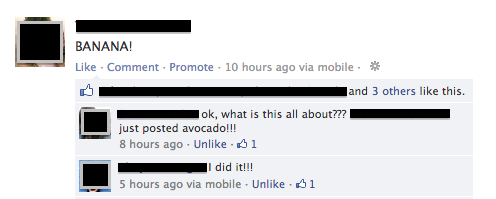 Friends tried to play in on what was going on, but clearly had no clue.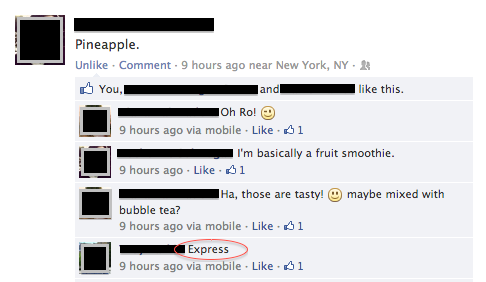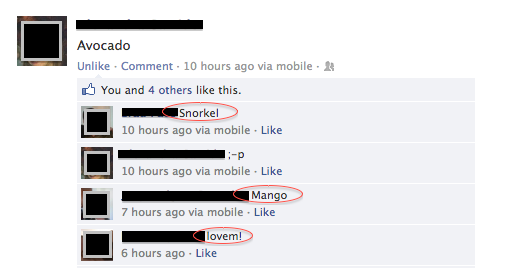 Some women decided to 'break the rules' and write a more personal post by incorporating more than one fruit, which made things more interesting.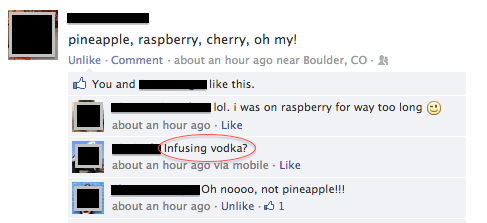 …and why just post text? Attach an image to really prove your point!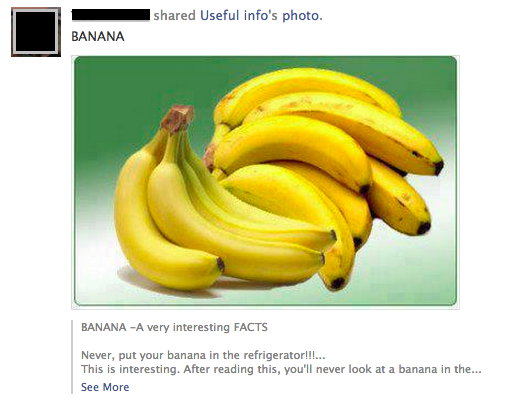 Women also took the opportunity to list observations, not necessarily about themselves.

This is one of my favorites. The last comment is from a woman who thought we were talking about baby food.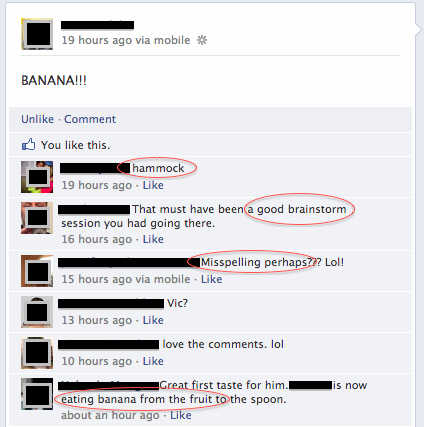 Did you see this?
Did you see this going around Facebook? Have you ever engaged in viral posts like this? I find it interesting how some people are all about it and others seems to be annoyed by it. I guess if you see the fun in these type of posts it can be worth a few minutes of your time. 
Takeaways
Do you think that if you really needed something that your network (contacts, friends, followers and readers) would be there for you by sharing the message you are trying to broadcast? Do you cultivate your list to ensure that it's strong and worthy? THIS is your Klout, regardless of your Klout score. It needs to be looked after and respected. This type of outreach is creative, gets people talking and is free… plus, it's at your fingertips, just ask.
Thank you to all the women who took a few seconds of their time to share what fruit they are!