I was lucky enough to spend my 2011 Christmas and New Years snowboarding the Alps. We spent a week in Sestriere, Piedmont where my husband has been going since he was a kid. It's located in Turin at the border of France. It's a magical, charming little ski town that offers everything: indoor golf, top notch butchers, great wine, eye rolling cheese, bars, clubs, shops, restaurants, markets, etc. I had a great time discovering where to eat and drink in Sestriere.
There are many cute gofri cafés around town, plus there are a few street fenders ready with fresh, hot crêpes dripping with Nutella or salted with ham and cheese. Besides little crêpe cafés and vendors, here's a list of the spots we frequented and highly recommend. All had amazing staff and great food. The bars remembered our drinks and the restaurants treated us very well—I can't complain!
Now I have practically lived in Sestriere all of winter 2012 and summer 2013, so will update this list more and more…looking forward to another Winter Wonderland this season!
Bars
Bar Abba
Piazza Fraiteve 2M, +39 0122 76402
Swanky little bar at the corner of the most endearing piazza in town. It has a great aperitivo (drink + buffet of snacks) with awesome music and lighting. Nicco and I miraculously got the comfy loveseat in the back right corner each time—accompanied by red wine and a Spritz. We were regulars, hitting this place almost every night before dinner. They have a connecting restaurant which looked delicious, but we never had the chance to eat there… maybe next time.
UPDATE: Since this post I have eaten here about 5 times and it is THE Best in Sestriere. The most elegant service, quiet ambiance, romantic feeling, unique menu… I could go on and on. It is the most expensive as well, but worth it!
Il Kovo
V. Louset 6C, Piazza Fraiteve, +39 0335 8021622
This huge tavern/lounge is a bit hidden, but once you find the door and walk downstairs you may never want to leave. There's a rustic feeling to the place, maybe it has to do with the decor, lights and oversized stools. Could it be that I finally found a place that kind of reminded me of a Colorado mountain bar where whiskey drinkers go? It serves strong drinks and has great music. Oh, and supposedly they have karaoke twice a week.
Tabata
Via Monterotta 1, +39 34844 36681
This is the main nightclub around. Upstairs is a very cool lounge with stools and yet another loveseat. Downstairs opens up into a huge Miami-style nightclub that gets packed. Check it out if you're looking to dance late into the night with no skiing in mind for the next day… ouch. Just be warned that the cover charge may be high depending when you go… don't go on NYE unless you want to spend € 150 just to walk in.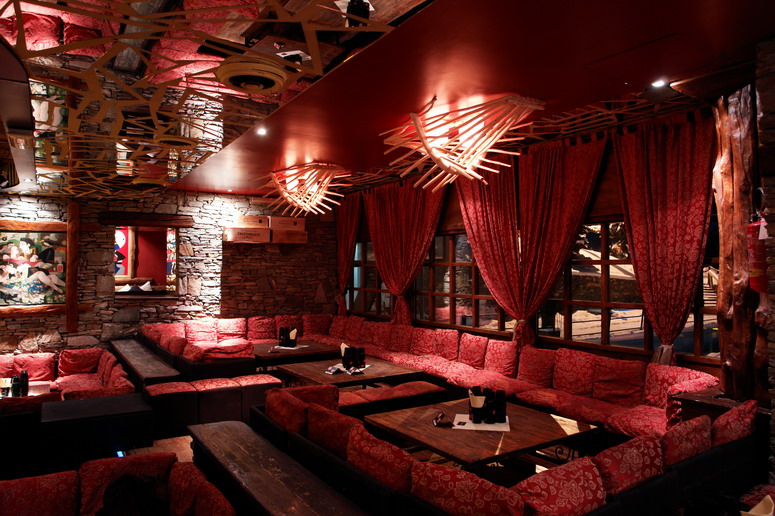 *photo by Tabata
Pinky's
Piazza Fraiteve 5/N, +39 0122 76441
This is the one place on this list that I've not been to. I included it because it looked cool from the outside, but we got so comfortable at Bar Abba across the piazza that we never made it in. It was always busy and is on all the lists of spots to go while in town… maybe next time.
UPDATE: I've gone twice and they have great artisan beer and decent pizza and great crepes! The crowd is a bit interesting and not really my style, but the owner (seemed to be the owner) was really cool and the food would hit the spot after a ski day although I prefer Le Bistrot's food and view of the slopes.
Kandahar Wine Bar
V. Kandahar
This small, intimate spot is between a row of shops and other bars and restaurants. It sits at the base of the mountain making it really cozy. The music is fun with a mix of good oldies and the lighting is nice and dark. Besides great wine, they had the largest wheel of parmigiano I've ever seen eaten.
UPDATE: This place seems to have new owners. They offer salads and soups now, plus decent aperitivo.

Restaurants
L'Antica Spelonca
V. Visitazione 23, +39 0122 751001
This was one of the most magical places I've ever eaten at. It was a beautiful 4km drive from the heart of downtown residing in an old, romantic cellar. The staff was amazing, the food and wine were on another level… this may explain why it's ranked #1 on TripAdvisor—even the bread looked fancy.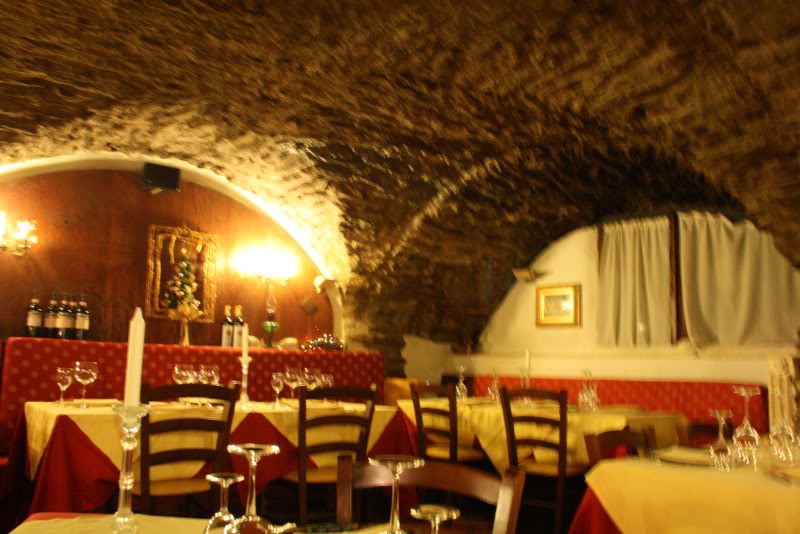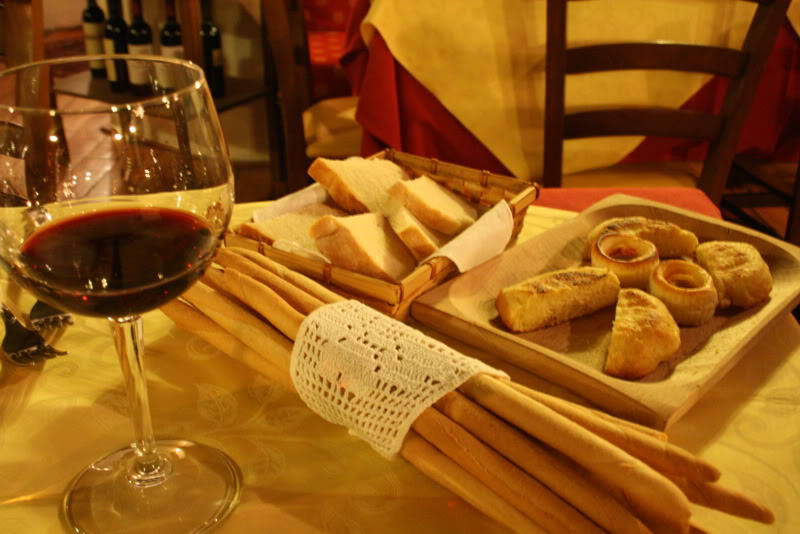 La Cioca
Loc. Grange Sises, +39 0122 750886
Can you say raclette!? OMG, I hadn't had raclette since skiing Verbier in '92 (I hated skiing, but loved the cheese). So yummy and unforgettable! I guess you can say I was over the moon with this place. It's a complete 'must.' Besides raclette, they serve fondue, bourguignonne and other typical mountain dishes. Be ready to share all the plates on the table. It's 30min out of town and well worth it!
Last Tango
V. La Gleisa 5, +39 0122 76337
This restaurant is so understated, that it surprised me. You first walk into a small, dimmed bar with a couch, a chair and hot fireplace, then to the left there are a few tables in a cozy room. It felt like we were eating in a home you would be happy to return to. I didn't know until the second time we ate there that there was a downstairs. Wow, it was so alive and fun. We ate there with Nicco's cousin and her boyfriend, so it was a memorable, loud night.
Last Tango happens to be owned and run by a fellow Russian blogger named Tania and her Italian husband Ronnie. They added so much to the experience. They even took us out to an undisclosed underground bar one night. I don't know the name and have no idea where it is, but I hope they'll take me back next time I'm in town… super swanky spot run by an older couple playing sexy tunes, and serving great drinks and hard-to-find beers.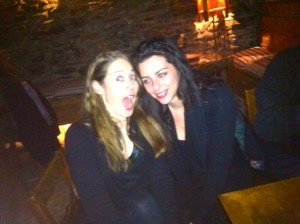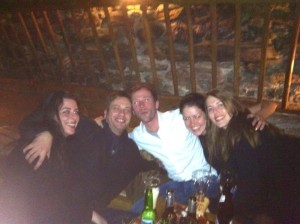 here's the crew at the undergrand swanky spot… I was very happy to be there
On the slopes
Chalet Raggio di Sole
This is my favorite spot on the mountain. They have beer, lots of food, hot espresso and boarding music (Bob Marley type). You can grab a sausage and a beer and sit out in the sun, or order everything else inside and completely pig out. Remember, you deserve it—you just skied for 5 hours (at least that's what I like to tell myself). Just look at the picture below… amazing food!
When you ski down the Raggio di Sole run you see this huge home (chalet) with chairs in the snow just waiting to be sat in… with a beer in hand. There are unattended poles and skis everywhere, since the ski racks always seemed to be filled to the max. Since it's at the bottom of the run, the only way out is to take the lift back up and ski down the other side to the base. Nicco and I got so side tracked that we over stayed our welcome, missing the last lift… huh, I boarded on really sketchy, rocky terrain to get back, but it was well worth it.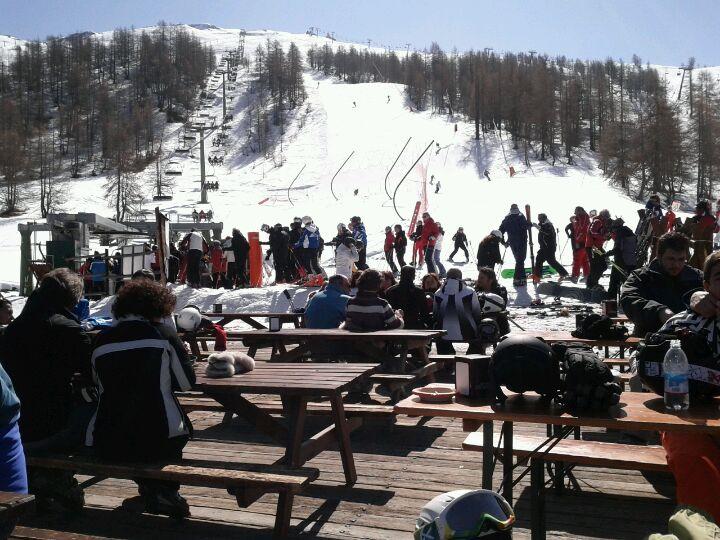 I pray for the snow gods to hear our prays this winter. So, this is where I love to eat and drink in Sestriere. I have been twice this year, so this list may grow. If you make your way to Sestriere (winter or not) have a great time and please visit these spots, they're so worth it.
Oh my, I have more to add…
What is your favorite winter spot!?