In the States we have so many unnecessary luxuries, like a laundry room and a clothes dryer. Think of all the space those two things take up. Oh, the travesty.
If you're in Italy, you better learn how to manage your dirty clothes before they start to pile up on you. So, if you're still in a deep wave of culture shock here's an easy step-by-step on how to do laundry like an Italian.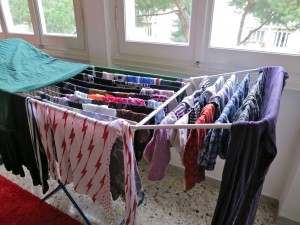 20 steps
throw your clothes in a pile for a week
squeeze the clothes into the washing machine that's in your kitchen or bathroom
make sure there's no extra space, so cram them in there!
put extra soap
don't put the water too warm, so you don't shrink those nice wool sweaters
when the cycle is done, throw the wet items into a 10 year old bucket
hang the clothes in a separate room, preferably where all your guests can admire them
carefully align all the socks and underwear
double up the sheets, since the drying rack only fits so much
if it's Summer, let it dry for 3 hours
if it's Winter, let is dry for 3 days
fold and place most of the items away in the closet
place pants, shirts and sweaters aside to be ironed within the month
make sure all items have a line in the middle, which was caused by hanging on a wire to dry for 3 days
find an awkward place to 'hide' the drying rack and bucket
when a month has passed, bring out the ironing board
iron in the middle of the living room, since that's where the nearest outlet is
put clothes away
find an awkward place to 'hide' the ironing board and iron
look sharp
Easy, right!?
UPDATE: Ha, after this post was written, a dear Parisian friend sent me this! It looks like the French endure the same kind of laundry pleasure that the Italians do. Looks like it even takes more than 3 days to dry!